A Very Adventurous Guide To Wellness Travel In Alaska: National Parks, Lodges, Local Food & More

Contributing writer
By Emily Rekstis
Contributing writer
Emily Rekstis is a freelance writer who has worked at Harper's Bazaar, Self, And UsWeekly. Her bylines appear in Healthline, Byrdie, Women's Health, MyDomaine, BuzzFeed, The Cut, Allure and many more.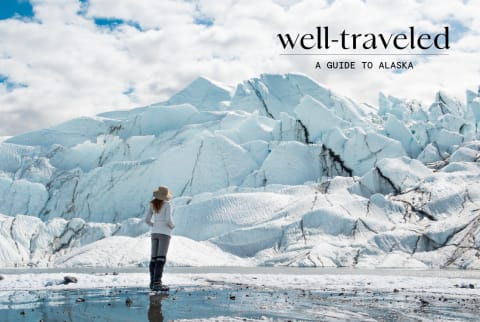 Image by Tara Romasanta Photography / Stocksy
August 31, 2022
We carefully vet all products and services featured on mindbodygreen using our
commerce guidelines.
Our selections are never influenced by the commissions earned from our links.
Travel can restore your well-being. We're here to help you on that journey with
Well-Traveled
, a go-to destination for travel recommendations and tips. Our Well-Traveled series is presented by Delta Air Lines, the premium airline helping you travel well. Fuel your flight with health-conscious options, and arrive feeling better than when you left.
If you need a trip that leaves you feeling refreshed and invigorated, look no further than The Last Frontier. Alaska's moniker is due to all the vast, unsettled space, making the state an ideal place to reset and recharge among the land's remote, wild beauty.
Alaska offers unique experiences like nonstop days of daylight and views of the northern lights—alongside stunning surroundings that are easy to take in while hiking, camping, fishing, or kayaking. With over 100,000 glaciers, 6,000 miles of coastline, 3,000 mountains, and 17 different types of forests, the Alaskan landscape has it all.
For those who want to unplug and dive into everything the Alaskan wilderness has to offer, we rounded up some of our favorite places to sleep, eat, and hang for an unforgettable stay.
Whether you're looking to stay near Denali National Park or the small seaside city of Homer, we've got some seriously cool places to unwind and rest your head. This includes a couple of favorites that have major old-school summer camp vibes for a unique, more authentic experience that won't insulate you from nature.
Camp Denali
This lodging is not for the faint of heart, but if you're looking to immerse yourself in Alaska's natural beauty and cultural heritage, then Camp Denali is the place for you. Nineteen guest cabins are situated in the beautiful tundra for an immersive experience unlike any other. Though they don't have showers, sinks, or toilets, you can walk a short distance to an outhouse or a little farther to the main cabin, where you can shower, eat, or read while taking in views you could only get from inside a national park. Be sure to check out the Special Emphasis Series, which features a roving trove of guest experts that host learning excursions from conservation efforts to poetry.
Price point: $$$ (cost includes lodging; guided hikes; equipment to fish, canoe, or hike; along with meals).
Area: In the heart of Denali National Park
Amenities: Handmade quilts and a wood stove to stay warm in each cabin, guided tours of the tundra, adventure equipment such as canoes or fishing gear, a library
Book now: https://campdenali.com/
Tutka Bay Lodge
For activity seekers venturing to Alaska during the summer months (May 1 through September 30), this homestay offers a summer camp feel filled with exciting excursions and a thoughtful community. Instead of simply booking a room, you book an entire experience that comes with transportation via float plane or water taxi, a private cabin, and a personalized itinerary customized to suit your personal preferences. This itinerary could include everything from cooking classes to hiking trips to yoga.
Price point: $$$$ (costs includes lodging, food, beer and wine, access to adventure gear and guide services)
Area: Along Kachemak Bay
Amenities: Guided excursions such as hikes, kayaking, bear viewing, or tide pooling; hot tub and sauna; cooking classes
Alyeska Resort
If you're looking for a resort experience near some slopes that are not too far from Anchorage, then this is the place for you. Forty miles south of Alaska's largest city with over 300 rooms and amenities such as spa treatments and fine-dining restaurants, this luxurious hotel is great for those who prioritize comfort and convenience over a more traditional Alaskan experience. That's not to say it's without its native touches! Common areas feature pieces from native artists Larry Ahvakana and Percy Avugiak, while guest rooms house images from Alaskan photographer Edward Curtis. At Alyeska Resort, you really can have it all.
Price point: $$
Area: Girdwood, Alaska
Amenities: A whirlpool and saltwater pool, spa packages, a scenic aerial tram, Kaladi Brothers coffee
Book now: https://www.alyeskaresort.com/
Extra spot:
For those who really—and we mean
really
—want to treat themselves, there's no more luxurious stay in Alaska than the
Sheldon Chalet
. Possibly one of the most remote hotels in the world, this one-of-a-kind chalet houses 4 guests for a $75,000 all-inclusive, 3-night minimum stay on the ridge of the Don Sheldon Amphitheater 6,000 feet in the air on Denali's Ruth Glacier. (Note: each additional guest means extra charges.)
How do you get there,
you might be thinking? The only way to access it is by air via a helicopter exclusive to the Sheldon Family.

There are so many beautiful sights to see and outdoorsy fun to have, but there are a few activities that stand out from the rest:
1.
Visit Denali National Park.
The U.S.'s third largest national park, Denali is made up of 6 million acres of tundra, mountains, forests, and glaciers that offer truly spectacular scenery unlike anything else. Along with stunning landscapes, you'll see all kinds of beautiful wildlife from grizzly bears and wolves to moose and sheep.
You can spend the day hiking, hop on a bus tour around the park, or stay the night at one of the six campgrounds. No matter how you decide to take in Denali National Park, just make sure you have a camera handy.
For those visiting in the summer months (especially July and early August), you won't want to miss one of Alaska's most beloved residents. You may see a couple while visiting Denali National Park, but the real hot spot is Brooks River Falls, Wolverine Creek, or Katmai National Park. There are a lot of great options for bear viewing all around the great state of Alaska where you can spend a few hours tracking bears or multiple days and nights, depending on your preference and budget.
3.
Enjoy a coastal spa day.
Break up your active adventures with a little treat-yourself spa day at the Homer Inn and Spa. This refreshing coastal escape features breathtaking views alongside all kinds of treatments from oxygen therapy to hydrotherapy and facials. You can even stay overnight in an oceanfront room if you really aren't ready to break away from the seaside escape.
Instead of driving around from place to place, if you really want to sit back and relax while taking in the views, the good old-fashioned railroad is a must. The Alaska Railroad offers 470 miles of tracks and dome glass-ceiling train cars that can take you to Anchorage, Talkeetna, Denali, and Fairbanks, among other places. Note: The route from Anchorage to Seward is cited as the most scenic option, but if you're using it for convenience as much as sightseeing, you won't be disappointed with any route.
If you find yourself farther east, we recommend checking out the 2.5-hour excursion on the White Pass and Yukon Route Railroad. This historic gold rush train climbs over 20 miles up to bring you to cliffside vistas that seem too beautiful to be real.
5.
Witness the northern lights.
While the northern lights technically occur year round, it's easiest to see them between August and April—so if you're planning a winter getaway, this sight must be the top of your bucket list, as Alaska is one of the best places in the world to take in the aurora borealis.
Some areas of the state are better than others for catching a glimpse (namely, the Fairbanks area in central Alaska is the most famous), and visibility can vary depending on the weather (they have trackers you can use to keep an eye on it). However, we recommend booking a tour, especially if this is your first time so experts can lead the way.
Local tip:
"Alaska is huge! Pick one part of the state to explore on your first trip because it's impossible to do it all and see everything in one go. Find a place to stay with a great view," says Emma Teal Laukitis, co-founder of
Salmon Sisters
. "There's nothing better than waking up to the mountains and ocean and feeling inspired to get outside and explore."

There's no better way to experience local culture than through some local cuisine. Pop into one of these favorite hot spots to enjoy a meal that's as fresh as it is tasty.
229 Parks Restaurant & Tavern 
229 Parks Restaurant & Tavern is a bit of a drive (and only accessible by car), but if you're a foodie who cherishes a meal as much as mountaintop views, then it's worth the time. Two-time James Beard nominee and Top Chef contestant chef Laura Cole creates an ever-changing seasonal menu that highlights Alaska's offerings thanks to sustainable ingredients from regional farmers, fishermen, and ranchers.
Price point: $$$
Area: In McKinley Village in Denali National Park
Dietary consideration options: vegetarian-friendly, vegan options, gluten-free options
Setting: Elevated casual
Menu & info: http://229parks.com/menu/
Tracy's Crab Shack
With so much coastline and a thriving fishing industry, seafood is a must-try while in Alaska. The state's capital of Juneau has a lot of great options, but this local staple has been a favorite for over a decade. The port-side restaurant serves Alaskan king crab legs fresh off the boat for a casual yet delicious meal that's perfect for a lunchtime hang.
Price point: $$$
Area: Downtown Juneau
Dietary consideration options: gluten-free options, pescatarian
Setting: Seaside casual
Menu & info: https://kingcrabshack.com/
Jack Sprat
Not far from Anchorage (and really close to Alyeska Resort), Jack Sprat is all about providing quality meat for meat-eaters and delicious plant-based dishes for vegans and vegetarians alike so no one has to sacrifice taste for preference.
Price point: $$
Area: Gridwood Valley
Dietary consideration options: vegan, vegetarian, organic, sustainably caught seafood
Setting: Casual
Menu & info: http://www.jacksprat.net/

Make sure you're prepared for the weather and everything that it brings with a few must-have items you won't regret making room for in your suitcase.
Advertisement
This ad is displayed using third party content and we do not control its accessibility features.
Advertisement
This ad is displayed using third party content and we do not control its accessibility features.

Alaska has a lot of land to cover, but focusing on key areas like Anchorage, Denali, and Homer will provide you with more than enough wildlife, landscapes, and delicious meals to keep you satisfied.
Meet The Experts
Emily Rekstis
is a freelance writer who has worked at Harper's Bazaar, Self, And UsWeekly. Her bylines appear in Healthline, Byrdie, Women's Health, MyDomaine, BuzzFeed, The Cut, Allure and many more.