Astrologers Say The Planet Of Beauty & Romance Will Shake Things Up This Week
Astrologers
By The AstroTwins
Astrologers
Ophira and Tali Edut, known as the AstroTwins, are professional astrologers based out of New York and Seattle. Their work has been featured in The New York Times, Elle Magazine, Vogue and Good Morning America and they are the authors AstroStyle, Love Zodiac, Shoestrology, and Momstrology.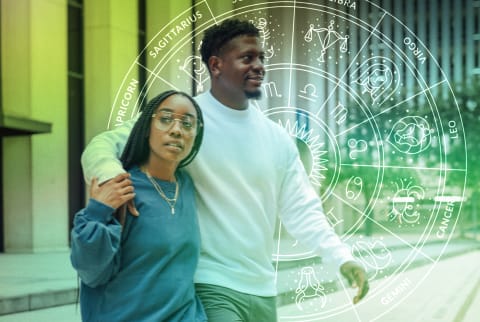 Image by mbg creative x Sweenshots & Shaymone / Stocksy
July 17, 2021
This week marks the start of Leo season and the arrival of a rare second full moon in Aquarius. Here's your horoscope, from the AstroTwins.
Love and fashion go full-on Victorian as Venus downshifts into virtuous Virgo this Wednesday, July 21.
Rustle up that lace fan and cameo pin (but maybe skip the corset...) and quick! Clear the NSFW links from your browsing history.
As the planet of beauty and romance luxuriates in the Virgin's domain until August 16, modesty and restraint are en vogue. This transit is a harsh interruption to the bon vivant vibes of the past four weeks. Since June 27, Venus has been flipping her Vegas-sized mane in Leo's lair—with passionate Mars belting out a bawdy duet alongside her! The highs and lows, the dramatic arcs...ah, so much good material for diaries and future memoirs. But for the coming four weeks, the plotline will feel much tamer. As Cupid breaks down his reality-show set, savor the simpler expressions of affection: the warmth of a genuine embrace, the radiance of a fresh-faced glow.
With Venus sprinkling clean, green fairy dust, healthy is sexy! And don't scoff at the pragmatic parts of relationships like coordinating schedules and agreeing on budgets. This simplified cycle is all about analog loving. Instead of sending a Snapchat, slip a love letter into the mailbox. Pick up the phone to say hi instead of firing off a text. The personal touch is everything now. Another reason you should not throw logic out the window at this time? Benefics (planets known for their favorable influence) Venus and Jupiter will be in opposition the morning after, on Thursday, July 22, and this transit is notorious for spurring an overly optimistic POV.
But for all her best efforts, Venus won't keep life completely low-key this week. In the wee hours of Friday, July 23 (EDT), the Sun begins its annual strut down Leo's catwalk.
With fierce Mars also in Leo (until July 29), this solar cycle launches on a competitive note. Are you bringing your ultimate showstopping best to all that you do? During this monthlong solar cycle, lasting until August 22, you might discover new ways to get your name on the map.
And for the record, shameless self-promotion may not hit the mark in 2021. With Virgo planets tempering the Leo party this year, we recommend a different approach: being of noble service to the world. Think of yourself as a benevolent royal. If you were seated on a throne, how would you share your resources, wisdom, and offerings? You don't have to give it all away (nor should you), but how about a free sample? Once others are clearly benefiting from your gifts, you can pitch a paid offering or create an arrangement that is a win-win. In other words, make yourself indispensable and you'll soon be calling the shots.
Later on Friday, July 23, the full moon in Aquarius showers the world with rainbows and unicorns.
Make that a double rainbow and a pair of unicorns because on August 22, there will be a second full moon in the Water Bearer's realm. That's twice the motivation to ditch the conventional approach and experiment with cutting-edge approaches to...everything.
As you detour away from normcore, embrace the beautiful paradox of Aquarius: being individualistic and collaborative at once. Dream teams don't always wear matching jerseys, right? Bear that in mind if you plan to assemble an all-star cast. The combined efforts of your motley crew could earn a standing ovation this summer!
This tech-savvy full moon could bring powerful synergies in the virtual realm. Log in and find your soul squad, or sign up for a class that sharpens your skills in something like coding or digital marketing. Activism heats up under the power-to-the-people influence of this humanitarian lunar lift. Whether this involves global change or a little community cleanup, there is strength in numbers. No good deed is too small, but hey, why not see how far you can extend your reach?
The AstroTwins
Astrologers
Ophira and Tali Edut, known as the AstroTwins, are professional astrologers based out of New York and Seattle. Their work has been featured in The New York Times, Elle, Vogue, and Good Morning America. They have been dubbed "astrologers to the stars" after reading for notable celebrities, including Beyoncé, Emma Roberts and Stevie Wonder. The AstroTwins have collaborated with Nordstrom, Kate Spade and Urban Outfitters, among other major brands. They have authored four print books: AstroStyle, Love Zodiac, Shoestrology, and Momstrology, and have a growing collection of ebooks, including their popular annual horoscope guides.