paid content
 for

Want To Improve Your Posture? Hint: It Starts With Your Feet
Image by Chaco / Contributor
May 13, 2022
Sitting up straight has been ingrained in our brains since we were children. But do we really understand the how and why of having good posture? While people may associate posture with the spine, it actually starts from the ground up. That's right: Our feet are the foundation for the kind of straight spine our parents would be proud of.
According to experts, flat feet and high or low arches can place stress on the foot, ankle, and subsequently the hips and lower back, making it hard to comfortably stand up straight. Other foot problems like heel spurs and shin splints can also contribute to poor posture. While the shape of your foot may be hereditary, taking care of your feet with proper footwear, like the Chillos Slides and foot exercises, can make a huge difference. That's why (to make slouching a thing of the past) we've compiled some of the best foot care secrets (and shoes), to help you stand a little taller.
Advertisement
This ad is displayed using third party content and we do not control its accessibility features.
Proper footwear.
When it comes to correcting foot misalignment and preventing poor posture, choosing proper footwear is critical. A lot of footwear on the market, especially sandals, doesn't offer the kind of comfort and arch support that our feet crave. But the Chillos Slides by Chacos are different. Built into every pair of Chaco footwear, the LUVSEAT™ footbed provides contoured arch support to promote alignment and help you recover quickly from workouts and overexertion. With a lightweight feel and sleek style, these sandals help keep your feet comfortable and your spine upright so you can be active all summer long.
Advertisement
This ad is displayed using third party content and we do not control its accessibility features.
Stretch it out.
During your next pre-workout stretch, don't forget to show your feet some love. Stretching our feet, calves, and ankles prevents them from getting too tight, which leads to complications that can affect our posture, like shin splints. Tight and misaligned feet can cause pressure1 on our lower back, resulting in the pelvis tilting forward and a hunched spine. Studies2 show that regular stretching of the calves and lower body can correct posture and reduce musculoskeletal pain that causes slouching in the first place.
If you need some ideas, try sitting on your knees, tucking your toes under, and gently sitting into your heels to stretch the bottom of your feet. Pointing and flexing your feet will also help loosen up your ankles and stretch the calves. A daily stretch routine that incorporates your feet and lower legs can help you align your entire body for better mobility and a straighter spine.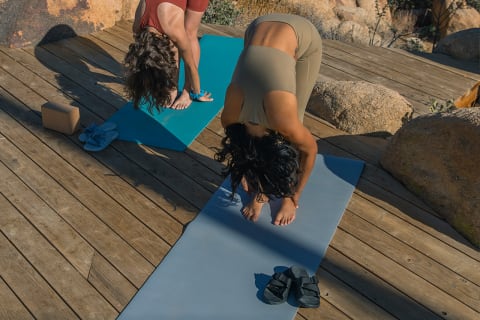 Image by Chaco / Contributor
Advertisement
This ad is displayed using third party content and we do not control its accessibility features.
Practice balance.
Cat-cow isn't the only yoga pose that helps improve posture. Yoga poses and exercises that challenge our balance are great ways to improve foot strength and stability—creating a solid foundation to stand up straight. Yoga poses not only strengthen and stretch the feet, but they also engage and balance the rest of our bodies, helping our spine maintain its integrity and alignment. Poses like tree pose, warrior III, and eagle are excellent for improving balance and strengthening our ankles, calves, and feet. Next time you're on your mat, throw some balancing poses into the mix to build better posture from the ground up.
Correct your gait.
Our feet take us everywhere we need to go—but have you ever stopped to notice the quality of your steps? The way we walk can have a massive impact on our foot alignment and posture over time. Focus on walking on the balls of your feet first as opposed to a heel-first gait. According to experts, walking heel-first causes the brunt of your weight to fall on the heel, further affecting your posture. It is also essential to ensure that your toes are facing forward while walking. If your toes face inward or outward, it may be a good idea to get a night splint or corrective footwear like Chaco Chillos, to help align your feet properly.
The takeaway.
Good posture is an integral part of any healthy and active lifestyle. According to experts, standing up straight can help improve digestion, increase lung capacity, and reduce the pain that keeps us from getting up and on our feet. While tending to our spine can benefit our posture, taking proper care of our feet with exercises and supportive footwear creates the foundation we need to align the rest of our bodies. Not only does Chaco footwear provide all-day comfort recommended by podiatrists, but they're also a stylish addition to any active lifestyle. Good posture takes discipline and commitment, but the right footwear and care can make it easier to stand up a little taller, a little faster.
Advertisement
This ad is displayed using third party content and we do not control its accessibility features.

Gabrielle Marchese
Gabrielle Marchese is a writer, yoga instructor, meditation teacher, PSYCH-K facilitator and Ayurvedic wellness educator. She has been a long time contributor for Yoga Journal and writes for Chopra.com, Bennd Yoga, and various other wellness sites. When not writing, you can find Gabrielle in the ocean, road tripping, connecting with nature, creating and exploring her community. For more information on Gabrielle and to explore her offerings visit gabriellemarchese.com