This Makeup Artist's "Veiling" Technique Can Make Your Skin Look Like Silk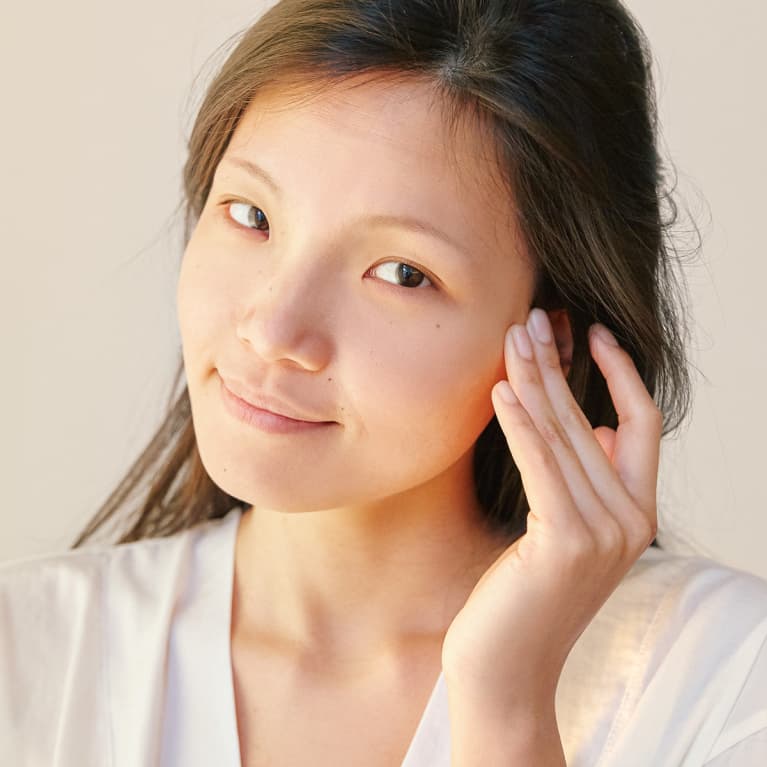 Our editors have independently chosen the products listed on this page. If you purchase something mentioned in this article, we may
earn a small commission
.
Considering beauty is a sensorial experience, the way we talk about skin often refers to lush, decadent textures. Plush. Pillowy. Silky. Velvety. And while a naturally smooth complexion ultimately takes some consistent skin care interventions (and patience, I should add), a few makeup tricks can fashion a soft, airy film across your skin and emulate a smooth, even appearance. Almost like...a veil?
As makeup artist Criss Scortezz explains over TikTok, a quick "veiling" technique can add a layer of silk to any face beat.
A "veiling" technique that makes your skin look silky.
The workhorse of this trick is a finishing powder—one that's pressed, translucent, with a slight sheen (we love this Ethereal Perfecting Powder from Vapour Beauty). Finishing powders, by nature, tend to have a slight glow to them without appearing too shimmery; that way, they can "finish" off the look and make the skin appear polished and pillowy.
While you can always dust the powder across your skin for an all-over glow, Scortezz offers up this veiling technique to really level up your makeup:
Once you reach the final step of your makeup, grab a fluffy brush (like this Westman Atelier Powder Brush) and pick up a very small amount of powder. "Barely anything on the brush," Scortezz says.
Buff the brush in circular motions until the powder is completely blended and diffused across your skin. Scortezz blends along his cheekbones and up to his temples, but feel free to use the finishing powder across your forehead and chin as well.
Grab more powder if needed and repeat on other sections of your face.
The result is quite soft and smooth—airbrushed, even. As Scortezz confirms: "The side I did the veiling on has this really beautiful shine, this beautiful sheen that looks like skin. Everything is really nicely blended, and it just looks beautiful."
If you've never used a finishing powder, take this tip as a sign to give it a try. You don't need a ton of product, and it yields a smooth, pillowy appearance for any makeup look.