A Mediterranean Diet Energy Bar Recipe With Healthy Fats & Collagen Protein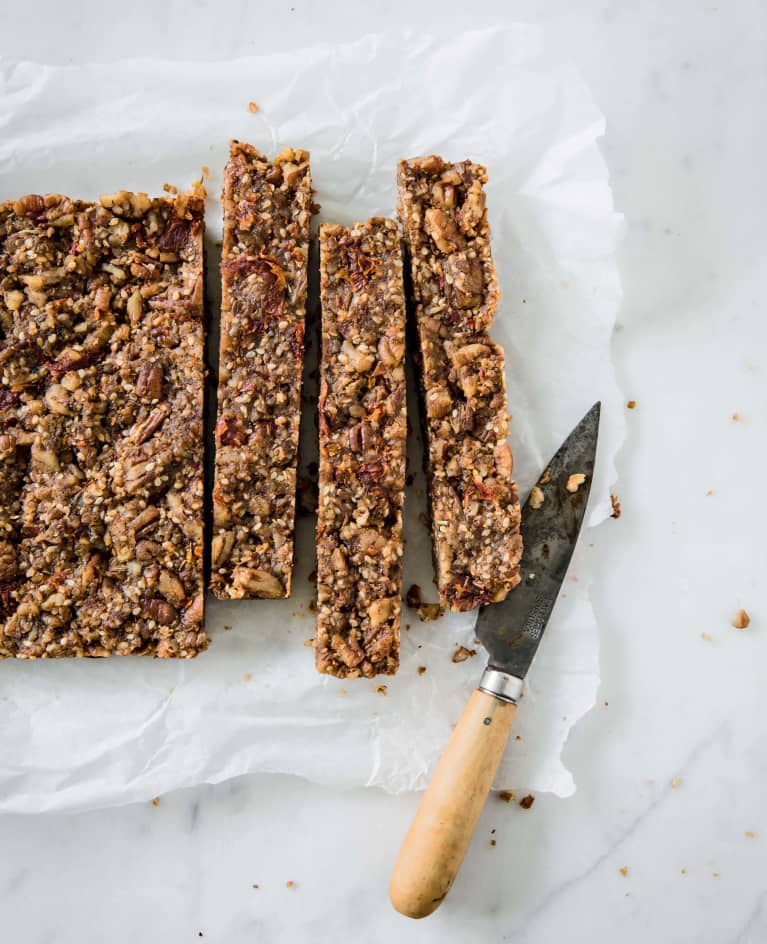 Our editors have independently chosen the products listed on this page. If you purchase something mentioned in this article, we may
earn a small commission
.
Protein bars can be a great on-the-go meal or snack, and we're always keeping our eyes peeled for unique recipes to try at home. After all, making them yourself offers more control over what goes into the mix, to fit both your diet and your taste.
This recipe for satisfying, crunchy bars from The New Mediterranean Diet Cookbook, is one we immediately wanted to try. "These clean protein bars aren't like anything you can buy on supermarket shelves," writes author Martina Slajerova. "Their macros are perfectly proportioned, with 76% fat, 20% protein, and only 4% carbs." The recipes in the book are designed to fit a blend of the super-popular Mediterranean diet with the ketogenic diet—low in carbs and packed with healthy fats.
Topped with toasted coconut and cacao nibs for texture, these bars also feature chia seeds, macadamia nuts, and almond flour. In addition to those nutritious ingredients, the main protein source is collagen powder, which can also help support our skin's natural elasticity and hydration.
Perfect for a quick morning bite or a post-workout recharge, a batch of these is the perfect way to fuel even the busiest week.
Crunchy Vanilla Protein Bars
½ cup flaked coconut
2 tablespoons raw cacao nibs
1½ cups almond flour
1 cup collagen powder
2 tablespoons ground or whole chia seeds
1 teaspoon vanilla powder or 1 tablespoon unsweetened vanilla extract
¼ cup virgin coconut oil
½ cup coconut milk
1½ teaspoons fresh lemon zest
⅓ cup macadamia nuts, halved
Optional: low-carb sweetener, to taste
Preheat the oven to 350°F.
To make the topping: Place the coconut flakes on a baking tray and bake for 2 to 3 minutes, until lightly golden. Set aside to cool.
To make the bars: In a bowl, combine all of the ingredients for the bars. Line a small baking tray with parchment paper or use a silicone baking tray. A square 8-by-8-inch or a rectangular tray of similar size will work best.
Press the dough into the pan and sprinkle with the cacao nibs, pressing them into the bars with your fingers. Add the toasted coconut and lightly press the flakes into the dough.
Refrigerate until set, for about 1 hour. Slice to serve. Store in the refrigerator for up to 1 week.