Upcycled Foods Will Be The Future Of Snacking: Here Are 5 Kinds To Try In 2022
Registered Dietitian
By Frances Largeman-Roth, R.D.
Registered Dietitian
Frances Largeman-Roth, R.D. is a Registered Dietitian Nutritionist, a New York Times best selling author and nationally recognized nutrition and wellness expert.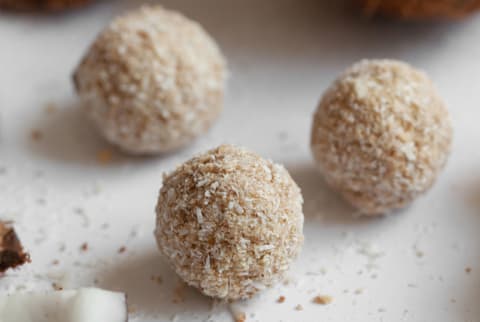 Image by YakubovAlim / iStock
December 30, 2021
We carefully vet all products and services featured on mindbodygreen using our
commerce guidelines.
Our selections are never influenced by the commissions earned from our links.
With climate change top of mind for everyone, we're looking for practical, everyday ways to take care of the environment. Since food waste is one of the biggest contributors to greenhouse gas emissions, it makes sense that one of the top trends we'll see in the coming year is products that utilize food that would otherwise go to waste.
What is upcycled food?
Upcycling—transforming waste materials into something with value—is a movement that's growing in all sectors, including food. There is even a new Upcycled Food Certification label created by the Upcycled Food Association to help you identify products that use verified upcycled ingredients.
The label officially launched in June 2021, and since then, 28 companies and 140-plus products and ingredients have received certification. In order to receive certification, companies must follow a six-step process, pay fees, and maintain compliance to standards and renew yearly.
The best upcycled foods to try right now. 
CaPao's Cacaofruit Bites
Many consumers are surprised to learn that 70% of the cacao fruit—which chocolate is made from—gets thrown away. Once the beans are removed for roasting, the rest of the fruit is tossed, which is a shame because the entire fruit is nutrient-dense.
CaPao is one of the brands turning wasted cacao fruit into delicious, antioxidant-packed snacks. CaPao's Cacaofruit Bites combine cacao fruit pulp with other fruits, nuts, and seeds. Not only is CaPao using upcycled ingredients, but they also harness the power of wind to run their facility and use 100% recyclable packaging.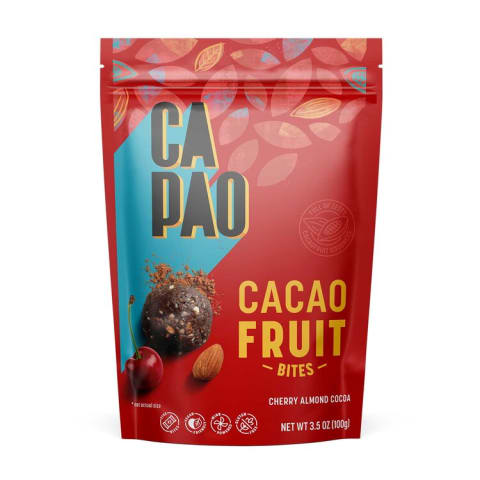 Capao
RIND Snacks
Of the nearly 40 million tons of food that Americans waste each year, fruits and vegetables comprise 30 to 40%. Produce is perishable, and since many of us buy fruits and veggies and then let them go bad, this number may not be so surprising.
Some of the waste from fruits and veggies comes from their edible skins and peels. RIND Snacks found a way to dry fruit with the peels and rinds on, which not only cuts down on food waste but also increases the nutrient density of their snacks.
In 2020, RIND was able to save over 120,000 pounds of food waste from the snacks they make with coconut, oranges, persimmons, peaches, watermelon, kiwi, and more.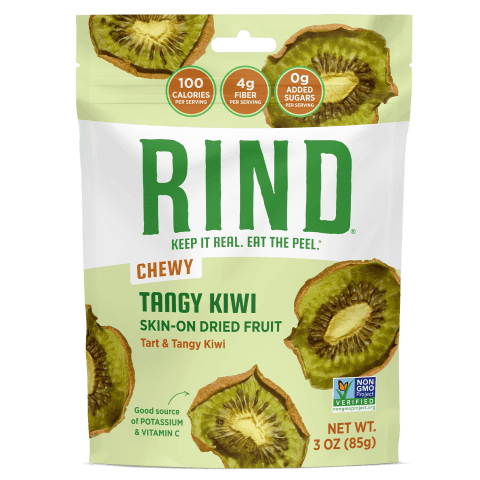 RIND
Spudsy
When shoppers go to the grocery store or have groceries delivered, they expect their produce to look a certain way. That's why millions of pounds of fruits and veggies are literally thrown away—because they're not pretty enough or the right size.
Spudsy is changing that, one sweet potato at a time. Spudsy makes all their delicious, crunchy snacks from upcycled sweet potatoes and has saved 1 million sweet potatoes to date. They are working on receiving their Upcycled Food Certification label.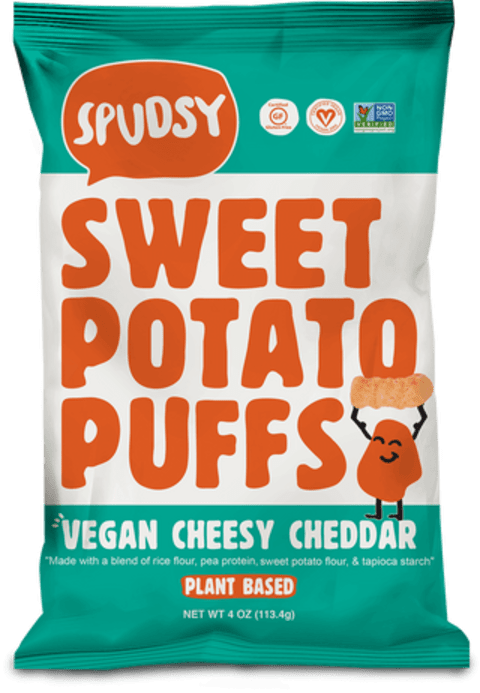 Spudsy
Chia Smash
Another brand that is putting ugly produce to use is Chia Smash. They take cherries, raspberries, strawberries, and blueberries that would have been tossed and combine them with chia seeds and dates to make a no-added-sugar spread that is perfect on toast or stirred into yogurt. Chia Smash carries the Upcycled Food Certification label.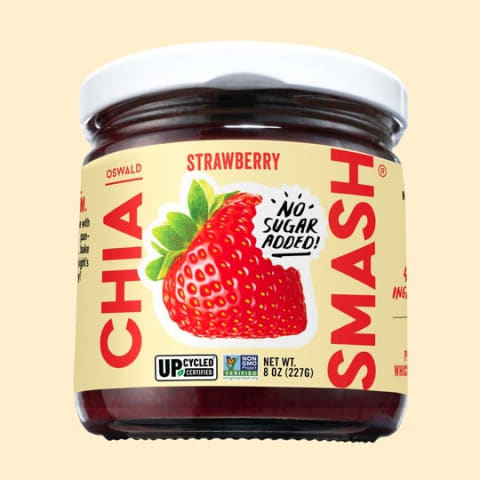 SMASH
Pulp Pantry
When you order a green juice, ever notice how much pulp comes out of the juicer? That's all the fiber from the fruits and veggies. It normally just gets tossed, but a clever brand called Pulp Pantry is gathering it up and churning it into chips.
For every pound of pulp the brand saves, they're also helping keep 38 gallons of water from going to waste. That's the amount of water it would take to grow the same amount of veggies.
Pulp Pantry combines veggie pulp with cassava flour, tapioca flour, okara flour (upcycled from soy), and seasonings to make crispy, fiber-rich, and grain-free chips in flavors like Salt & Vinegar and Jalapeño Lime. The brand carries the Upcycled label on their packaging.
PULP
I don't know about you, but I plan to spend 2022 snacking my way to a healthier planet!
Frances Largeman-Roth, R.D.
Registered Dietitian
Frances Largeman-Roth, R.D. is a Registered Dietitian Nutritionist, a New York Times bestselling author and nationally recognized nutrition and wellness expert. Frances is the author of Smoothies & Juices: Prevention Healing Kitchen, Feed the Belly: The Pregnant Mom's Healthy Eating Guide and Eating In Color: Delicious, Healthy Recipes for You and Your Family. She is also the co-author of the bestselling The CarbLovers Diet.

Frances is a freelance writer and recipe developer for numerous publications, including Today.com, Parents, and Parade. She has appeared on numerous national TV shows, including The Today Show, The Dr. Oz Show, The Rachael Ray Show, Good Morning America, Access Hollywood Live and CNN. Frances contributes expert quotes to national publications and also helps healthy food brands share their message. Frances is a member of the James Beard Foundation and the Academy of Nutrition and Dietetics. She received her undergraduate degree at Cornell University and completed her dietetic internship at Columbia.

Frances, her husband and three kids live in Brooklyn, NY. To learn more, go to her website, or follow her on Instagram.