This Savory Turmeric Sauce Will Make Everything You Eat Anti-Inflammatory & Way More Delicious

Contributing Food Editor
By Liz Moody
Contributing Food Editor
Liz Moody is a food editor, recipe developer and green smoothie enthusiast. She received her creative writing and psychology degree from The University of California, Berkeley. Moody is the author of two cookbooks: Healthier Together and Glow Pops and the host of the Healthier Together podcast.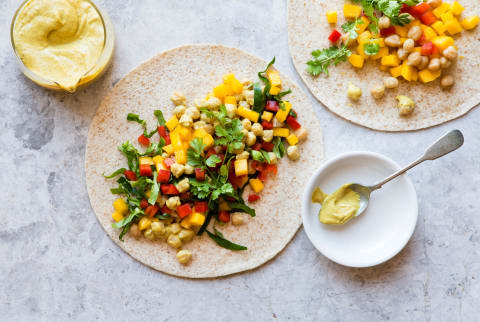 September 10, 2018
Our Well Fed series is all about simplifying healthy food—and adding in a hefty serving of fun. Come hang out with me every Monday night on our
Instagram stories
, where I'll be making this recipe, answering your questions, and, this week, showing you just how quick it is to make this simple, game-changing sauce.
While sauces won't do the dishes or file your taxes, they'll solve pretty much every other problem in your life. OK, maybe that's an exaggeration—but only slightly. Sauces are the secret chefs use to make simple preparations of everyday ingredients taste complex, satisfying, and incredibly delicious. If you have a sauce waiting for you in your fridge, dinner is essentially done—just roast or sauté up some veggies, dump 'em on a grain or bed of greens, and drizzle that flavor-packed goodness on top. What's under the liquid goodness? Who cares? You won't be able to stop eating it.
Sauces are also wonderful for lazy cooks since they take literally minutes to make and often just require a quick whisk or whiz in the blender. While I love me a green sauce (this Thai-style pesto is my secret to an amazing coconut-rice Buddha bowl), I wanted to make a turmeric blend that could be used to up the anti-inflammatory ante of any dish. I balanced the ayurvedic super spice's earthy, slightly bitter flavor with creamy, rich almond butter, then added some garlic for antiviral and antibacterial benefits, plus a huge rush of flavor. A few dates add a caramel-tinged sweetness while the miso gives the underlying funky, fermented note and extra gut-healing power.
The result? The perfect sweet, savory, umami, bright golden sauce. Because of its heartiness, it plays especially well with root vegetables (hello, fall!), but it's equally good tossed with some fresh greens if you're still clinging to that last sliver of summer.
Note: If you don't have a high-powered blender or just want to make this sauce quickly with a whisk in a bowl, honey makes a great inflammation-fighting, immune-boosting substitute for the dates (I love the organic unfiltered honey from Wholesome Organics). Just finely mince the garlic if using this preparation, sub honey for dates, and proceed with the rest of the recipe as directed!
Anti-Inflammatory Turmeric Sauce
½ cup creamy raw or roasted almond butter (look for a brand with no added sugar)
½ teaspoon ground turmeric
½ teaspoon ground ginger
3 Medjool dates (see note above if you don't have a blender or want to make the sauce in a bowl)
3 cloves fresh garlic (mince if making in a bowl)
1 tablespoon white miso paste
Fine-grain sea salt and fresh black pepper, to taste
Add all ingredients to blender and blend until smooth (alternatively, whisk in bowl until well-combined). Store in a tightly sealed container in the fridge for up to a week.
Want to turn your passion for wellbeing into a fulfilling career? Become a Certified Health Coach! Learn more here.