The 3-Ingredient Snack I'm Eating Daily To Prevent The Flu
Contributing Food Editor
By Liz Moody
Contributing Food Editor
Liz Moody is a food editor, recipe developer and green smoothie enthusiast. She received her creative writing and psychology degree from The University of California, Berkeley. Moody is the author of two cookbooks: Healthier Together and Glow Pops and the host of the Healthier Together podcast.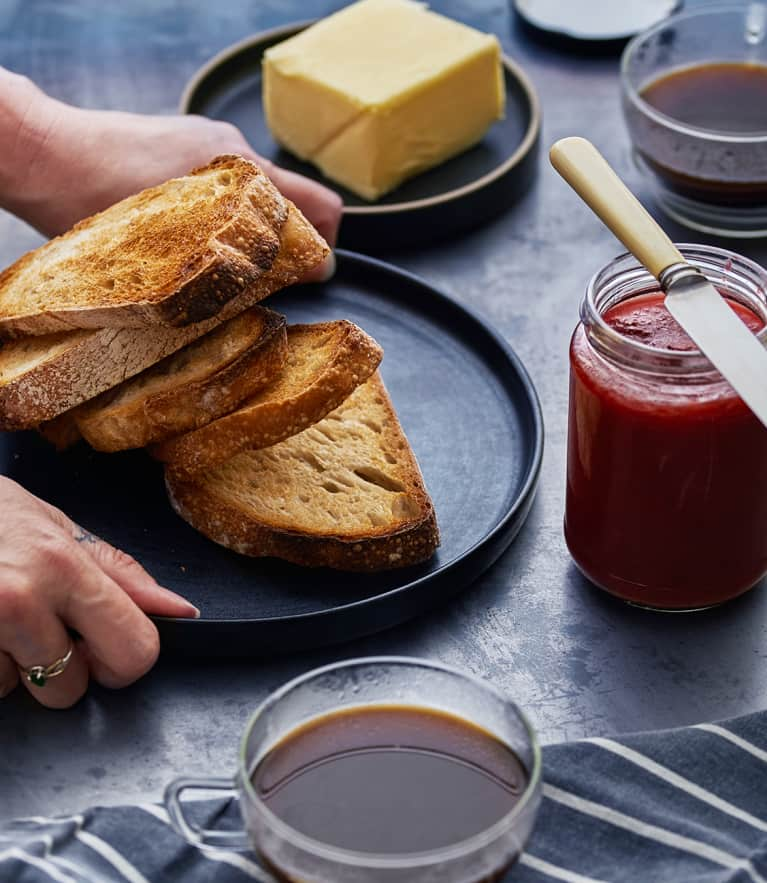 This year has been one of the worst flu seasons in recent memory. Whether or not you choose to get vaccinated, it's good to cover all of your bases by bolstering your immune system in other ways. I have colleagues who are stocking up on expensive supplements, meditating, and sipping bone broth to keep the virus at bay—but I prefer to rely on my trusty garlic toast.
I first discovered the powers of garlic several years ago when a run-in with a quick-to-the-knife donor kebab stand in Berlin left me with a mouthful of raw chicken. Frantic Googling led me to a research paper about garlic's antibiotic-rivaling power to eradicate salmonella. During the three-day period while I waited to see if I was poisoned (onset for salmonella takes about half a week), I tested a handful of different ways to eat the garlic, and this toast was by far my favorite. It allows the garlic to be minced and rest for 20 minutes, a necessary step to activate the allicin that accounts for its healing powers. The fat from the olive oil cuts the sharp astringency of the garlic, making it easier on the taste buds and the stomach, and the salt and herbs (optional but recommended) somehow elevate the taste from medicinal to (somewhat) craveable: garlic bread's less decadent, more functional cousin.
After nailing the recipe, I began adding it to my regular food first aid kit. In addition to being a salmonella fighter, garlic is generally antibacterial, antifungal, and antiviral and has been shown in studies to fend off colds and flu. It can also reduce the severity of symptoms if you've already contracted something.
During this year's flu season, I've been eating this toast once or twice a week; if I'm ever feeling like I'm on the verge of getting sick, I'm sure to make a batch as quickly as possible. I've come to actually look forward to the flavor, and the fact that it takes me from feeling vaguely achy and tired to functioning in high gear in less than 24 hours—well, that's even better.
Immune-Boosting 3-Ingredient Garlic Toast
6 cloves fresh garlic
2 pieces bread of choice (I like to use a gluten-free one, like Udi's, or a sourdough, which is easier to digest)
2 tablespoons high-quality olive oil
Sea salt and whatever dried herbs you have on hand, such as basil, thyme, or herbs de Provence (optional, but recommended)
Peel and mince the garlic. Let sit for at least 20 minutes to activate allicin.
Toast bread. Drizzle liberally with olive oil.
Top with raw garlic and a generous sprinkle of sea salt and dried herbs, if using.