Close Banner
Advertisement
This ad is displayed using third party content and we do not control its accessibility features.
A Savory Tofu Recipe From Some Of The World's Longest-Lived People

New York Times Bestselling Author
By Dan Buettner
New York Times Bestselling Author
Dan Buettner is a National Geographic Fellow and bestselling author who discovered and reported on the Blue Zones.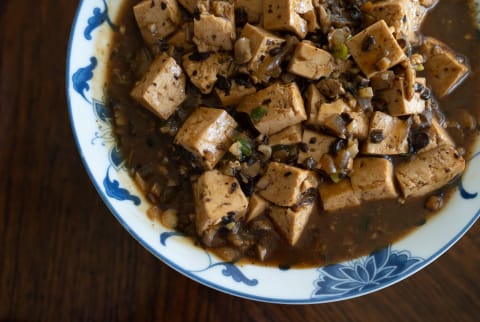 Image by David Mclain / David Mclain
We carefully vet all products and services featured on mindbodygreen using our
commerce guidelines.
Our selections are never influenced by the commissions earned from our links.
For his latest book,
The Blue Zones American Kitchen
,
Blue Zone founder Dan Buettner traveled across the U.S. to uncover American food traditions that are similar to the diets of the world's longest-lived people. In this excerpt, Buettner samples the nutritious, delicious cuisine of Chinese Americans living in Hawaii and shares a recipe you can prepare at home.
It's a sultry Friday afternoon in suburban Honolulu, where 95-year-old Ruth Chang prepares lunch. With an enormous cleaver in each hand, she vigorously minces root vegetables. The menacing blades clash with her mother-of-pearl earrings and leopard-print loafers. "I cook every day," she informs me matter-of-factly, her silver bob bouncing to the staccato beat of her chopping. "Once you stop, you lose it."
I'm here thanks to my old friend Bradley Willcox, who, along with his brother, Craig, and economist Makoto Suzuki, authored The Okinawa Program. Willcox is currently a professor and director of research at the Department of Geriatric Medicine at the University of Hawaii at Manoa. When I asked him to introduce me to an older Chinese American woman who might be willing to cook with me, he instantly replied, "Ruth is the one. I'll join you."
Ruth shuttles food from the kitchen to a lazy Susan on her dining room table with a Chihuahua's energy and a ballerina's grace. Steaming, delicious-smelling platters of Savory Garlic Tofu With Minced Mushrooms (recipe below) and Veggie Noodle Stir-Fry arrive. Craig, David, my dad, and I look on hungrily. "This food has maybe a fifth the caloric density of a hamburger and 10 times the nutrients," Craig says, rotating the garlic tofu in his direction. "So you can eat to your stomach's content and never gain weight."
Ruth represents a demographic that may be the longest-lived in the world.
According to a study by professor of public health and social work Kathryn Braun and her colleagues at the University of Hawaii at Manoa, Chinese American women living in Hawaii enjoy 90 years of life expectancy1. That's two years longer than women in Hong Kong (currently the longest-lived country in the world) and 3.1 years longer than women in Okinawa (previously the world's longest-lived). Part of the explanation lies in the unique diet of Chinese Americans living in Hawaii.
By 1830, Chinese immigrants began arriving in Hawaii as contract agricultural laborers (and later in the continental United States largely to work in gold mines). Japanese and Korean immigrants came later, and in the early 20th century, so did Filipinos. Each group brought their own dishes and ingredients with them. The Chinese brought leafy cabbage, soybean products, and teas. The Japanese contributed miso and their own version of tofu. Filipinos introduced seaweed (for umami) and tender tips of plants such as squash, pumpkin, cowpeas, and sweet potato vines, which they add to stews. Meanwhile, Krishnendu Ray, a food studies scholar at New York University and the author of The Migrant's Table, tells me that immigrants from central Europe brought their cows, pigs, and pickles. "It was Asian immigrants who taught Americans how to eat greens," he says. "In their countries, they couldn't afford meat, so they learned how to make vegetables taste good, largely through cooking technique and use of herbs."
East Asians have immigrated to the United States for more than 250 years, and the U.S. experienced enormous Southeast Asian migrations in the late 20th century.
Only a handful of dietary studies were recorded before World War II. Between 1896 and 1903, the University of California, Berkeley, professor Myer Edward Jaffa and his students studied the food consumption of 10 Chinese laundry workers, a dozen fieldworkers, and a dentist's family living in and around San Francisco. He found their diets consisted largely of rice, noodles, and tofu. The laundry workers consumed yams, wheat bread, sprouts, mustard greens, dried fungus, and water chestnuts. Though their hard labor had them consuming more than 4,200 calories daily, less than 25% of those calories came from animal products, and only 5.5% came from sugar.
Today, Hawaii is arguably the best place in America to experience Asian fusion cuisine. Many traditional Asian herbs and vegetables thrive in the fertile soil and mild climate of Hawaii. And throughout the island state, plantation systems—where several ethnicities shared a communal kitchen—became de facto fusion laboratories that have influenced the cuisine of today.
Savory Garlic Tofu With Minced Mushrooms
Serve this vegetarian dish over rice with a dash of chilies in vinegar on the side.
Ingredients:
1 tablespoon oil
5 large garlic cloves, chopped
6 to 8 fresh mushrooms, finely chopped
¼ onion, chopped
2 tablespoons cooking wine
1 tablespoon hoisin sauce
1 tablespoon black bean garlic sauce
1 tablespoon chili garlic sauce, or more to taste
1½ cups vegetable broth
¼ teaspoon ground white pepper
½ teaspoon white vinegar
1 teaspoon sugar
1 teaspoon sesame oil
1 tablespoon cornstarch mixed with 1 tablespoon cold water
1 pound firm tofu, drained and cut into ¾-inch cubes
1 green onion, chopped
Method:
Heat the oil in a wok or large heavy skillet over medium heat. Add the garlic and cook, stirring, until the garlic begins to turn golden brown on the edges, 1 to 2 minutes.
Add the mushrooms and onion and cook, stirring, for another 5 minutes, until the onion is soft and translucent.
Add the wine, hoisin sauce, black bean garlic sauce, and chili garlic sauce, and cook for 1 minute.
Add the broth, white pepper, vinegar, sugar, and sesame oil, and bring to a simmer. With the mixture bubbling, stir in the cornstarch mixture and cook, stirring, for 1 minute, until the sauce thickens.
Stir in the tofu and simmer for another 2 minutes, stirring gently.
Serve hot, garnished with the green onion, over rice.

Dan Buettner
New York Times Bestselling Author
Dan Buettner is a National Geographic Fellow and multiple New York Times bestselling author. He has discovered the five places in the world—dubbed "Blue Zones"—where people live the longest, and are healthiest. His New York Times Sunday Magazine article about these places, "The Island Where People Forget to Die," was one of the Times' most popular and his National Geographic cover story "The Secrets of Living Longer" was a finalist for a National Magazine Award. His TED Talk "How to live to be 100 " has been viewed over 4.5 million times.
He is the author of The Blue Zones series of books: The Blue Zones: Lessons for Living Longer from the People Who've Lived the Longest, Thrive: Finding Happiness the Blue Zones Way, The Blue Zones Solution: Eating and Living Like the World's Healthiest People and The Blue Zones of Happiness, The Blue Zones Kitchen, The Blue Zones Challenge & The Blue Zones American Kitchen. Buettner also holds three Guinness Book of world records in distance cycling.