paid content
 for

This Zero-Calorie Sweetener Will Take Your Latte Love Affair To The Next Level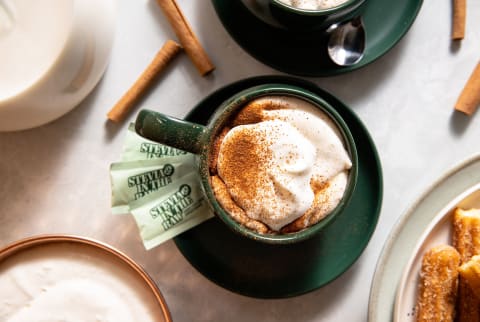 Image by In The Raw / mbg Contributor
December 9, 2022
When is the best time to enjoy a latte? For us, the answer is whenever the mood strikes. Whether you're out to breakfast, running errands, or spending a quiet afternoon inside, nothing hits like pressing pause and sipping on this creamy bevvy. From the ritualistic comfort of a warm mug in your hand to the creative flavor combos at a hipster cafe, our appreciation for lattes is nothing short of a love affair.
To that end, we consider lattes a bit of an art form—and not all ingredients are created equally. The traditional espresso and milk will forever be near and dear, but it's almost 2023… Flavored syrups, flower petals, superfoods—even the most unexpected ingredients have become latte material (beet latte, we're looking at you). We all have our preferences when it comes to this quintessential drink—but one thing's for sure… When we're in the mood for a sweeter sip, nothing gets the job done like Stevia In The Raw®.
For your sweeter sips.
If you're anything like us, lattes are somewhat of a daily occurrence… And we're over here owning it. That's because, compared to simple syrup or classic sugar, Stevia In The Raw isn't your average sweetener. It's a sweet blend made with an extract from the leaves of the stevia plant. Not only is it a zero-calorie option, but it's also plant-based, vegan, and has a low glycemic index—meaning we have every reason to feel good about swapping it into any recipe that calls for something sweet. Just one packet has the approximate sweetness of 2 teaspoons of sugar, and it's as delicious as it is convenient.
Stevia In The Raw®
Enjoy your sweet moments with Stevia In The Raw® zero-calorie* sweetener. It's an extract from the sweet leaves of the stevia plant. The delicious flavor comes without any calories. So go on, sweeten a tea, hot or cold, sprinkle it on cereal. Bake and cook with it too. Whatever you do, just do it with Stevia In The Raw®.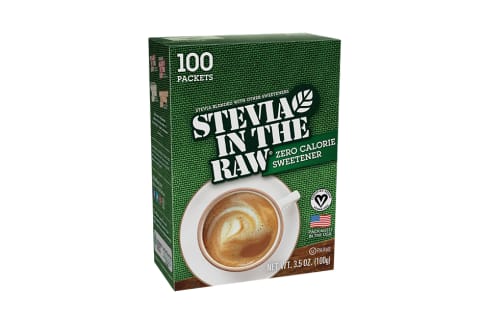 3 recipes for your latte love affair.
Whether you stir it into your lattes or sprinkle it on top, a few packets of Stevia In The Raw belong in every coffee station, purse, and desk drawer. To show you what it's capable of—we've rounded up some top-notch recipes for rekindling your latte obsession (not that you needed any help):
Dirty Chai Coconut Latte
Some days call for coffee, some days call for chai—but there's also a world where you can have both. The chai spice and coffee in this Dirty Chai Coconut Latte are perfectly balanced by the sweetness of Stevia in The Raw and creaminess of coconut milk. Recommended as a Saturday morning treat before you conquer that to-do list.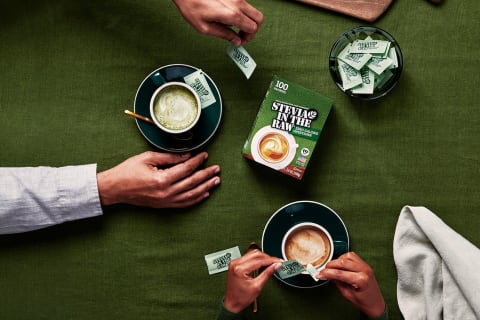 Image by Stevia In The Raw / mbg Contributor
2 bags chai tea
1 cup hot brewed coffee
½ cup beverage-style unsweetened coconut milk
2 packets Stevia In The Raw
½ teaspoon ground cinnamon
1 teaspoon vanilla
Toasted flaked coconut, for garnish (optional)
Place tea bags in a large mug or glass measuring cup and pour 1 cup boiling water over them. Let steep for 5 minutes, then discard tea bags.
In a saucepan combine tea, coffee, coconut milk, stevia, and cinnamon. Heat gently until steaming. Remove from heat and stir in vanilla.
Divide latte between 2 mugs and garnish with coconut if desired
Earl Grey Coconut Latte
The black tea and bergamot notes of this latte are comforting and energizing all at once. Between the coconut milk, vanilla, and Stevia In The Raw—this Earl Grey Coconut Latte is packed with flavor and offers just the right amount of afternoon pick-me-up. Recommended as a post-yoga class treat.
1 bag Earl Grey tea
¼ cup canned coconut milk
½ teaspoon vanilla
1 packet of Stevia In the Raw
Place tea bag in a mug and fill ¾ full with very hot water. Let steep 4 minutes.
Remove tea bag and stir in milk, vanilla, and Stevia In The Raw.
If desired, heat 2% milk until steaming, transfer to a jar or milk frother, and shake well or froth until foamy—then spoon on top of drink. Dust with cinnamon.
Salted Caramel Pumpkin Latte
This Salted Caramel Pumpkin Latte recipe is the furthest thing from basic. We consider a PSL a classic in the lineup of latte favorites, but this drink dials it up a notch. The pumpkin purée and spices add the perfect kick of festivity, while the salted caramel tastes like pure decadence. Recommended for sipping as you're decorating the house for the holidays.
2 packets Stevia In The Raw
½ tablespoon butter
2 tablespoons heavy cream
⅓ cup pumpkin puree
1 teaspoon pure vanilla extract
¼ teaspoon sea salt
¼ teaspoon pumpkin pie spice
¾ cup 1% milk
⅔ cup hot coffee
In a small skillet, stir together Stevia In The Raw and 1 teaspoon water to dissolve.
Add butter and cook over medium heat, stirring occasionally, until deep brown bits form on the bottom of the pan.
Remove from heat and stir in cream, pumpkin, vanilla, salt, and spice.
Heat milk until steaming, then add milk and coffee to pumpkin caramel mixture, and stir to combine.
If desired, top with whipped cream and sprinkle with pumpkin pie spice.
Devon Barrow
Branded Content Editor
Devon Barrow is a Branded Content Editor at mindbodygreen. She received her degree from the University of Colorado. When she's away from her desk, Devon is teaching yoga, writing poetry, meditating, and traveling the world. She's based in Boulder, Colorado.
Devon's first book, Earth Women, is coming soon. To learn more, join the mailing list, and receive updates, head to www.devonbarrowwriting.com.