Close Banner
Advertisement
This ad is displayed using third party content and we do not control its accessibility features.
paid content
 for

This Sound-Healing Tool Is The Surprising New Star In My Wellness Routine — Here's Why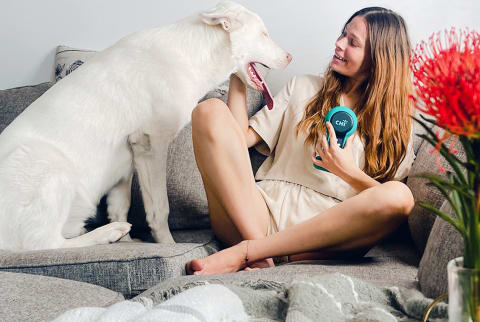 Image by Chi Institute / Contributor
I've been a yoga and meditation teacher for the last 10 years—and dabbling in the full gamut of natural healing practices practically comes with the territory. From basking in the pink glow of salt caves to applied kinesiology to the occasional moon bath, I'm a big believer that wellness comes in all shapes, sizes, and sometimes, sound frequencies.
It doesn't matter how many down dogs and guided meditations you do—we're all susceptible to stress. And while my go-to routines usually keep things even-keeled, my stress levels recently took an uncharacteristic climb, thanks to some life transitions. On top of that, years of teaching have left me with a moody low back that flares up during times of tension. I needed to find a new approach to all things stress, which brought me to the CHI Palm. I've always known my way around the wellness world, but the Infratonic sound signal therapy behind this sound wave massager was new territory… And I was ready to explore.
Sound signal therapy? Tell me more.
There's something about "sound wave massager" that makes a person curious. Before it arrived, I did some digging. How does it work? Why do so many swear by this tool for healing? The skinny: CHI Palm utilizes what's called Infratonic Chaos Therapy: unpredictable sound wave signals transmitted at various intensities. When we experience stress, studies1 show that our body responds with inflammatory activity. And when we're inflamed, our cells send different signals2 throughout the body—many of which are not ideal. Through its various settings, the CHI Palm is intended to calm our cells—and the "relaxation response" of our nervous system has been connected to aspects of healing3.
Even more captivating to me is the origin story of the CHI Palm. The Infratonic technology behind this tool came out of scientific research that studied natural qigong healers in China. According to CHI, powerful healers tend to emit a strong, low frequency from their hands… And interestingly, this device is engineered to create the same effect. To say the least, I was ready to try it out for myself.
A new star in my wellness routine.
After unboxing this curious little device, I decided my sacrum would be the first trial per the instructions ("put it where it hurts!"). The CHI Palm has three settings:
Acute: According to CHI, this mode is best used when starting to treat traumatic and recent injuries or when we're faced with stress.
Deep Calm: This is the most deeply relaxing mode! It's often used to relieve stress, tension, and anxious feelings.
Balance: As the mainstay of the modes, CHI suggests this setting to bring mental clarity, integration, and centering while accelerating physical recovery, as it encourages cells to work together for healing.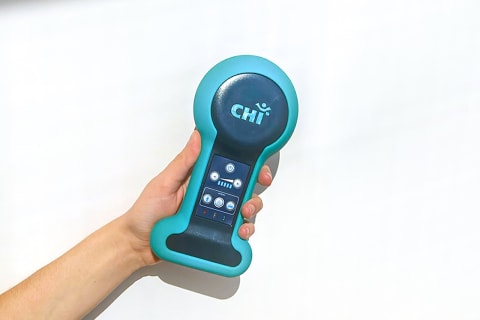 Image by Chi Institute / Contributor
I switched between the Acute and Balance settings for my sacrum. First impression? I was shocked by how subtle this device is. It creates a gentle, shaky sensation—reminiscent of being rocked or lulled into relaxation. After 10 minutes or so, my sacrum felt more open—less angry, more spacious. Beyond pain relief, I started using my CHI Palm to support stress levels: I used the Deep Calm sensation on my chest before sleep or simply in my lap during meditation. Between the deep comfort and relaxation, it quickly became the star of my wellness routine for a few notable reasons:
It helps me disconnect. These days, there are a lot of solutions out there for blasting stress or cultivating mindfulness. But almost all of them involve a smartphone or some kind of screen. The CHI Palm works without an app, without data collection, and without disrupting sleep or meditation. Prior to this ritual, I didn't realize how much I needed to disconnect and go offline. This tool gives me a moment to digitally detox, and reconnect with the natural frequencies of nature… It's the perfect permission to unplug.
It does offer gentle pain relief. When I'm feeling achy, I've come to rely on the CHI Palm for instantaneous comfort. I place it *literally, where it hurts* for about five minutes, and it's like the sensations of discomfort quiet down.
It's a tool for mindfulness. There's something inexplicable that happens when I use my CHI Palm during meditation, but I have a hypothesis. This device works on the level of frequency—and meditation is all about shifting our brain into the deep relaxation of theta waves. Beyond my daily sit, using this massager inspires me to slow down, get quiet, and tap into the moment.
It invokes deep relaxation. With the stress and achiness I've been experiencing lately, sleep often feels out of reach. But the Deep Calm setting has become my favorite wind-down ritual. It's designed to work deep into our unconscious layers, which seems to be my magic formula for passing out.
Level up your well-being.
From my years in the yoga and meditation world, what I've learned is that wellness isn't static, it's ever-changing. And while we all have our staples—whether that's getting on the mat, heading out for a run, or steeping a cup of calming tea—there are so many tools out there that can compliment and elevate our wellness journey. And that's how I see the sound wave benefits of the CHI Palm. In a world where stress seems to be lurking behind every corner, I'll take the extra healing wherever I can get it!
Devon Barrow
Branded Content Editor
Devon Barrow is a Branded Content Editor at mindbodygreen. She received her degree from the University of Colorado. When she's away from her desk, Devon is teaching yoga, writing poetry, meditating, and traveling the world. She's based in Boulder, Colorado.
Devon's first book, Earth Women, is coming soon. To learn more, join the mailing list, and receive updates, head to www.devonbarrowwriting.com.