Peanut Butter & Greens Sandwich: Yes, It's A Thing & It's Deliciously Simple
Contributing writer
By Lukas Volger
Contributing writer
Lukas Volger is a cookbook author, food writer, recipe developer, and editor. His most recent title is Start Simple: Eleven Everyday Ingredients for Countless Weeknight Meals.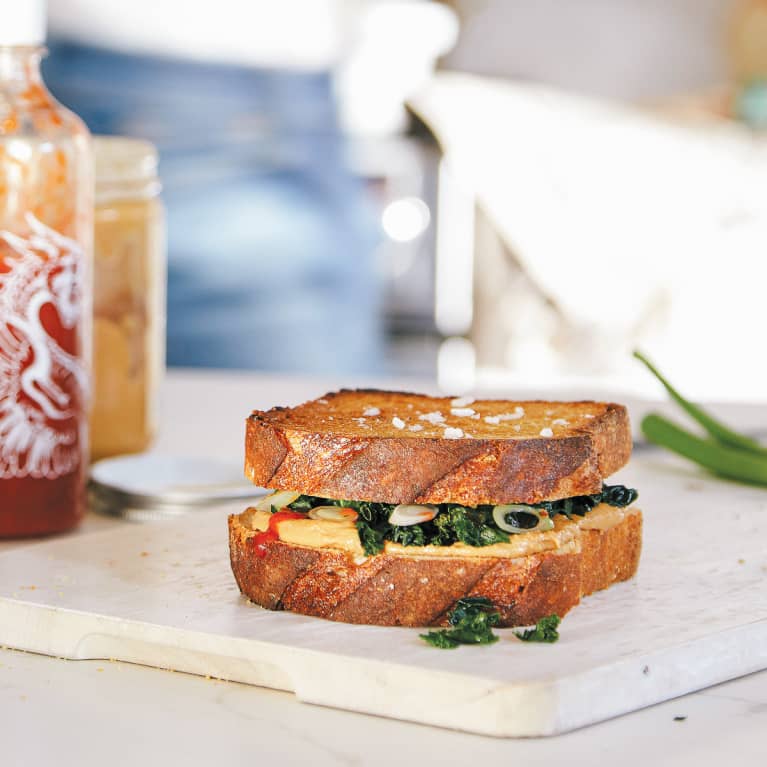 Our editors have independently chosen the products listed on this page. If you purchase something mentioned in this article, we may
earn a small commission
.
This may sound like a strange combination if your first association with peanut butter is jelly—but focus on the peanut's savory side, and it makes perfect sense (if you avoid eating peanuts, almond butter makes an excellent substitute).
I like this sandwich best with a soft wheat bread and when the marinated greens have some bitterness. The scallion cuts the richness of the peanut butter just a bit, but if you don't like raw allium, omit it.
Peanut Butter & Greens Sandwich
2 slices sandwich bread
3 tablespoons natural peanut butter
¼ cup marinated greens (you can sauté any leafy greens you desire in olive oil, garlic, lemon, and red pepper flakes)
1 scallion, lights green and white parts, thinly sliced
Fresh lemon juice
Sriracha
Olive oil or butter
Flaky salt
Spread both sides of the bread with peanut butter and, depending on the saltiness of the peanut butter, sprinkle with salt to taste.
Spread the marinated greens over one slice and top with the scallion, a squeeze of lemon juice, and sriracha to taste. Close the sandwich.
Place a skillet over medium heat. When hot, pour in a thin film of olive oil or melt a pat of butter in it.
Place the sandwich top-side down and cook until golden brown, about 3 minutes, pressing down gently if needed so that it begins to brown. Add a bit more olive oil or butter if the pan looks dry, then flip and repeat.
Sprinkle the sandwich with a pinch of flaky salt, slice in half, and serve immediately.
Pro tip: Salt your sandwich. Adding a pinch of flaky finishing salt to the top of your sandwich isn't the most intuitive thing to do—especially since the seared bread already has some crunch. But I've been doing this ever since I saw it done at a cafe for a grilled cheese sandwich I ordered. The little savory, brittle bursts are totally delectable and have a way of elevating the sandwich to something special.
From the book Start Simple by Lukas Volger. Copyright © 2020 by Lukas Volger. Published on February 18, 2020, by Harper Wave, an imprint of HarperCollins Publishers. Reprinted by permission.