These Lemon Poppy Seed Pancakes Are Packed With Delicious Antioxidants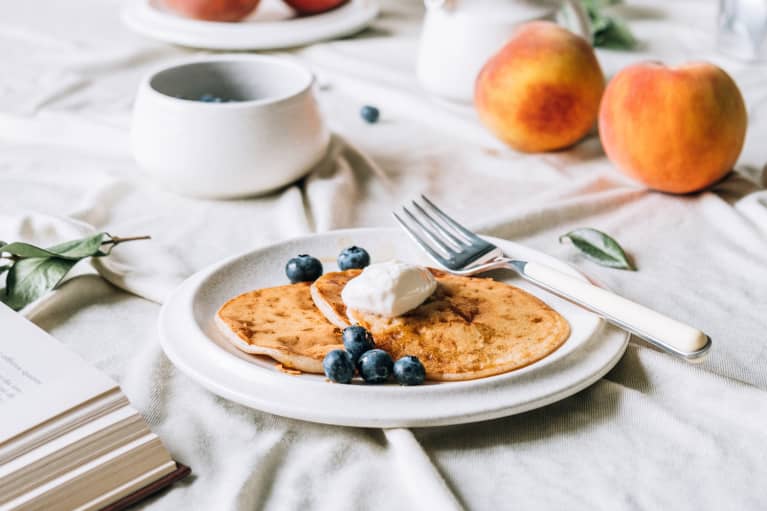 Our editors have independently chosen the products listed on this page. If you purchase something mentioned in this article, we may
earn a small commission
.
One of the best things about the changing of the seasons is the variety of fresh recipes that come with it. While the winter welcomes in warm, nourishing dishes, the spring and summer are perfect for zesty, fruity meals that bring just as much excitement as a sunny day. Aiming to spice up your breakfast offerings for the spring? Look no further than lemon poppy seed pancakes.
These sweet and delicious breakfast cakes are perfect for brunch from home and are packed with antioxidants from the lemons for a filling and nutritious meal. Jessica Bippen, M.S., R.D., guided us through her own recipe over on her Instagram, sharing that to keep your blood sugar levels in check, you can top your pancakes with Greek yogurt or serve with a side of eggs to give you stable and long-lasting energy.
Poppy seeds are known for packing quite the punch when it comes to promoting healthy digestion, and lemons are high in vitamin C and fiber, which may support immune health and regularity, too.*
And if you're looking for easy ways to take your breakfast to the next level, adding a scoop of mbg's beauty & gut collagen+ will offer several powerhouse vitamins and minerals such as biotin and vitamins C and E to promote skin hydration and elasticity while supporting a healthy intestinal lining.* Yes, this breakfast can count as a form of self-care!
Lemon Poppy Seed Pancakes
1 cup oat flour
1 tsp baking powder
½ tsp baking soda
¼ tsp salt
2 eggs
⅔ cup Greek yogurt or thick almond or coconut yogurt
¼ cup lemon juice (juice from 2 small lemons)
Zest from 1 lemon
2 tablespoons honey
1 teaspoon vanilla
1 tablespoon poppy seeds
2 eggs
1 egg yolk
¼ cup honey
⅓ cup lemon juice
¼ teaspoon salt
In a medium bowl, whisk together the eggs and egg yolk. Add the maple syrup, lemon juice, and lemon zest, and whisk again until smooth.
Warm a saucepan over medium-low heat. Pour the egg mixture into the pan and cook over low heat, whisking constantly, until it begins to thicken, about 10 minutes.
Make sure to not let the egg mixture boil. Do not overcook, as the eggs will become lumpy. It should have the texture of loose pudding.
Remove the pan from the heat and pour the mixture through a fine-mesh strainer into a glass jar. This set makes for silky-smooth lemon curd and removes any overcooked egg whites.
Heat a large skillet on medium-low heat.
In a medium bowl, whisk together the eggs, yogurt, lemon juice, lemon zest, honey, and vanilla.
Add the oat flour, baking powder and baking soda, salt and poppy seeds (optional: a scoop of mbg's beauty and gut collagen+). Gently stir until just combined.
Lightly coat the pan with coconut or avocado oil.
Pour ¼ cup of batter onto the pan and cook for about 1 to 2 minutes on one side. Flip and continue to cook for another minute or 2 with the rest of the batter.
Plate the pancakes. Serve with lemon curd and yogurt. Sprinkle with powdered sugar or monk fruit if desired.