These Cookie Dough Superfood Bites Will Boost Your Mood & Energy
mbg Contributor
By Caroline Muggia
mbg Contributor
Caroline Muggia is a writer, environmental advocate, and registered yoga teacher (E-RYT) with a B.A. in Environmental Studies & Psychology from Middlebury College.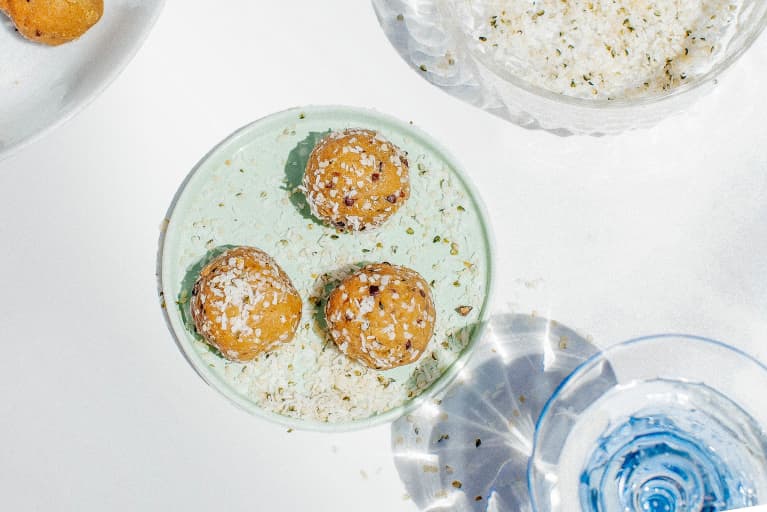 Our editors have independently chosen the products listed on this page. If you purchase something mentioned in this article, we may
earn a small commission
.
We've all been there: You're on the go, and everywhere you look are snacks but not exactly healthy ones. Danielle Duboise and Whitney Tingle, the founders of the plant-based meal-delivery program Sakara Life and the authors of the new cookbook Eat Clean, Play Dirty, are here to help us out with the perfect snack for in between meals, on-the-go, and while traveling. Here, they share their nutty, chocolaty, "cookie dough" bites, which feature three of their favorite superfoods—cacao nibs, flaxseed, and hemp seeds.
No matter what time of day it is, you can rely on raw organic cacao to give your mood a lift. Cacao is high in tryptophan, an amino acid that helps increase our serotonin levels, leading to less anxiety and more relaxation. Besides getting your chocolate fix in, cacao is high in antioxidants, magnesium, and many other vitamins that help boost our energy and contribute to weight loss.
Also on their list of go-to superfoods are flaxseed and hemp seeds. Flaxseeds are high in omega-3 fatty acids, which help decrease inflammation and protect against heart disease, and hemp seeds are high in protein, making this the ultimate energy-boosting option.
They're delicious, easy to make (we suggest making a big batch to have all week), and they pack up well in any container you have. No more hangry traveling!
Superfood Cookie Dough Bites
Makes 12 bites
Ingredients
½ cup almond butter
¼ cup maple syrup
½ teaspoon pure vanilla extract
¼ cup coconut flour
3 tablespoons ground flaxseed meal
¼ teaspoon Himalayan salt
¼ cup cacao nibs
2 tablespoons hemp seeds
2 tablespoons unsweetened shredded coconut
In a large bowl, stir together the almond butter, maple syrup, and vanilla until creamy. In a medium bowl, combine the flour, flaxseed meal, and salt.
Add the dry ingredients to the wet and mix well to combine. Use the back of your spoon to work in the cocoa nibs. Use your hands to roll the dough into 1-inch balls.
In a small bowl or on a plate, mix together the hemp seeds and shredded coconut. Roll each ball in the mixture until fully coated. Refrigerate the bites for at least 30 minutes before serving. Store leftovers in the fridge for up to 1 week or in the freezer for up to 1 month.