The Blood Sugar–Balancing Ingredient That Will Take Your Smoothie To A Whole New Level
If there was a Hollywood award ceremony for the best nutrition source of 2017, the moringa tree would surely grab the title. With the official name Morings oleifera and the nickname "miracle tree," this plant from Africa, Asia, Central America, and South America is the superfood of 2017. So if you're looking to put something new in your smoothie to fight inflammation, support brain health, and balance blood sugar—read on.
I'm moringa-crazy because of the dense nutrition. The leaves contain more vitamin C than an orange, more vitamin B3 than peanuts, and more vitamin A than a carrot. This plant contains 25 times more iron than spinach and four times the fiber of oats. Moringa is so beneficial because it's a member of the Brassica family—along with broccoli, kale, and cauliflower—which can produce high dietary levels of sulforaphane, a phytochemical with seemingly endless health benefits. Here are eight reasons to add moringa to your daily routine.
Moringa works like an antioxidant in the body fighting oxidative stress, cellular damage, and inflammation. A study found that leaf extracts had higher antioxidant activity, free radical–scavenging capacity, and higher inhibition of lipid, protein, and DNA oxidation than the flowers and seeds. So keep that in mind when you're choosing a brand.
2. Lower inflammation levels
Inflammation can be measured through a blood test—like the high sensitivity C-reactive protein test—and is elevated in many chronic diseases. Moringa reduces inflammation by suppressing inflammatory enzymes and proteins in the body, and research has shown that moringa leaf concentrate can significantly lower inflammation in cells.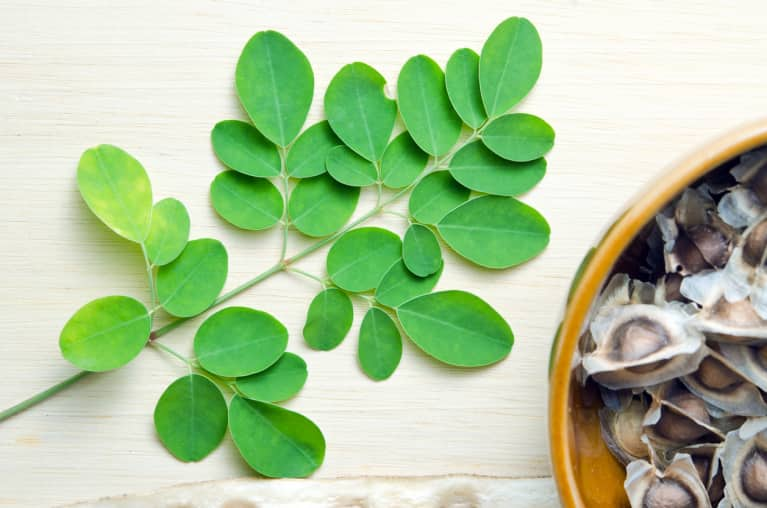 3. Healthier blood sugar and cholesterol levels
Moringa leaf powder has been effective at reducing lipid and glucose levels and regulating oxidative stress in diabetic patients, which means it lowers blood sugar and cholesterol and improves protection against cellular damage.
4. More heart-health protection
5. Better memory and more-positive moods
7. More infection-fighting power
Moringa may help control fungi that cause infections on skin and strains of bacteria responsible for blood and urinary-tract infections and digestive problems.
8. Speedier wound healing
Moringa has blood-clotting properties in its leaves, roots, and seeds that enhance wound healing and can reduce clotting time.
You can add moringa powder to your smoothie or drink it as a tea. It also comes in capsules if you find that easier. You can start with half a teaspoon a day and move up to one or two tablespoons a day. Here's a berry and moringa smoothie recipe I like to make in the mornings to start my day on a healthy note:
Dr. Kahn's Berry & Moringa Smoothie
1 cup berries fresh or frozen (I prefer blueberries)
1 scoop organic pea protein powder (I prefer vanilla or strawberry flavor)
½ teaspoon cinnamon
1 ½ tablespoons moringa powder
8 ounces unsweetened almond or organic soy milk