These (Almost) People-Free Workouts Are An Introvert's Dream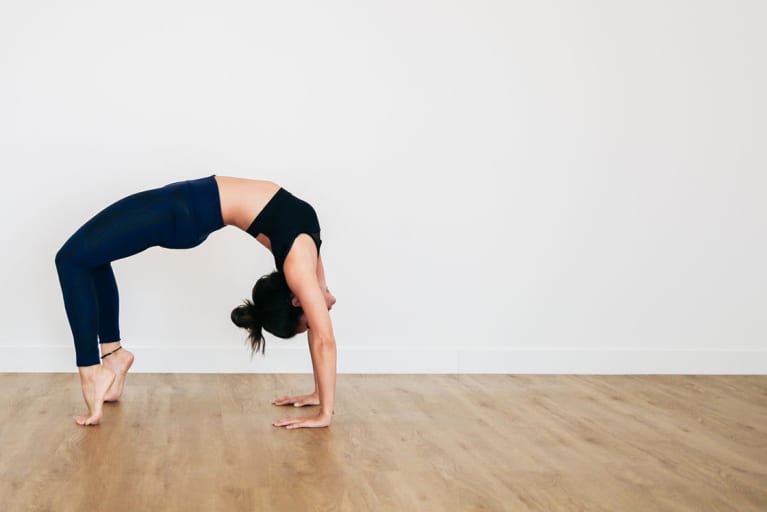 There's no doubt we've seen a major shift in fitness in the last few years—boutique studios and group classes are more popular than ever, and exercising has truly become a social experience. From yoga retreats to CrossFit communities and beyond, it's clear that people love using group fitness as a way to meet new people and feed off others' motivation—and sometimes having a high-energy instructor to push you through is just what you need.
But what if you want to get a good workout and keep to yourself? I spend most of my gym time with other people (training clients, coaching classes, or working out with friends), but I definitely need my alone time to keep sane, and sometimes that includes a good sweat by myself!
Here are some of my favorite ways to satisfy my introverted side while still getting a great workout.
Take a hot vinyasa class.
If you want to take a class without someone shouting motivational quotes while you're doing a plank, hot vinyasa yoga is for you. While hatha or yin yoga are my go-to's for recovery, taking a vinyasa class is one of my favorite ways to get a strength workout in. Vinyasa is such a great form of training and can be done at any level—plus a 45- to 60-minute yoga class is an easy way to be among others but also be in your own physical and mental space. You can get a great sweat in and be vulnerable on your mat with no judgment and no one hounding you.
Try some solo strength training.
Strength training is another way to be in your own head space—just throw on some headphones, grab some weights, and you're golden (so long as you know what you're doing). Kettlebell, dumbbell, and barbell complexes are my workouts of choice when I'm on my own because complexes are an easy way to build both strength and endurance, all in one session. What is "a complex"? Typically, a complex is a series of three to six different movements you do back-to-back with one piece of equipment without putting the piece of equipment down.
Here's an example:
Dumbbell Complex:
10 Alternating Renegade Rows (each side)
10 Single-Leg Deadlifts (each side)
10 Squat to Overhead Presses
In this complex, you'll pick one set of dumbbells that you can use for all of the exercises. You'll move through 10 of the renegade rows, then 10 single-leg deadlifts, 10 squat to overhead presses, and then put the dumbbells down. Yep, don't put that equipment down until you're done with all the movements!
Pick movements, weights, and reps that you can complete safely but still challenge yourself with!
Try an online class or a free fitness app.
Sometimes you simply don't want to leave the house AT ALL, and that's OK! It doesn't mean you can't get in a workout. I love using apps when I'm traveling and I don't want to leave my hotel. There are plenty of fitness programs out there that you can download with curated workouts by certified trainers, or if you want something more equivalent to a real class, mindbodygreen has great offerings, like this total-body workout or their 20-minute workout challenge. YouTube or Instagram are also great resources for some workout inspo; just make sure to find someone who is qualified to be giving you advice, like a personal trainer.
So if you're an introvert, or just feeling more introverted than usual, fear not—the fitness world can still be your oyster. If you decide to hit the gym, get your body ready with this easy five-minute warm-up, or if you'd rather kick it indoors, this 15-minute workout is equipment-free (and will help you sleep like a rock).