Found: The Best Workout To Do The Morning You Travel
mbg Associate Movement & Wellness Editor
By Ray Bass, NASM-CPT
mbg Associate Movement & Wellness Editor
Ray Bass is the associate movement and wellness editor at mindbodygreen and a NASM-Certified Personal Trainer. She holds a degree in creative writing from the University of Pennsylvania, with honors in nonfiction.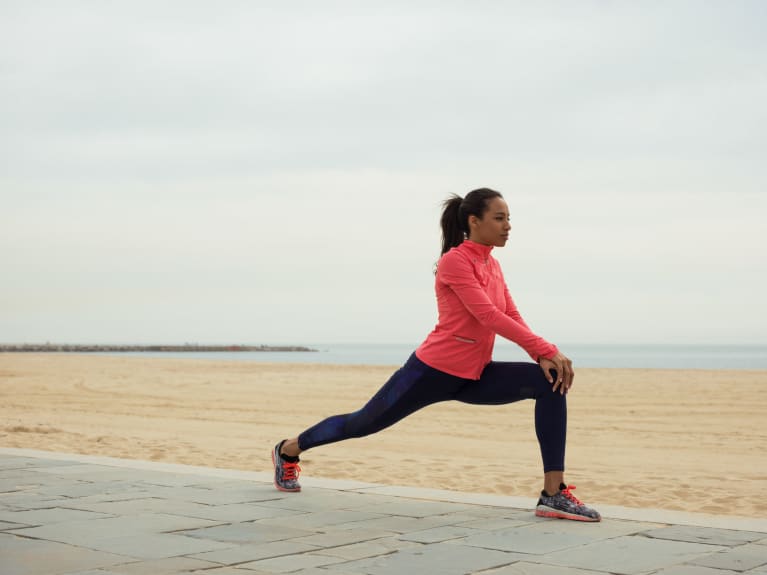 Ah, travel, our gateway to the rest of the world. Traveling, while rewarding, can be stressful—running around trying to catch flights, dealing with delays, or even forgetting something can turn the experience sour real fast (until you reach your destination, of course). As a somewhat fearful flyer, I'm always looking for ways to make my flights (or even train and car rides) as comfortable and carefree as possible. And as a fitness editor, unsurprisingly, I've found that the answer to my issue is working out.
Now I know what you're thinking: All the prep that goes into traveling can be exhausting enough; why would I want to add a workout to that list? Well, there are a few reasons. Exercise, as we know, releases endorphins, which improve your mood, but working out also relieves stress and anxiety and can help release tension in your muscles by getting your blood flowing and body moving. Even if I squeeze in 15 minutes of movement before travel, it makes me feel way more relaxed and at ease, so if (more like when) sh*t hits the fan, its impact feels more like a 2 than a 10.
Now you're probably thinking: Well, what kind of workout should I be doing? How can I be the most relaxed? Fear not, we have your answers.
The workout you should do before you travel.
As is the case with most health-related questions, the answer to this one is "it depends." In other words, it depends on what kind of person you are, and what you're looking to prevent during your travels. If you have trouble sitting still or feeling antsy, then a HIIT workout is the perfect fix.
"I'd recommend doing a HIIT workout to get some of your energy out before being stuck on a plane for any amount of time," says Krista Stryker, NSCA-certified personal trainer and founder of the 12-Minute Athlete. "Work as hard as you can and get your heart rate up while you can!"
That said, if you're more worried about feeling stiff on the plane and not being able to move around, Stryker recommends a workout catered toward that. "If you're worried about stiffness, then doing some sort of yoga or stretching routine before your flight may help you feel more comfortable."
And if you want to avoid both—feeling anxious and stiff—then it makes sense to combine a short HIIT session with a little stretching. "A quick HIIT workout followed by five to 10 minutes of stretching may be a perfect combination for anyone looking to get some energy out and avoid feeling overly stiff," Stryker says.
Is there a workout you shouldn't do the morning you travel?
Knowing that HIIT and/or stretching are great options for the morning you travel, you may be wondering if there's any type of workout that you shouldn't do. Will running leave your legs feeling restless on a flight? Will a boxing class make your muscles seize up?
The answer, fortunately, is that no workout is really off limits. According to Stryker, "Since soreness usually occurs the next day, not immediately after your workout, you can really do whatever workout you choose." That said, definitely try to get some movement in after your flight. "Even a short walk or some light yoga and stretching can go a long way in helping you avoid being overly stiff the next few days."
Ready to explore and conquer the world? Check out these five exercises that you can do anywhere, or give Dua Lipa's 15-minute HIIT workout a try before (or during) your next trip.