Close Banner
Advertisement
This ad is displayed using third party content and we do not control its accessibility features.
Taraji P. Henson On Aging: Therapy As Skin Care, Hair Growth Habits & More

Beauty & Health Editor
By Jamie Schneider
Beauty & Health Editor
Jamie Schneider is the Beauty Editor at mindbodygreen. She has a B.A. in Organizational Studies and English from the University of Michigan, and her work has appeared in Coveteur, The Chill Times, and Wyld Skincare.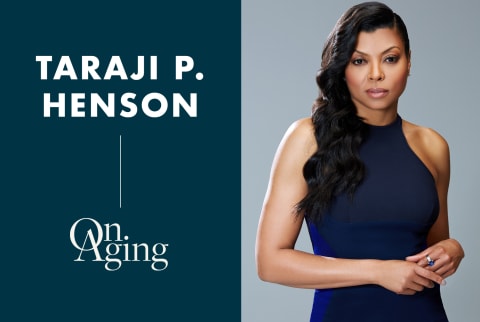 Image by Taraji P. Henson / mbg Creative
We carefully vet all products and services featured on mindbodygreen using our
commerce guidelines.
Our selections are never influenced by the commissions earned from our links.
Welcome to On Aging, a series that highlights industry icons' approach to beauty through the decades. They'll share what makes them feel most beautiful, their biggest beauty experiments, and, of course, all of their skin and hair care tips.
When I sit down with actor, filmmaker, and mental health advocate Taraji P. Henson, I'm prepared to talk about changes. This series, after all, is meant to highlight how beauty icons have evolved over the years and what they've learned along the way. And we certainly talk about the shifting beauty landscape, the skin and hair care tips she's learned, and the memories that stand out (like her affinity for blue eye shadow).
"I think we were married in a past life," Henson jokes during a fireside chat at the recent Women's Mental Health & Empowerment Summit hosted by Kate Spade New York. As the two creatives recount how they met—and remained "soul mates"—throughout the years, they represent just how high true friendship can lift you up. (And on a beauty-related note, social connection can even facilitate faster wound healing1.)
"All humans want to be seen," Henson tells me after the summit. "We want to be seen, we want to be heard, and we want to be loved." And when you have someone who truly sees you through all the natural shifts that life brings? Well, that's a beautiful thing.
So, if you take one piece of advice from Henson (in addition to her healthy aging tips below), it's to call a friend today. If anything, your skin will glow for it.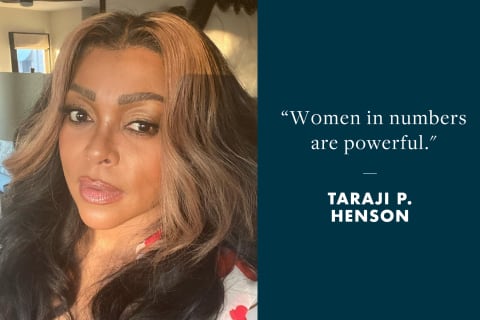 Image by Taraji P. Henson / mbg Creative
On her current beauty philosophy
"My beauty philosophy is that aging is inevitable. Just accept it and age gracefully. You can't fight it. I mean, you can…but you'll look like you're fighting it. Just embrace it; it's going to happen.
"That's what I've seen the women in my life do. My mom has four sisters—we lost one—and they all have just been so graceful in their aging. Those have been my examples my entire life."
On her earliest beauty memory 
"My first beauty memory was playing with my mother's makeup. I remember this picture where I have very dark lips and blue eye shadow, and I thought I was doing something. I think it was the late '70s. That's when blue eye shadow was in.
"I started attempting to do my own hair in the second grade. So I was a little beauty girl. And I was an only child, so I had a lot of time to play."
On her moments of self-care
"You ever hear, When you feel bad, get up, take a shower. You'll feel much better? I mean, that's what it's about—taking care of yourself on the outside. That's why I created TPH. We launched during the pandemic, and the idea was to give spa-like products for an affordable price and bring the spa home. Taking care of yourself from scalp to toe was the mission for TPH, and that still is the mission today.
"The idea is to change the narrative of washing your hair or taking care of yourself as a chore. It's self-care. You make a moment out of it. You make it an experience.
"I look forward to hair care day. Usually I start with my sugar scrub. I leave it on for a minute, then I start cooking, and then I wash that out. And it always ends with a great hair mask—and me in the tub."
On the best beauty tip she ever heard 
"Drink lots of water and get some rest. It works. There's no gimmick there.
"Even when I'm training, my skin glows. Like, I look different. My skin looks better…and therapy definitely makes your skin look great.
"I really pay attention to all the beauty things. I knew to wrap my hair at night—I learned that in my 20s—and I knew to wash my makeup off. I didn't wear a lot, but when I did, I made sure I washed. I don't care how hungover I am or where I come from; I will wash that makeup off my face before I go to bed.
"I trained in theater, and we had to learn how to do makeup for the stage. So I guess when you're wearing all of that makeup onstage, you've got to wash it off. I never fall asleep in makeup."
Therapy definitely makes your skin look great.
On the mind-beauty connection
"I wish I had more [mental health resources]. We never talked about it. And it's unfortunate, because my best friend, Tracie [Jade Jenkins], who runs The Boris Lawrence Henson Foundation, suffered from depression and anxiety at a young age.
"No one talked about it. We had no education around mental illness or mental health at all. We cry about it now because it's sad. It's so sad that we didn't know how to have these conversations. So absolutely, I wish there were more resources.
"Women in numbers are powerful. The Boris Martin's Henson Foundation would not be as far along and be able to do as much work if we didn't have our sisters at Kate Spade New York. We need each other. If you're trying to save people, you can't do it by yourself, you know? You need help, and I'm grateful for this partnership because we are doing real work out here."
On her current beauty lineup
"Anything Guerlain. They have great hydration masks. Lancome makes this ice globe—I don't know if they make it anymore, but I have mine, and I'm never getting rid of it. I love that thing. Sometimes I just lay in bed and roll it all over my face.
[Editor's note: Henson's Lancome favorite is sadly discontinued, but you can find some more swoon-worthy ice globes here.]
"I love to keep my skin moisturized, especially when I'm flying. That's another trick I learned from a makeup artist of mine: Whenever I get in the air, I always put oil on my skin. I have several [oils]. One is by NaturaBissé. I [apply] that on flights, and I wear the oil every night."
Guerlain Super Aqua-Mask Intense Hydration Mask
$ 135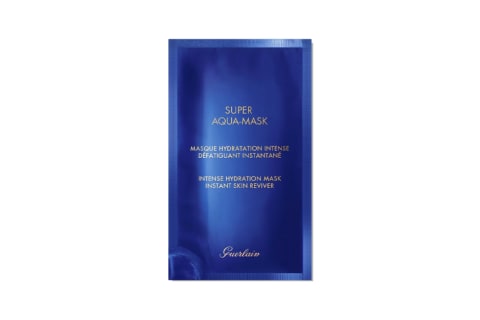 NaturaBissé Diamond Extreme Oil
$ 175
A silky, fast-absorbing oil that infuses the skin with nourishing fatty acid- and antioxidant-rich botanicals (think chia, amaranth, calendula, and carrot seed oils) for glowing skin overnight. Not to mention, it features vitamin E, vitamin F, and pomegranate-derived punicic acid to fend off free radicals and counteract signs of skin aging.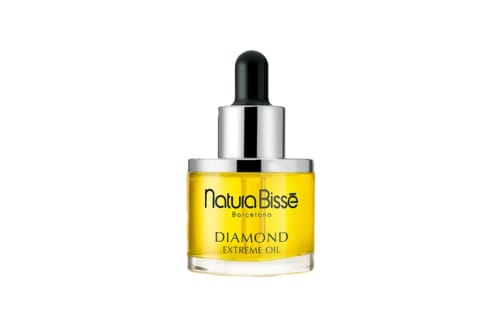 On what she would tell her younger self 
"It's OK to have lipstick on your teeth every once in a while. [To not to be] perfect all the time. Sometimes you're just going to get lipstick on your teeth."
On what makes her feel most beautiful 
"Knowing all the people that I have in my life that love me, no matter what. No matter what I look like, they love me anyway."

Jamie Schneider
Beauty & Health Editor
Jamie Schneider is the Beauty Editor at mindbodygreen. She has a B.A. in Organizational Studies and English from the University of Michigan, and her work has appeared in Coveteur, The Chill Times, and more. In her role at mbg, she reports on everything from the top beauty industry trends, to the gut-skin connection and the microbiome, to the latest expert makeup hacks. She currently lives in Brooklyn, New York.