paid content
 for
Sustainably Soft: How Shea Butter Can Transform Your Skin
Image by Obakki / Contributor
June 1, 2021
When it comes to skin, no two bodies are the same. But while we each have different skin care needs and product routines, one thing remains universally true: We all like our skin soft.
And nothing leaves our skin as lush as a lather of shea butter, notorious for its silky-smooth hydration. Even better when it's sustainably sourced and artisan-crafted, like the Nilotica Shea Butter and Whipped Shea Lotion by Obakki. Ever wondered about what makes shea butter so darn dreamy? To answer that question best, we look to not only its properties but where shea butter comes from.
Advertisement
This ad is displayed using third party content and we do not control its accessibility features.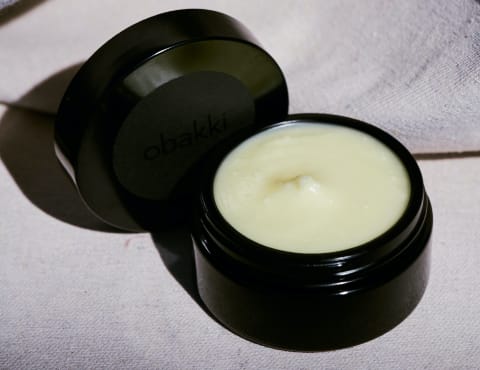 Image by Obakki / Contributor
A closer look at shea butter.
Behind every jar of shea butter is a rich profile of ingredients, culture, and craft. Shea butter has been used for centuries in Africa for its moisturizing, anti-inflammatory, and anti-aging qualities. It comes from shea trees, which Africans view as a divine gift due to their 300-year lifespan and abundance of this thick butter. Though all shea butter seems to be a blessing, Nilotica shea butter is known to have the most concentrated therapeutic and conditioning properties.
Whereas normal shea butter comes from West Africa, Nilotica shea butter finds its roots in East Africa, more specifically South Sudan and Northern Uganda. The constitution of this butter has higher olein content, which simply means it hydrates our skin better. Nilotica shea also has 25% higher essential fatty acid content, providing vitamins A, E, and K to brighten and even out skin tone, in addition to softening.
Shop Obakki:
Sustainably soft skin.
But to truly appreciate shea butter, we must inquire beyond its incredible properties: Who are the people behind the product? Obakki is a brand that creates and curates sustainable goods, demonstrating what it looks like to unite community and product with their Nilotica Shea Butter. This shea butter comes from a collective of women entrepreneurs in Bidibidi, Uganda, the world's largest resettlement area. In addition to supporting the families and larger community behind these women, the Obakki Nilotica Shea Butter also helps the environment by ensuring that the shea trees are harvested versus cut down for other purposes.
The Obakki Nilotica Shea Butter is a perfect example of how clean beauty can be so gratifying. There is a story behind this product, and connecting to it brings depth and meaning to our routines. It feels good when our beauty ritual doesn't just benefit our body but the greater world around us! With this cream, we're nourishing our skin and supporting artisans, all in the same slather.
Advertisement
This ad is displayed using third party content and we do not control its accessibility features.
Extra layers of softness.
And then there are those days when you want lighter moisture on your skin... That can start with the Obakki Cold-Pressed Soap made with shea butter (also benefiting women entrepreneurs in Africa) and end with the Obakki Whipped Shea Lotion. The shea butter in this lotion is 100% organically grown and is enjoyed in either an "earthy" or "sensual" scent. And because there's no such thing as skin that's too soft... We're pointing you in the direction of the Obakki Sugar Scrub, perfect for exfoliating before you rub on the shea butter. Scented with a blend of sandalwood, vetiver, and amber—it's a sweet treat for your mind and skin.
Shop Obakki:
Products that bring us together.
When looking for clean beauty products, we have to look behind the scenes—deeper than the packaging, the ingredient list, and the reviews. Obakki makes that intention easy, as their mission is to support the artisan and community behind their products. For so long, there has been a disconnect between those who make the product and those who use it. But with their shea butter, Obakki reminds us of something important: Products have the potential to bring us together.
Advertisement
This ad is displayed using third party content and we do not control its accessibility features.
Devon Barrow
Branded Content Editor
Devon Barrow is a Branded Content Editor at mindbodygreen. She received her degree from the University of Colorado. When she's away from her desk, Devon is teaching yoga, writing poetry, meditating, and traveling the world. She's based in Boulder, Colorado.
Devon's first book, Earth Women, is coming soon. To learn more, join the mailing list, and receive updates, head to www.devonbarrowwriting.com.