paid content
 for

Sustainable Plant Stem Cell Science Is Transforming Our Skin Care… Here's The Scoop
Image by ohlamour studio / Stocksy
April 7, 2022
Plant stem cells may sound more reminiscent of high school biology than beauty, but they're transforming skin care as we know it. Extracts from these natural ingredients allow us to be kind to our skin and kind to our planet. But good feels aside, plant stem cell extracts are also fundamental to the most important kind of clean beauty routine: one that works.
Advertisement
This ad is displayed using third party content and we do not control its accessibility features.
Plant stem cells: What are they?
Plant stem cells are "undifferentiated cells," meaning the kind of cell they'll become (like a leaf, root, or flower cell) is a bit TBD. They live in parts of the plant that grow quickly—think roots and shoots. Kind of like a superpower, these plant stem cells self-renew by growing new plant parts1 after injury. Add in the fact that they are boosted with soothing and antioxidant components and generated sustainably, and it's no wonder plant stem cell science and beauty brands share mutual interests. Chantecaille, an innovative clean beauty company, was one of the first to harness the power of these botanicals while giving back to the environment. After all, nature is the inspiration behind their formulas.
From a young age, founder Sylvie Chantecaille found herself fascinated by the healing powers of flowers and plants. A beauty industry pioneer, her ahead-of-the-curve passion for naturals soon homed in on plant stem cells and their promising skin potential. "As a girl, I spent long afternoons reading Paris Match in our attic surrounded by crates of drying, wrinkled apples," she recalls. "So when I heard about research on a non-wrinkling apple whose stem cells had anti-aging properties, I was extremely interested in how they could be used in skin care."
Her brand Chantecaille has thus been at the forefront of plant stem cells revolutionizing skin care—with a trail of products to prove it. It started over a decade ago with their Nano Gold Energizing Eye Cream, which used what were then newly engineered apple stem cells. The eggplant stem cell ingredient used in their new CBD 300 Face and Body Cream inhibits certain sensory receptors, the discovery of which led to a Nobel Prize for medicine. And today, with the launch of their newly reformulated Bio Lifting Mask+, we see the benefits of plant stem cell extracts and botanical formulas extend even further.
Why are plant stem cell extracts so beneficial?
There's a reason why Chantecaille refers to plant stem cell extracts as "The Supernaturals." Plant stem cell extracts are typically much more concentrated than natural extracts, hence their superior potency. And as for their anti-aging prowess: "Plant stem cells serve as the origin of plant vitality because they never undergo an aging process," explains Marta Cammarano, Chantecaille's VP of research and product development.
But where do these benefits and skin care meet? It starts in a lab, where plant stem cells are sourced from plant tissue. They're then sterilized and grown into a nutrient-dense jelly containing the stem cells themselves. Researchers then stress these plant stem cells to mimic environmental challenges like extreme heat and cold or excessive sunlight. These conditions cause the plant stem cells to generate phytonutrients that we know our skin loves, like antioxidants, sugars, and peptides. The stem cells are then homogenized to release these phytonutrients, which pack our skin care products with antioxidants and soothing molecules to moisturize, protect from free radicals, calm the appearance of redness, and visually reduce the signs of aging.
Chantecaille's Bio Lifting Mask+ is a prime example. It combines bionymph peptide stem cell extract with other superstar ingredients, like an alga tensing blend and sugar-based lifting agent, to boost collagen types I and III, reduce the appearance of fine lines, and make our skin look lifted. Because it's rich with science and benefits, you can feel (and see) that it's so much more than your average mask.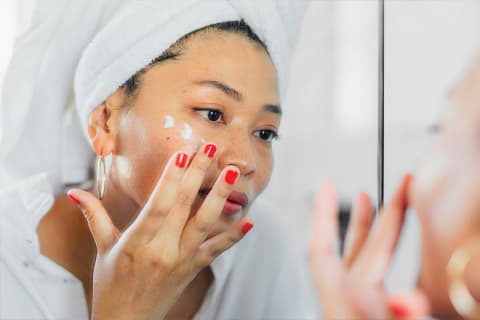 Image by studio firma / Contributor
Advertisement
This ad is displayed using third party content and we do not control its accessibility features.
Plus, plant stem cells are sustainable.
On top of their cosmetic benefits, plant stem cell technology is planet-friendly. They may start in a lab, but lab-produced plant stem cell extracts are actually the most sustainable way to enjoy the potency of these ingredients. Instead of wasting a whole plant and the resources it needs to thrive, this process allows researchers to obtain only what they need, using less water than field farming (plus little soil and zero pesticides). Further, this process offers a clean and consistent supply of these extracts, as they're not limited to harvest or seasons. This plant stem cell technology allows us to make the most of nature while also protecting it.
Our favorite plant stem cell extracts.
Plant stem cell extracts aren't just powerful, they're incredibly versatile. Different plants yield different benefits. And the best way to access all of them? With a diverse skin care routine:
Raspberry Stem Cell Extract: This powerful extract is known for its ability to fight "inflamm-aging." It has an immediate and long-term hydrating and soothing effect on the skin. You'll see the calming effects of this extract in Chantecaille's Rose de Mai Cleansing Balm. A slather of this antioxidant-rich balm removes all traces of dirt, makeup, and sunscreen to leave skin feeling fresh and dewy.
Caffeine-free Coffee Stem Cell Extract: Yet another way to weave the benefits of a little java into your routine. This extract doesn't just moisturize your skin, it visibly plumps skin to smooth out the look of wrinkles. See for yourself with Bio Lifting Serum+ by Chantecaille—a lightweight, hydrating serum full of age-defying ingredients that immediately tightens and visibly firms the skin.
Plantago Lanceolata Stem Cell Extract: This robust ingredient comes from the plantain family and helps boost the synthesis of collagen and elastin to visibly increase skin firmness. It's another key ingredient in the Bio Lifting Serum+ but can also be found in Chantecaille's Bio Lifting Oil Free Fluid+, an oil-free moisturizer that visibly restores skin's density and elasticity.
Bionymph Peptide Stem Cell Extract: Bionymph peptide is an anti-aging and antioxidant agent that helps boost collagen I and III production. It's a superstar ingredient in Chantecaille's Stress Repair Concentrate+ Eye Cream, known for visibly smoothing and lifting the eye area while reducing the appearance of fine lines. You'll also find this botanical in the Bio Lifting Serum+ and Bio Lifting Mask+.
Advertisement
This ad is displayed using third party content and we do not control its accessibility features.
Devon Barrow
Branded Content Editor
Devon Barrow is a Branded Content Editor at mindbodygreen. She received her degree from the University of Colorado. When she's away from her desk, Devon is teaching yoga, writing poetry, meditating, and traveling the world. She's based in Boulder, Colorado.
Devon's first book, Earth Women, is coming soon. To learn more, join the mailing list, and receive updates, head to www.devonbarrowwriting.com.