Close Banner
Advertisement
This ad is displayed using third party content and we do not control its accessibility features.
paid content
 for

Sustainable & Impact Investing: What It Is & How Anyone Can Get Started (Today!)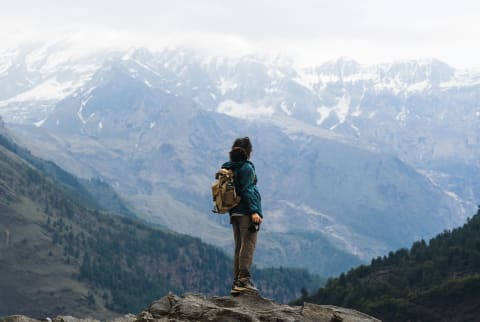 Image by Kike Arnaiz / Stocksy
We're all working together to create a brighter tomorrow. We cut down on single-use plastic; we thrift for timeless vintage pieces; and we opt for cleaner and greener products where we can. These days, sustainability will touch every area of our lives if we allow it—and that includes our wallets.
Maybe you're used to saving up your money so you can afford a more eco-friendly lifestyle (those compostable garbage bags aren't cheap)... But what if you could also rethink how you are investing your money? We're all looking to make the world a better place, and that doesn't have to mean donations and volunteer work. There's another way you can pursue positive change—and it's known as sustainable and impact investing.
Tell me more: What is sustainable and impact investing? 
According to Merrill Edge, sustainable and impact investing refers to investments that seek positive social and environmental effects while targeting competitive financial returns. This type of investing offers you the opportunity to invest your funds in companies that are working toward better ways of doing business, which in some way benefits humanity and the greater planet. In short, sustainable and impact investing is all about considering where you want your investment dollars to go—and it can look different in a lot of ways.
"Over the last decade, we've seen an increase in prioritization to invest in companies with missions that align with investors' personal values," said Matt Gellene, Consumer Banking & Investments, head of consumer client management at Bank of America. "Our goal is to provide investing solutions from Merrill that are built around and for you so you can personalize your investment strategy."
Companies with progressive approaches to social factors like racial equality or employee health often attract individuals looking to invest sustainably and impactfully. Climate change and clean energy are other areas where finance and purpose intersect.
It's on the rise.
Sustainable and impact investing is not just an inspiring way to get involved in a more hopeful future—it's increasingly popular. According to the 2021 Sustainable Funds U.S. Landscape Report, the number of sustainable open-end and exchange-traded funds available to U.S. investors grew 36% from 2020 to 2021. In 2021 alone, 121 sustainable funds were launched (compared to 71 in 2020). All in all, sustainable funds pulled in a record $69.2 billion in net flows in 2021, a 35% increase over the previous record set in 2020. Sustainable and impact investing provides you with a way to make contributions to companies making progress toward causes you care about.
The ABCs of sustainable and impact investing.
We know investing can feel intimidating, and sometimes we may have preconceptions that investing is only for the wealthy or business-savvy—but in fact, it's available to anyone looking to expand their financial portfolio. Even if the idea of sustainable and impact investing is brand-new to you, every strategy comes down to a simple A-B-C framework:
Avoid: Reduce negative social or environmental effects and manage risk by limiting certain exposures. When looking for investing opportunities, this could mean screening out certain companies or industries.
Benefit: Support positive or environmental social practices and enhance potential for long-term competitive financial returns. This could involve investing in companies that incorporate environmental practices into their mission and culture.
Contribute: Advance positive, measurable social or environmental outcomes and target opportunities where impact is intrinsic to financial performance. This means seeking out the companies or industries that are making a measurable impact (like mitigating carbon emissions).
Connect with your purpose. 
These ABCs can help us see investing through a sustainable- and impact-first lens. But how do we get started from there? As you consider sustainable and impact investing, you should determine your own sense of purpose. What type of impact hits closest to home? Maybe you're passionate about social justice, climate change, or employee health care. Consider investing in an opportunity you personally care about that aligns with your overall goals.
If you're ready to take the next step, you can learn more about sustainable and impact investing with Merrill Edge. Consider working with an adviser to help you navigate all of your questions and equip you with the tools and resources to manage your money.
"We are dedicated to providing best-in-class tools and resources to help investors become better informed and educated," says Gellene. "Whether you need help choosing your investments or evaluating your portfolio, we have a range of strategies available to support you across your investment journey."
We're living in an era of constant change—from the environment to social dynamics to corporate culture. These days, making a difference means all hands on deck, and our financial decisions are a part of that. As the famous quote goes, "Be the change you wish to see in the world"—so why not invest in it, too?
Merrill Lynch, Pierce, Fenner & Smith Incorporated (also referred to as "MLPF&S" or "Merrill") makes available certain investment products sponsored, managed, distributed or provided by companies that are affiliates of Bank of America Corporation ("BofA Corp."). MLPF&S is a registered broker-dealer, registered investment adviser, Member SIPC, and a wholly owned subsidiary of BofA Corp.

More On This Topic
more Lifestyle
Advertisement
This ad is displayed using third party content and we do not control its accessibility features.
Advertisement
This ad is displayed using third party content and we do not control its accessibility features.