paid content
 for

Supporting Stress In The Modern World: The Power Of Ashwagandha*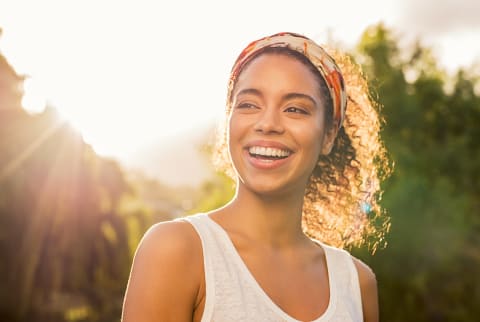 Image by Rido / Shutterstock
July 22, 2021
As a yoga and meditation teacher, you might think my job is simply to guide people into pretzel-like shapes and stillness. That may be what it looks like on the surface, but what I really find myself doing is helping students manage their stress. Never in my decade of teaching have I witnessed students so stressed out by life, which seems to only reflect the greater whole.
As a collective, stress levels have reached an all-time high. Earlier this year, a survey by the American Psychological Association reported that 84% of adults have recently felt at least one of the emotions related to occasional stress. On a scale from 1 to 10, where 1 was "little to no stress" and 10 was "a great deal of stress," our population averaged 5.6. To put it mildly, it's time to start getting real about stress management. That starts with broadening our understanding of stress and incorporating daily support from herbs like ashwagandha, a key ingredient in the new Himalaya Hello supplements.*
Going deeper: Stress & ashwagandha.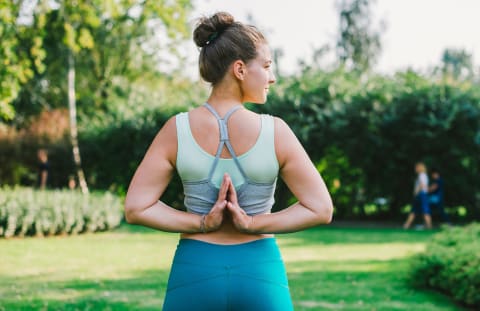 Image by Yulia Grigoryeva / Shutterstock
Stress is kind of like our emotional kitchen sink. We'll throw anything and everything into it, from pesky weeds sprouting in the garden to getting laid off. But stress actually comes in different forms or "styles" and can affect our mood in distinct, personalized ways. The new Himalaya Hello line provides herbal support for each manifestation of stress.* All three botanical supplement products have their own unique formula but center around one superstar herb: ashwagandha.*
Ashwagandha is considered one of the most well-studied herbs in Ayurveda, an ancient system of holistic medicine that originated in India thousands of years ago. Modernly, this herb has become known as an adaptogen, a plant that helps us adapt to stress and is known for promoting relaxation, calm, and focus.* Himalaya's Organic Ashwagandha is ideal for supplementing for top-line stress, as this clinically studied botanical supports our adrenal glands, boosts energy, and promotes deeper levels of relaxation.* Just one caplet per day for stress relief that's USDA certified organic, non-GMO, and vegan. But the new Himalaya Hello formulas (still crafted around ashwagandha) incorporate other famous herbs to target specific styles of stress.* Here's what we mean:
Stress style: Mood.
We all experience stress differently. Sometimes, the weight of the world can make our mood take a hit. But with Hello Joy, we can reinfuse and up the joy factor, as it combines ashwagandha with amla, bacopa, and holy basil.* Amla, known as the "original superfruit," is a popular adaptogen for stress.* Paired with Bacopa monnieri (a nervous system tonic) and holy basil (India's most famous immune herb)*—we're counting four reasons to be joyful. The botanical ingredients in Hello Joy are clinically studied to boost your mood and put the pep back in your step.*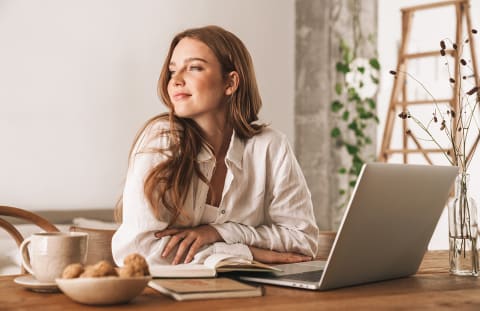 Image by Dean Drobot / Shutterstock
Stress style: Occasional anxiousness.
Reality check: With all we've been through in the last year and a half, some anxiousness is totally understandable. We're all ready to feel a little less stress and a little more peace. The Himalaya Hello Peace supplement combines ashwagandha with turmeric, saffron, and chyavanprash to support serenity and calm digestion.* You can turn to Hello Peace for situational stress at home, work, or throughout the day to find your inner peace.*
Stress style: All stress.
Every time we experience stress, our adrenal glands produce cortisol, the stress hormone. Himalaya's Hello Energy promotes sustainable energy while supporting cortisol and adrenal function.* Made with ashwagandha, amla, haritaki, and licorice, this herbal blend helps us achieve daily tasks without taxing our adrenals and without the extra cup of coffee.*
Saying goodbye to stress.
Modern stress comes in all shapes and sizes, and our culture has a way of normalizing it all. We have to remind ourselves that it's possible to live a life with less stress (and sometimes, without stress). Once we know what kind of stress we're working with, then we can better step in with support—and solutions like the Himalaya Hello line (plus a little yoga and meditation). The Hello line offers effective herbal support with clinically studied botanicals.* Their nutritional products are non-GMO, gluten-free, and vegan friendly. We've all been through a lot lately, but there's so much out there waiting to be enjoyed; it's time to say goodbye to stress and hello to a better you.*
*These statements have not been evaluated by the Food and Drug Administration. These products are not intended to diagnose, treat, cure, or prevent any disease.
Devon Barrow
Branded Content Editor
Devon Barrow is a Branded Content Editor at mindbodygreen. She received her degree from the University of Colorado. When she's away from her desk, Devon is teaching yoga, writing poetry, meditating, and traveling the world. She's based in Boulder, Colorado.
Devon's first book, Earth Women, is coming soon. To learn more, join the mailing list, and receive updates, head to www.devonbarrowwriting.com.