This Smoky & Spicy Dish Will Convince You To Eat Chickpeas For Breakfast
mbg SEO Editor
By Eliza Sullivan
mbg SEO Editor
Eliza Sullivan is an SEO editor at mindbodygreen. She writes about food, recipes, and nutrition—among other things. She studied journalism at Boston University.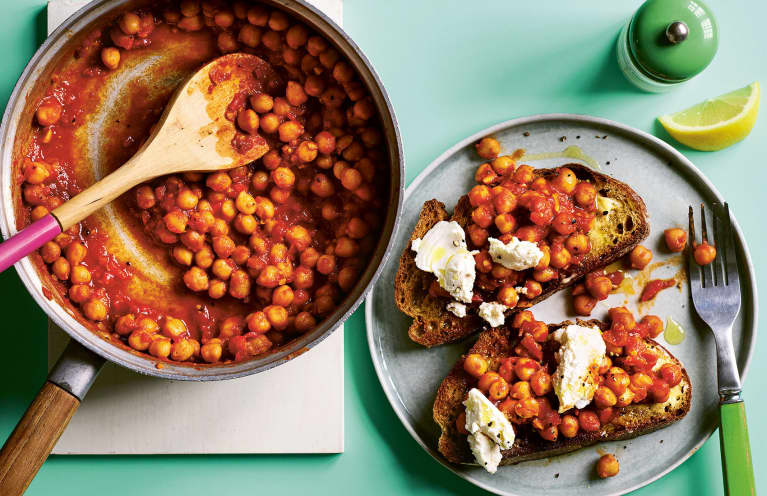 Our editors have independently chosen the products listed on this page. If you purchase something mentioned in this article, we may
earn a small commission
.
The first time I, a native New Yorker, was faced with beans on toast as a breakfast item, I was confused. How would that be breakfast? But while living in England (and then Ireland), I quickly came to appreciate it as a firm favorite of many people in that corner of the world.
Another firm favorite? Leon restaurants—a chain that serves up Mediterranean diet-inspired food, intended to taste delicious and support your health. Their popularity has also led to a few cookbooks, including the most recent installment: Leon Happy Guts. This recipe is their gut-healthy version of the traditional beans on toast.
"This is a step up from beans on toast in terms of flavor and nutrition (even though we do love beans on toast from time to time)," they write, "but takes only a few minutes longer to make." And when they say a few minutes, they mean it: We're talking 10 minutes or less.
Chickpeas are an essential item in my (and many an mbg staffers') pantry because they're a great source of plant-based protein, fiber, and sleep-supporting amino acids. "Obviously, vegans can leave out the cheese or use vegan cheeses," they add. "Any curd cheese or crumbly white cheese, or even cream cheese spread directly onto the toast, would be delicious with these spicy, smoky chickpeas."
2 tablespoons olive oil
1 heaped tablespoon tomato purée
1 to 2 cloves of garlic, crushed, to taste (optional)
400 g canned chickpeas, in water, drained
1 to 2 teaspoons finely chopped red chili, or to taste
1 teaspoon sweet smoked paprika
2 tablespoons water
Freshly squeezed lemon juice, to taste
Salt and freshly ground black pepper, to taste
2 to 4 slices whole grain sourdough, depending on their size
Butter or good-quality extra-virgin olive oil, for spreading or brushing
100 g ricotta or kefir cheese, or vegan alternative (optional)
Set a saucepan over medium heat. When hot, add the oil and then the tomato purée and garlic, if using (add lots if you love garlic, less or none if you don't). Cook, stirring, for 1 to 2 minutes until the garlic stops smelling pungent and raw, and the oil and purée blend together. Add the chickpeas, chili, and smoked paprika. Stir well and add the water, then cook for a further 2 minutes until everything is piping hot. Remove from the heat.
Toast the bread and butter it or brush with extra-virgin olive oil.
Squeeze a little lemon juice into the chickpeas, mix and then taste. Add salt and pepper or more lemon juice, as needed. Pile the chickpeas onto the hot toast and crumble over the cheese. Eat immediately.
Excerpted with permission from Leon Happy Guts by Rebecca Seal and John Vincent. Photography by Steven Joyce.