A Psychotherapist & Dream Expert Shares Her Must-Have Products For Deep Sleep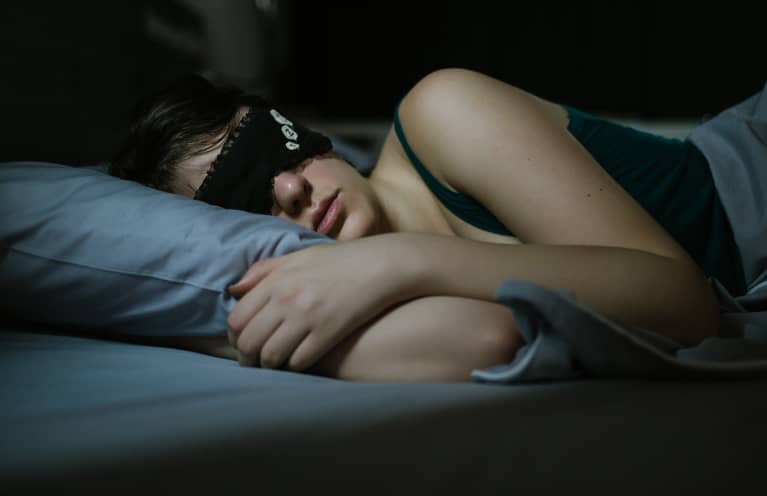 Our editors have independently chosen the products listed on this page. If you purchase something mentioned in this article, we may
earn a small commission
.
As a psychotherapist and dream interpreter, Leslie Ellis, Ph.D., knows the importance of a good night's sleep. The more time we spend in deeper sleep stages like REM, the more our bodies can recover from the day and our brains can light up with vivid dreams.
"I am a dream expert, so I highly value sleep and dreaming," Ellis tells mbg. "I am also a very light sleeper, so I have tried many things to sleep longer and more deeply."
For those looking to reap all the benefits of a solid snooze (including potentially illuminating dreams), Ellis recommends starting with the basics: Make sure your bedroom is cool, dark, and quiet, and avoid screen time, alcohol, heavy meals, and intense exercise too close to bedtime. From there, these are the tools that Ellis turns to in her own bedroom to guide her toward a restful slumber that is positively dreamy:
1.
A meditation app & audiobook.
To help quiet her mind before bed, Ellis will usually turn on a guided sleep meditation. Her current favorite is Jennifer Piercy's Yoga Nidra for Sleep on the Insight Timer app. "I count it as a success when I don't make it through to the end of the recording," she says.
When a 20-minute meditation fails to put her to sleep (which, she notes, rarely happens), she'll listen to a story afterward. She opts for audiobooks of engaging—but not overly exciting—tales told in quiet and soothing voices. "I might go to my Audible library and play a book I've already read," Ellis notes, "or put on something like Anna Karenina—a great book, I'm sure, but one that is pretty easy to fall asleep to (apologies to Tolstoy fans)."
2.
A cooling mattress pad.
"As a woman in my 50s, I can have periods where I get overheated during the night," Ellis says. The temperature-regulating sleep system from Chillisleep has been a great solution for this.
The mattress pad can be placed on any bed, and a separate control system (the pad itself is wireless) instructs it to heat up to 115 degrees, or down to 55 degrees, Fahrenheit. "This has transformed my sleep as this mattress pad can warm or cool the bed to the perfect temperature in a matter of minutes," Ellis raves.
A nice added bonus for those who share a bed: The machine-washable pad can be split into two sides, allowing you both to control your own sleep space.
3.
A guide to sweet dreams.
Finally, Ellis will set the stage for dreaming using practices and thought processes from her online dream course. From there, all that's left to do is make sure a dream journal and pen are nearby in case any particularly illuminating insights come to visit in the night.