paid content
 for
The Skin You're In: 4 Ways To Naturally Nourish Your Unique Skin Type
Image by Flamingo Images / Stocksy
June 15, 2021
You may not have known, but we're in a revolutionary era of skin care. For decades, we've designed our skin care routines around the latest "anti-aging" ingredients. We've battled with wrinkles and complexion, holding our skin up to impossible expectations. But we believe that's behind us now. As a collective, we're beginning to conceive that true beauty is natural, imperfect, and changing. And why shouldn't our skin care rituals reflect that?
Advertisement
This ad is displayed using third party content and we do not control its accessibility features.
Celebrating natural beauty with natural ingredients.
Here's the thing about "anti-aging" routines... They're an uphill battle. Aging is a natural process to be embraced, and why rely on harsh, anti-aging products when natural alternatives abound? The gentle yet effective Sky Organics Youth Boost skin care line is formulated with natural ingredients to reconnect us to our natural beauty and visibly boost our skin's youthful qualities. It's a ritual that works while inspiring us to love the skin we're in. And that's important: Self-love is ultimately the springhead of radiance.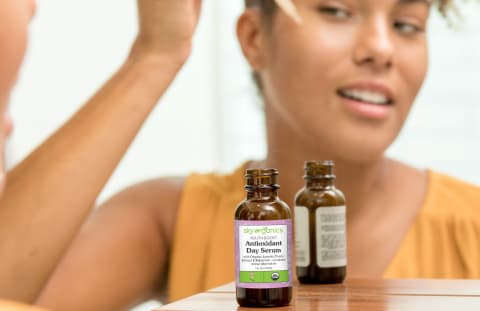 Image by Sky Organics / Contributor
Advertisement
This ad is displayed using third party content and we do not control its accessibility features.
This new skin care era calls for ditching the "anti-aging" mentality and synthetic products. Synthetic products often contain chemicals1 that either aren't listed on the label or are proved to be dangerous at higher levels. We simply want a skin care routine that's real. And it's natural ingredients that keep us safe, connect us back to nature, and are just as effective at working with our unique skin care needs. Here's how to harness their power for your skin type:
1. Cleanse oily and blemish-prone skin with a natural green-tea-based cleanser.
Those of us with oily and blemish-prone skin need a go-to cleanser that's both effective and gentle. Common cleansers use ingredients like salicylic acid and benzoyl peroxide, which are actually classified as mild chemical irritants and can do more harm than good. The Youth Boost Moisturizing Green Tea Face Wash is made with a soothing blend of natural ingredients: aloe vera, green tea, and antioxidant vitamin E. It gently washes away the day's impurities while keeping your skin hydrated for a healthy-looking glow.
Advertisement
This ad is displayed using third party content and we do not control its accessibility features.
2. Gently revitalize dry skin with natural oils and glow-boosting manuka honey.
Dry skin can be finicky, to say the least—the last thing we need are products that strip skin of its natural oils. Instead, we want products that leave our skin feeling plump and hydrated, not tight and raw. The Youth Boost Makeup Cleansing Oil is a blend of natural oils (jojoba and coconut) that remove makeup and leave our skin silky smooth and deeply nourished. Dry skin requires extra tenderness at every step, but especially exfoliation. To carefully buff away that dull, dry skin, use the Youth Boost Revitalizing Face Scrub, formulated with nourishing manuka honey and ground walnut shells.
3. Keep sensitive skin youthful and radiant with natural serums.
Those of us with sensitive skin tend to feel like our skin care options are limited. Many youth-boosting ingredients can irritate sensitive skin, and the chemicals often found in synthetic options aren't ideal for obvious reasons. Retinol, for example, is an over-the-counter vitamin A compound, popular for its collagen-producing and healing properties. But it can also be incredibly harsh on sensitive skin, causing itching, redness, and dryness.
Thankfully, Sky Organics uses bakuchiol in their Youth Boost line, a natural alternative to retinol that comes from a flowering Asian plant called babchi. It has similar youth-promoting properties but is kinder to the skin. The Antioxidant Day Serum is enriched with organic bakuchiol but also offers vitamin-C-rich acerola cherry extract for collagen production. And because our skin does most of its healing at night, don't forget the Youth Boost Bakuchiol Night Serum, which also moisturizes your skin with a blend of marula, rosehip, and jojoba oils.
Shop This Story:
4. A deep moisturizer for all skin types.
Every skin type benefits from a deeply nourishing moisturizer. Moisturizers help repair our skin barrier2 and maintain that quenched feel and dewy look. The Youth Boost Marula Face Lotion is made with all-natural ingredients: organic marula oil, manuka honey, and bakuchiol. As it seeps in, this product helps our skin gain a more even-tone complexion, with a youthful glow, thanks to the bakuchiol. The lightweight feel of this lotion makes it truly ideal for bringing out the natural beauty of all skin types.
Advertisement
This ad is displayed using third party content and we do not control its accessibility features.
A natural skin care ritual for all.
When it comes to skin care, there's really no one-size-fits-all approach. But the Sky Organics Youth Boost line truly fits most. While some ingredients will resonate more than others, the natural formulations of this entire line will work for all skin types in need of some natural TLC. That's because natural ingredients, like nature, don't discriminate. And we'll continue taking our cues from nature to remember that aging is natural! Just look at the life of your garden. Like the changing seasons, all stages of life are beautiful. And you deserve a skin care routine that celebrates that!
Advertisement
This ad is displayed using third party content and we do not control its accessibility features.
Devon Barrow
Branded Content Editor
Devon Barrow is a Branded Content Editor at mindbodygreen. She received her degree from the University of Colorado. When she's away from her desk, Devon is teaching yoga, writing poetry, meditating, and traveling the world. She's based in Boulder, Colorado.
Devon's first book, Earth Women, is coming soon. To learn more, join the mailing list, and receive updates, head to www.devonbarrowwriting.com.