This Derm-Approved Hack Is The Easiest Way To Figure Out Your Skin Type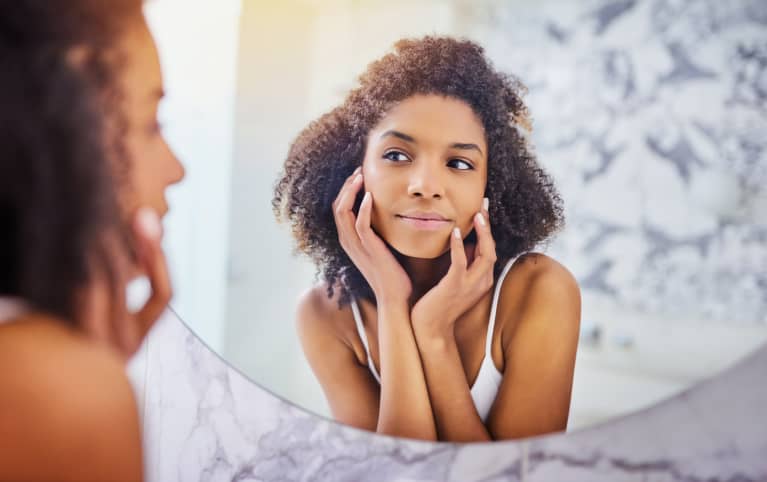 What's your skin type? It's a loaded question—knowing your skin type is practically the cornerstone of skin care, and yet many respond by averting their eyes or offering up a resounding uhh. That's because identifying your skin type is, well, difficult. There can be tons of variables at play, not to mention your skin can fluctuate quite a bit depending on your environment and lifestyle.
However, board-certified dermatologist Lindsay Zubritsky, M.D., has a hack to make discovering your skin type oh-so-easy. Over TikTok, she explains an easy trick to figure out what skin type you actually have—and fast.
An easy hack to identify your skin type.
First things first: To truly I.D. your skin type, there's a host of factors to keep in mind (age, hormone fluctuations, and genetics, to name a few), and some people can even have a skin-type-hybrid of sorts. That said, it's always best to take the time to familiarize yourself with your own skin or consult a professional who can make the best call.
But if you're itching to know your general skin type, like, right now, Zubritsky recommends using the "barefaced method." All you need to do is wash your face with a gentle, mild cleanser and pat dry. Don't touch your skin for 30 minutes (no serums, moisturizer, or toners—hence, the barefaced method). After the half-hour is up, notice how your skin looks and feels:
If your skin feels tight, especially when you smile or make other facial expressions, you likely have dry skin.
If you notice some shine only around your nose and forehead, you likely have combination skin. (Your skin can also feel somewhat tight, but the real marker here is the shiny T-zone.)
If your cheeks, forehead, and nose are all slicked shiny, you probably have oily skin. Your face won't feel too tight, either.
It's not a perfect science—there could be other factors at play, like your environment or water type, for instance—but it'll certainly do in a pinch. The hack essentially reveals what your bare face would look like without any product interfering with your natural oil production. And if you simply can't bear the thought of waiting 30 minutes without a dollop of moisture? Well, as Zubritsky notes in a comment, "There's your answer."