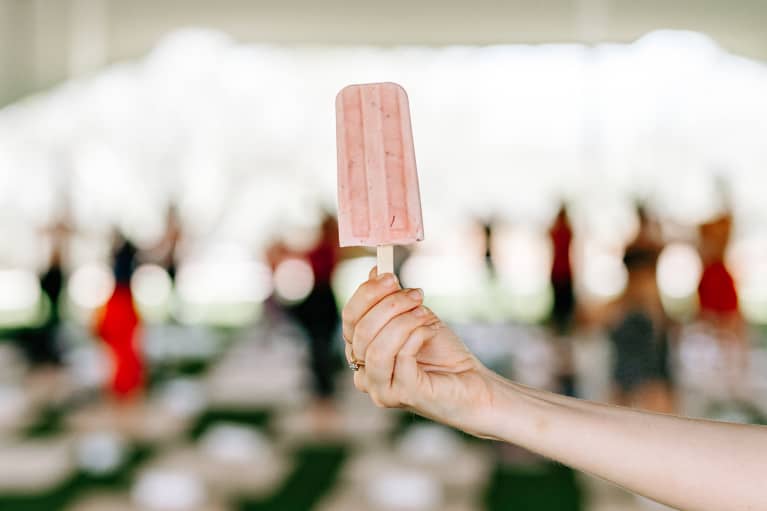 Right now in our kitchens, our ovens are getting their summer break while our freezers are working overtime. And they've got a very important job: turning our daily functional foods into functional dessert.
In the warmer months, a batch of vibrant homemade ice pops made with fresh and beneficial ingredients is second to none. (Smoothies will always have a place in our hearts, but it simply wouldn't be summer without ice pops, right?)
Below, we're sharing the recipe for the creamy, lemony, summer-berry-loaded collagen ice pops that won over guests at this year's mbg revitalize, held just weeks ago in the Arizona desert. Here's why this recipe of healthy fats, high-quality collagen, and antioxidant-rich ingredients is quickly becoming an essential in our summer routine.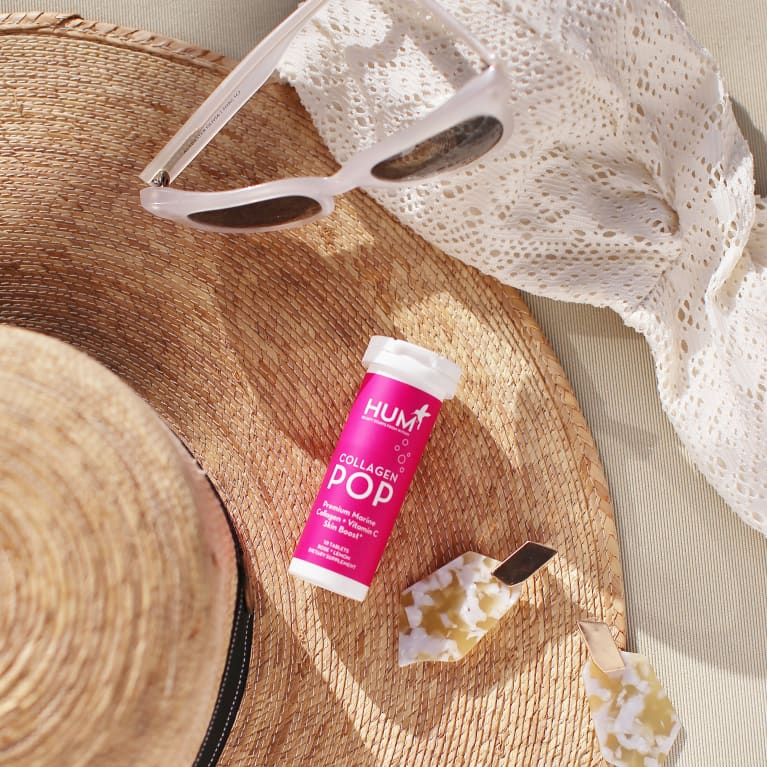 Collagen pops: The ultra-cool beauty benefit.
As the most abundant protein in our bodies, collagen is a major component of our skin, and it's what helps keep it firm and elastic. Studies have shown that supplementing with an extra helping of collagen—as our bodies produce less of it as we age—may delay and visibly reduce the signs of aging.
Taking marine collagen in particular has led to noticeable improvements in skin smoothness in 68% of women after four to eight weeks, which is why it's the main skin-firming and skin-hydrating ingredient in HUM Nutrition's Collagen Pop. These dissolvable collagen tabs are non-GMO and are derived from the highest quality of sustainably sourced, wild-caught fish, ensuring the purest and most nutrient-rich standards. Plus, Collagen Pop also includes vitamin C for its antioxidants and rose for its skin-soothing benefits, boosting beauty from the inside out.
Plus, bonus body benefits!
Collagen isn't just found in our skin—the protein holds together our bones and muscles, provides structure to our joints and tendons, and it's also in our blood. Studies have shown that collagen plays some pretty important roles for our health: It helps our bones maintain strength as we age, may help balance blood sugar, and also supports gut health.
Post-workout is one of the best times to fill up on protein—for muscle repair specifically, experts agree it's actually nonnegotiable. Of course, collagen can still be a great ally in supporting post-fitness recovery—just be sure to combine it with another protein source that's got the essential amino acid tryptophan (which is missing in collagen). Our suggestion: Add almonds, oats, spirulina, or a splash of dairy milk to this smoothie recipe.
Coconut Strawberry Lemon Collagen Pops
Makes 6 or 7 ice pops
Ingredients:
1 tab of HUM Nutrition Collagen Pop
1 cup of coconut water
1 (13-oz.) can full-fat coconut milk
Zest and juice of 1 lemon
3 to 4 Tbsp. honey or agave
1 (16-oz.) container of strawberries
In a small bowl, dissolve the collagen tab in the coconut water. Then, in a larger bowl, combine the coconut water mixture with coconut milk, lemon juice and zest, honey, and strawberries.
Transfer the mixture into a blender and process until completely smooth. Taste and add additional honey or lemon as desired. (Keep in mind that the flavor will develop as they freeze!)
Pour mixture into an ice pop mold and insert sticks. Freeze at least 3 hours or until completely solid.
These frozen treats are just one way to reap all the beauty benefits of collagen. We love that Collagen Pop is conveniently packaged in daily, on-the-go servings, which is good news for anyone looking to give the H2O in their water bottle a skin-loving boost.