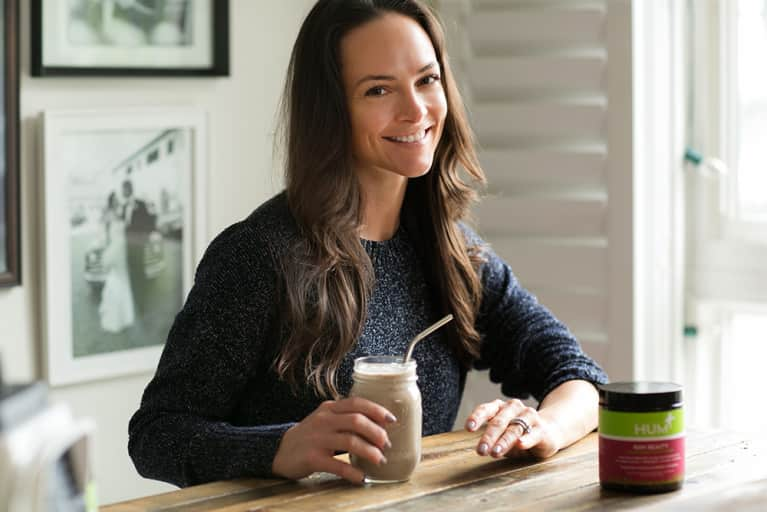 Beauty will always be more than skin deep; it comes from within! The healthy function of our organs, the hydration of our cells, and the neutralization of free radicals all combine to give us that healthy, enviable glow. In fact, a study on nutrition and skin aging concluded that the best way to enhance skin protection from oxidative stress is to support the endogenous—or internal—antioxidant system. I recommend doing this by focusing on fruit and vegetable consumption, as they are naturally high in antioxidants, vitamins, and minerals and promote youthful skin, thick hair, and more.
The easiest way to do this is by blending a delicious smoothie. Use my Be Well Smoothie equation to create your perfect drink, or try one of these recipes I specifically developed for beauty—using HUM Nutrition Raw Beauty Green Superfood Powders, which I love for a quick and tasty beauty boost—below: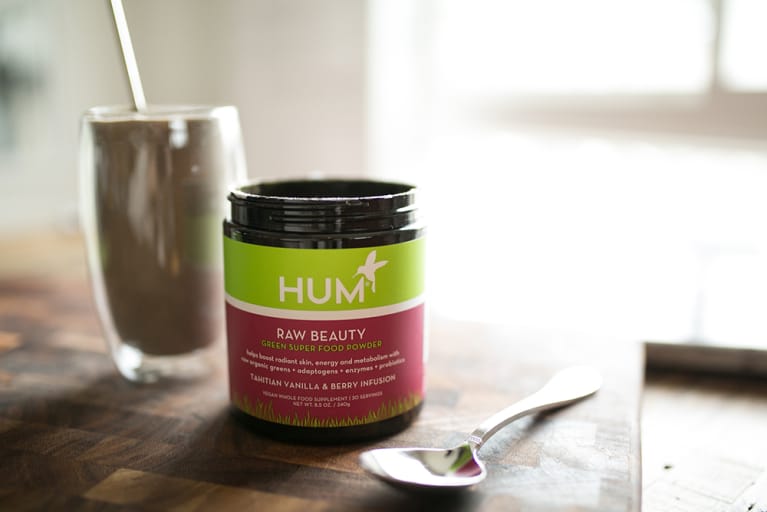 Hair Be Well Smoothie: Lustrous Locks
1 serving of vanilla pea protein
1 serving of HUM Raw Beauty Mint Chocolate or Vanilla Berry
1 tablespoon almond or cashew butter
½ packet of frozen, unsweetened acai
2 tablespoons chia seeds
2 cups of unsweetened nut milk
Small handful of broccoli sprouts
Why is this smoothie great for HAIR GROWTH and SHINE?
Acai powder is a primary source of vitamin E, which stimulates collagen production and benefits hair elasticity.
Chia seeds are essential for healthy hair because they deliver omega-3 fatty acids and promote circulation to the hair follicle. Remember, healthy fat = shiny hair, so you definitely want to add omega-3s to your daily routine. Among 39 other beauty-boosting ingredients, HUM Nutrition Raw Beauty also contains omega-3 fatty acids from ingredients like organic acai powder and flax seeds, which promote a healthy scalp and hair growth.
Broccoli sprouts are rich in vitamin K, potassium, manganese, and iron, as well as vitamin C—an antioxidant vital for collagen production, so if you can find them at your health food store, add them to your cart! Broccoli also contains folate, a powerful nutrient used in DNA repair, which will help with shiny locks in the long run.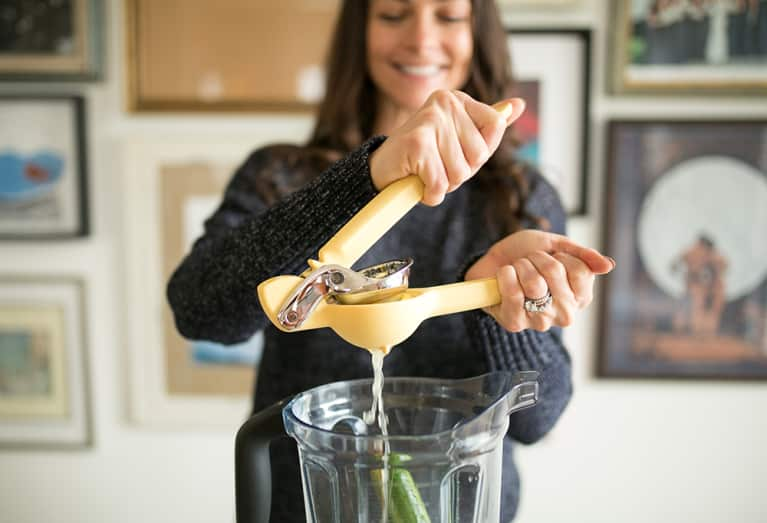 Skin Be Well Smoothie: Sparkling Skin
1 serving vanilla protein powder
1 serving of HUM Raw Beauty Mint Chocolate
¼ avocado
1 small Persian cucumber
Juice of ½ lemon
Handful of spinach
Why is this smoothie great for CLEAR, RADIANT SKIN?
Spinach. This leafy green is loaded with lutein, which will keep your eyes sparkling for the camera! Spinach is also a good source of omega-3s, potassium, magnesium, and vitamins B, C, and E.
HUM Nutrition Raw Beauty contains a combination of adaptogens and antioxidants that help support radiant skin by protecting against environmental stress factors. You can thank ingredients like organic blueberries, moringa, and ashwagandha for your gorgeous glow.
Avocado is loaded with skin-healthy monounsaturated fats, enabling your body to efficiently absorb fat-soluble nutrients for skin health.
Rich in vitamin C, lemon will help your body purge excess water weight and balance the sodium and potassium levels in your cells, so you can say goodbye to face bloat.
Like lemon, cucumbers contain hydrating, nourishing and astringent properties that are very good for skin and digestion. Blend up a cucumber in your green smoothie to fight inflammation when a breakout is coming on!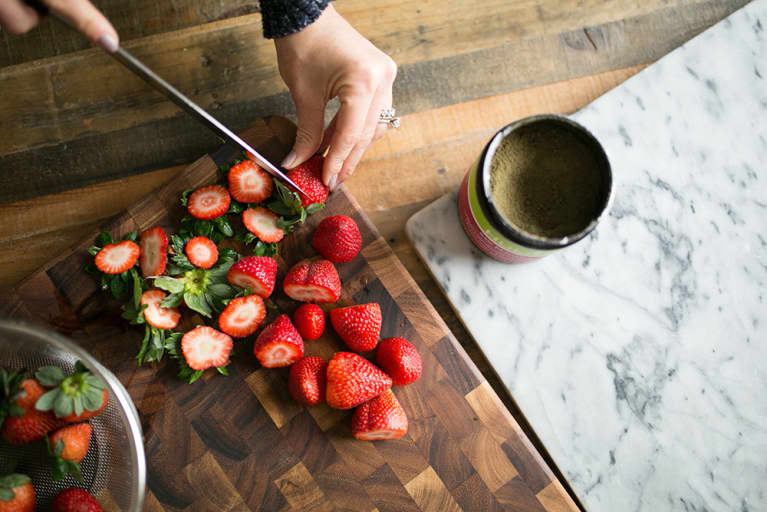 Nail Be Well Smoothie: Long & Strong Nails
Why is this smoothie great for STRONG, HEALTHY NAILS?
Coconut oil—whether slathered on your nails or sucked down by the spoonful—is super important for nail strength. It's antibacterial and antifungal, too, which is beneficial for maintaining nail health.
Strawberries are loaded with vitamin C and offer a combination of phytonutrients like anthocyanins, ellagitannins, flavonols, and phenolic acids that lower inflammatory markers, providing the perfect environment for nail growth.
Zinc is a vital mineral for wound healing, immunity, and nail growth, and sunflower seeds (or sunflower butter) come loaded with it. Sunflower butter also has concentrated essential minerals like calcium, manganese, zinc, magnesium, selenium, and copper to prevent dry and brittle nails. Score!
The organic wheatgrass, broccoli, and spinach powder in HUM Nutrition Raw Beauty provide a solid dose of plant-based protein and iron—two elements that healthy nails need to thrive.