I'm A Holistic Plastic Surgeon & These Are My 3 Must-Have Skin Care Tips
mbg Beauty Director
By Alexandra Engler
mbg Beauty Director
Alexandra Engler is the Beauty Director. Previously she worked at Harper's Bazaar, Marie Claire, SELF, and Cosmopolitan; her byline has appeared in Esquire, Sports Illustrated, and Allure.com.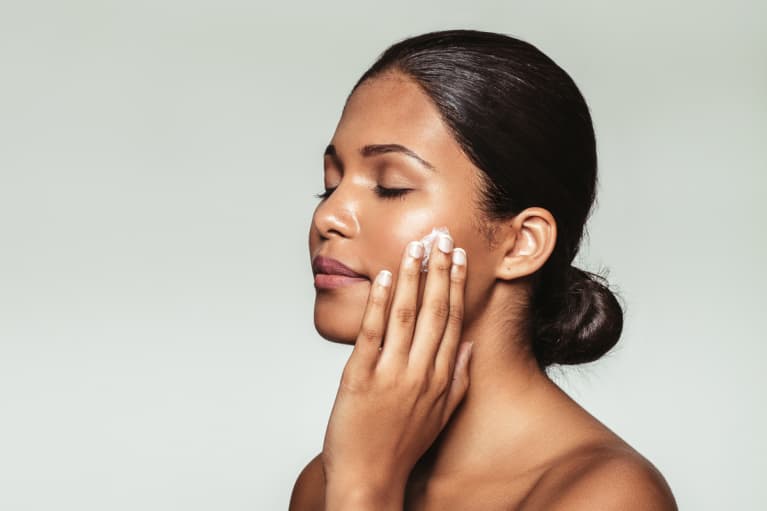 When the topic of plastic surgery comes up, I'm guessing you don't immediately think of alternative medicine or holistic healing. They seem quite incongruous with each other, no? Well, on my most recent episode of Clean Beauty School, I spoke with "America's holistic plastic surgeon" Anthony Youn, M.D., a board-certified plastic surgeon who has crafted a practice that's centered around proactive measures against skin aging, holistic body care, and a less-is-more approach to treatments. (And has quite the following on TikTok I might add).
But...what does this mean in practice? Well, according to Youn, it's about educating people about all the prophylactic steps they can take to avoid having to go under the knife. Does that seem weird that a plastic surgeon wants to teach people how they can avoid plastic surgery? Maybe, but for Youn, he says it's all about beauty that starts internally.
"Holistic plastic surgery is the idea that in plastic surgery, you look at the body as a whole picture—and you want to start with the basics. And the basics aren't Botox or facelift or breast implants. The basics are lifestyle, nutrition, exercise, and reducing the environmental toxins that you're exposed to," he says. "I really look at surgery as a valid option, but an option we have to consider as that last resort." With that in mind, here are Youn's top three preventive skin care measures:
1.
Learn the basics of skin care.
Do not invest in major treatments if you have no intention of paying mind to the day-to-day upkeep. For skin, that means having a consistent and smart skin care routine. Now, everyone will have different steps and ingredients that work for their skin, so there's no one-size-fits-all approach to skin care (much like there's no diet that works for everyone everywhere). But we can all at least adhere to the basics.
"It's being realistic and starting with the simple stuff: Wash your makeup off at night, and those types of things. Once you get people past that, we can start considering other steps: Cleanse in the morning, apply an antioxidant serum, cream, and sunscreen," he says.
Once you've mastered that, you can move on to more in-depth skin care. "Then you can start getting into the details: What sort of sunscreen are they using? You know, is there oxybenzone or octinoxate in it? Ideally, if you can get off of that [and use zinc oxide or titanium dioxide], that would be better," he says. "And at night, apply a retinoid if their skin can tolerate it. If your skin can't tolerate it, then look at either growth factors or peptide type creams."
2.
Supplements & nutrition.
As Youn notes—and, well, as do we—nutrition is the basis for overall health and medicine. "I would start off with a clean diet: Eat the rainbow and limit the amount of the processed type foods that you eat," he says.
He even uses supplements as part of his protocol for clients before and after specialized procedures. "I put them on a probiotic to help with their microbiome, and I put them on a special multivitamin that helps to support the collagen of their skin,"* he says. "There's also data in the dermatology research literature about certain supplements to help support our immune system and healing processes.* L-arginine is a type of amino acid that has been shown to do so; I also put them on glutamine and other essential amino acids as well.* After, I put them on fish oil, bromelain, and arnica, and this is a way to help because of their anti-inflammatory properties."*
3.
Professional-grade skin care treatments.
Remember how surgery should be viewed as a last resort? Well, there are plenty of other treatments you can opt for that aren't surgical. Professional-grade treatments have come a long way and can be safer alternatives, should you be at a place where you feel you want professional intervention.
"Taking it to the next level, there are certain treatments that I think are very safe and that can make huge impacts on how people feel about themselves," he says. "So just for a quick example, IPL, or intense pulsed light, is a treatment that basically zaps away dark spots. This is great—and very safe—for people who got a lot of sun damage and now the sun spots won't go away." See, while we encourage people to be smart about sun care now, we also know that the same precautions weren't as popular in the past—so people may have residual pigmentation that they want to address.
As for wrinkles and overall skin texture, you don't have to get a surgical lift: Try PRP, or platelet-rich plasma. "The other thing that's super popular is micro-needling with PRP platelets," he says. "You're using your own body's regenerative properties to help rejuvenate itself. Plus, in-office microneedling is a great bang for your buck." However, he notes that microneedling should not be attempted at home—it should only be administered by a professional.
We believe in skin longevity here. Why? Because it really just boils down to staying healthy. "True beauty is really just good health," he says. "If you're unhealthy, that shows in so many other aspects of your life: It's your physical health, skin health, and mental health."
If you're looking for more engaging beauty conversations, listen to our new beauty podcast, Clean Beauty School. Subscribe on iTunes, Google Podcasts, or Spotify.