8 Simple Eco Picks For A Plastic-Free Bathroom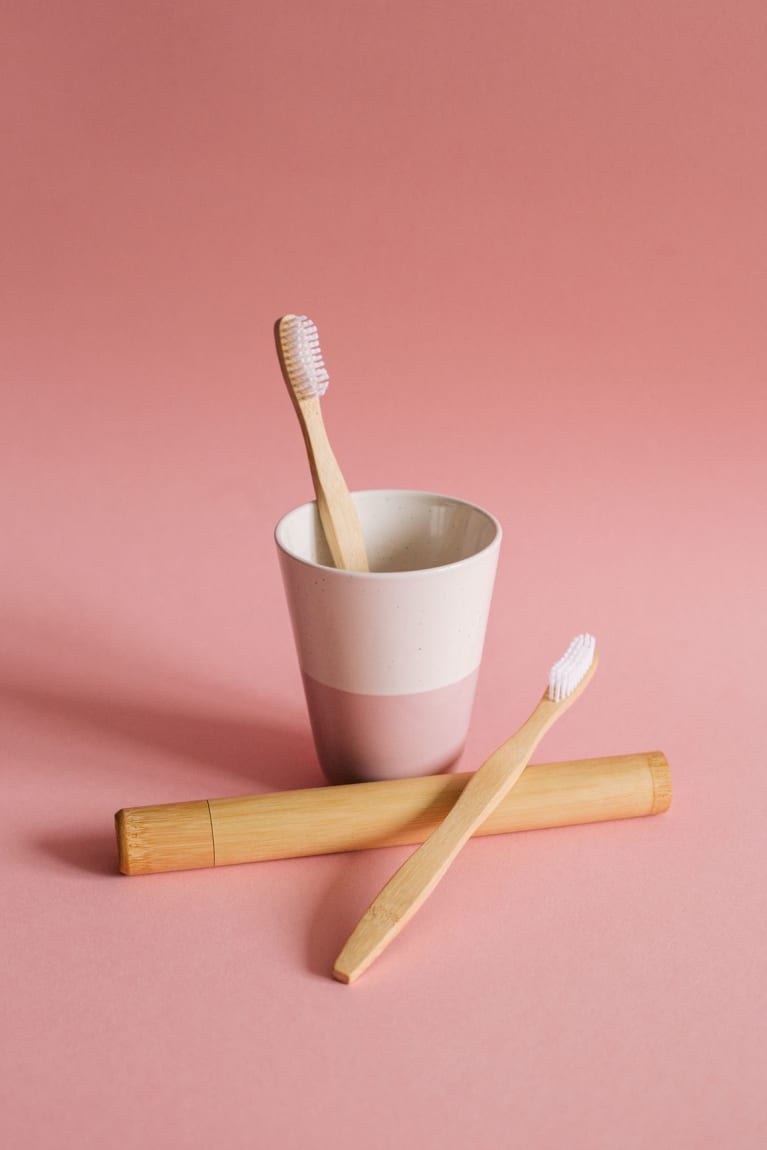 Our editors have independently chosen the products listed on this page. If you purchase something mentioned in this article, we may
earn a small commission
.
Our shower and personal care routines are notoriously plastic-intensive. Big bottles, disposable razors, and floss—not to mention the packaging for all those sheet masks—regularly fill up our bathroom trash bins with nonbiodegradable waste that will linger in landfills for years and years and leach toxins into our soil and waterways in the process (not-so-fun fact: Humans have produced upward of 9.1 billion tons of plastic to date—79 percent of which is currently sitting in landfill or littering our natural environment.) Depressing, isn't it?
The good news: Innovative new personal care products are swapping out plastic for more sustainable materials like bamboo, glass, and even silk. And some products are ditching their plastic packaging altogether—like the awesome shampoo bars you'll soon learn about.
Here, check out eight simple eco swaps (beyond the obvious "swap your body wash for bar soap") to lighten your plastic load without adding extra effort to your bathroom routine.
1.
Try eco toothpaste tubes, tablets, or powder.
We love companies who are making toothpaste tubes from recycled materials and innovating with materials. To take it even further, a number of companies, like Bite ($12), now sell toothpaste tablets that come packaged in a glass jar. Simply bite down on the tablet, brush with a wet toothbrush, and you're good to go. What's inside? Bite's formulas feature ingredients like sodium bicarbonate, kaolin clay, activated charcoal, and xylitol, making them a cleaner option than a lot of what's on the market. You can also go the powder route. The Dirt ($9) sells a mineral powder toothpaste (also in a glass jar) featuring ultra-fine bentonite clay and a variety of antimicrobial essential oils.
A lot of conventional floss on the market is made with either nonbiodegradable nylon or polytetrafluorethylene (the latter of which is known commercially as Teflon). Silk floss is biodegradable while being thin and strong enough to slide between teeth without breaking. Try TreeBird Pure Silk Eco Floss ($10), which comes in a refillable glass container.
3.
Consider a shampoo bar.
The editors here at mbg are obsessed with shampoo bars. In the words of our beauty editor: "These shampoo bars are not the ones of yore that caused limp, starchy hair and oil buildup. To the contrary, the new guard is carefully sourced, made from plants and botanicals, and leaves hair feeling nourished and squeaky clean, sans residue." Check out these seven budget-friendly shampoo bars.
4.
Upgrade to a bamboo toothbrush.
5.
Cover cuts with bamboo bandages.
A source of plastic we often overlook: adhesive bandages. But we all inevitably end up using them. Fortunately, an innovative new bandage has hit the market that's biodegradable and even compostable. Patch Strips ($7) are made entirely of super-soft certified organic bamboo fabric and gauze. The gauze is even enriched with aloe vera extract to soothe cuts and burns.
6.
Ditch your plastic shower pouf for a washcloth or loofah.
Beyond being a hazard for birds and sea animals, these mesh-like plastic poufs are a breeding ground for bacteria that we're all better off without. While it's not a sexy swap, we recommend a good old washcloth, which can be washed and reused for years. Want something a bit more exfoliating? Opt for a natural, biodegradable loofah sponge (fun fact: they're made of dried-out gourds). Just know that you should replace it about every three weeks.
7.
Look into a reusable razor.
Disposable razors are even more of a problem than toothbrushes, with some estimates suggesting upward of 2 billion are tossed annually. Opt for a reusable metal razor—or a cool metal-bamboo combo like this one from Bambaw ($19)—which will look extra chic in your shower.
8.
Stock up on reusable bamboo wipes.
Consider a set of durable, reusable (and super-soft) bamboo pads like these ones from Our Earth Beauty ($18) that can be used for countless applications of toner and makeup-removing balm. Or, to cut waste even further, try these Cleansing Starter Fibers by Croon ($26), which cleanse your face and remove makeup all by themselves, zero product needed—just add a bit of water.