The Safest Ways To Date Right Now, According To An MD
mbg Editorial Assistant
By Abby Moore
mbg Editorial Assistant
Abby Moore is an Editorial Assistant at mindbodygreen. She earned a B.A. in Journalism from The University of Texas at Austin and has previously written for Tribeza magazine.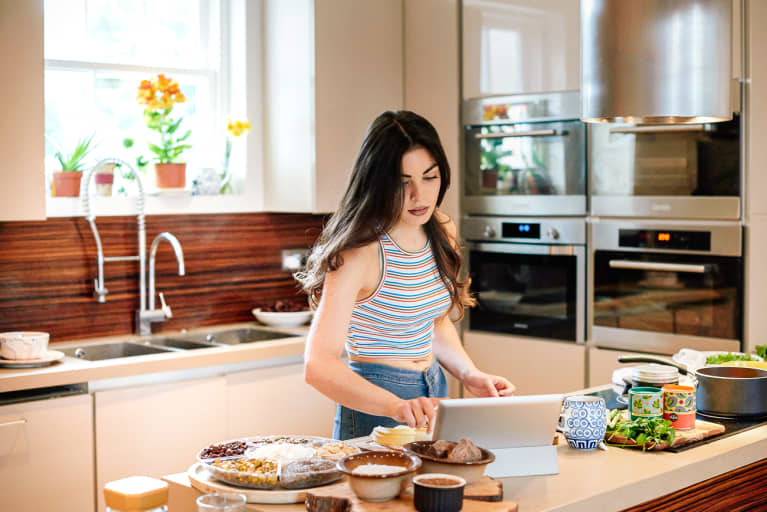 To feel connected and maintain a sense of normalcy during social isolation, many people are staying active on dating apps. But what happens after swiping, matching, and a few messages progress into wanting to meet? We consulted integrative medicine doctor Bindiya Gandhi, M.D., who provided tips for dating amid a global pandemic.
Is it a good idea to date right now?
"One of the main things people are starting to struggle with right now is loneliness and depression," Gandhi told mbg, "so if you're able to start a new relationship and it happens to be virtual initially, I think that's OK."
Using apps to meet people might not be new, but the continued virtual dating is relatively new—and in some ways, safer. "If you're meeting someone on an app, now you're not just swiping, messaging, and meeting up with them," she said. "You can kind of prescreen before just meeting up in person."
So, can you meet a date in person?
Unless you already know the person, you probably shouldn't meet them in person until things return to normal.
"If you're going on a blind date, you're going to have to do a lot of screening questions," Gandhi said. (Have you been out of the country recently? Have you been in contact with anyone who has the virus? Do you have any symptoms of cough, fever, shortness of breath?) "It kind of takes the fun out of dating."
With that in mind, virtual dates—like cooking the same meal on FaceTime or reading each other excerpts from your favorite books—are not only safer but also less stressful.
That being said, if both you and your date have been quarantined for the past two weeks, it would be OK to meet in person. "But the odds of that happening are pretty low," she said. "With many people going to the grocery store, and in some cases, still going into work, it's hard to ensure your date hasn't come in contact with others."
What about physical touch?
If you're married and/or live with your partner (and neither of you has the coronavirus), you can continue engaging in physical touch. But if you're dating someone new, "it's definitely not safe to be kissing," Gandhi said, "because the virus can be spread through saliva."
While COVID-19 cannot be transmitted sexually, the close contact is not recommended. "On top of thinking about coronavirus," she said, "you still need to be thinking about STDs." To practice safety all around, explore these four creative ways to have sex during the pandemic.
Though the changes right now are undeniable, Gandhi said there's no reason to put your life on hold. "If someone sparks your interest and you have to start dating virtually because of the circumstances, that's perfectly fine."
So, it's not necessarily a bad idea to date during the pandemic—it just requires creativity to do so safely.
"And granted, a few months from now, hopefully you're not only able to walk your dogs 6 feet apart or video chat," she said. "But maybe you can actually hold hands." Now that's something to look forward to.