This Bright Egyptian-Inspired Dish Is Packed With Multicolored, Nutrient-Dense Ingredients
mbg SEO Editor
By Eliza Sullivan
mbg SEO Editor
Eliza Sullivan is an SEO editor at mindbodygreen. She writes about food, recipes, and nutrition—among other things. She studied journalism at Boston University.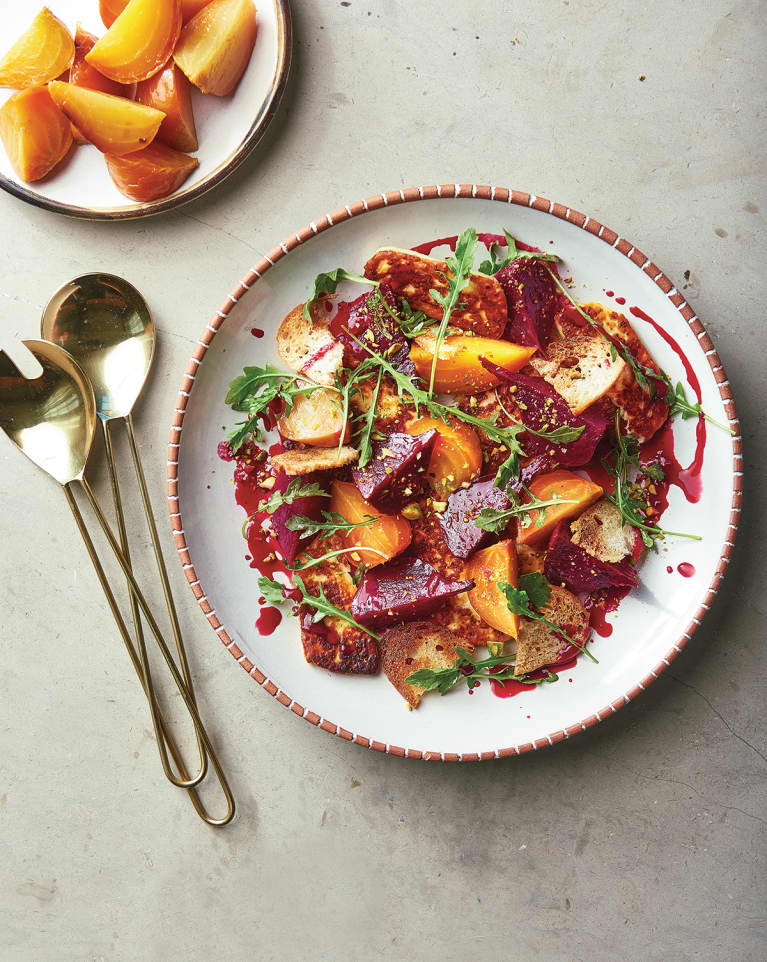 Our editors have independently chosen the products listed on this page. If you purchase something mentioned in this article, we may
earn a small commission
.
It's high time we stopped keeping salad in the confines of a leafy base, and with this beet-based salad, you'll be a sure convert. Really less of a salad and more a dish you could serve as a vegetarian main for dinner or as a satisfying lunch, this recipe from Eat, Habibi, Eat! Fresh Recipes for Modern Egyptian Cooking by Shahir Massoud starts with some nutrient-rich root vegetables: beets, both red and yellow.
Beets, in particular red beets, are "an incredible source of nitrate-containing nutrients," cardiologist and New York Times bestselling author Alejandro Junger, M.D., previously told mindbodygreen. They're also full of phytonutrients called anthocyanins and betalains. All together, this makes adding beets to your table a good choice for your heart, brain, and digestive health.
The other key component in this dish is halloumi. "Halloumi is a versatile semihard white cheese that has been prominent in Middle Eastern and Greek cooking for generations, and with good reason," writes Massoud in the introduction to the recipe. "It can be seared, grilled, or even broiled. It gives a dish that salty punch that is sometimes needed to elevate the other players in a salad." The cheese is also a good source of protein (7 grams per 1-ounce serving) and calcium (about 25% of the recommended daily value per 1-ounce serving).
And in this case, the beets are good for more than just your health—they make this dish look like an absolute showstopper too. "As for the beets, always roast them (never boil!)," he writes, "and glaze them in a little bit of reduced orange juice for flavor and shine, together with a little residual red juice to drizzle on the plate for a beautiful finish."
Seared Halloumi & Orange-Glazed Beet Salad
½ pound red beets
½ pound yellow beets
½ cup orange juice
1 cup baby arugula
¼ cup Basic Lemon Vinaigrette
Salt and pepper, for seasoning
4 slices country bread
2 tablespoons olive oil, divided
2 tablespoons pistachios, finely chopped
4 ounces halloumi, sliced
Preheat the oven to 400°F and line a baking sheet with aluminum foil. Wrap the red beets together tightly in aluminum foil and then do the same with the yellow beets in a separate foil wrapping. Roast in the oven for 1½ to 2 hours until tender. Peel the beets while still warm, then chop them into 1½-inch pieces. Leave the oven on.
Place the red beets in a large pot over medium-high heat along with the orange juice, and reduce for 2 to 3 minutes until the consistency is syrupy. Note that we're only reducing the beets in the orange juice here—adding the yellow beets will sacrifice their contrasting color.
Toss the yellow beets and arugula in the vinaigrette until evenly coated, and season with salt and pepper to taste (use sparingly; the halloumi is quite salty).
Drizzle the bread with 1 tablespoon of the olive oil, and toast in the hot oven for 5 to 8 minutes until golden and crispy.
Heat the remaining tablespoon of olive oil in a nonstick skillet on medium heat. Place the slices of halloumi in the hot pan and sear for 1 to 2 minutes per side, until golden brown. Place the slices of halloumi on each plate and surround with the beets and arugula. Top with chopped pistachios and crispy bread, and drizzle the remaining orange juice reduction around each plate.
⅔ cup + 3 tablespoons olive oil
⅓ cup lemon juice
1½ tablespoons honey
1 tablespoon Dijon mustard
¾ teaspoon salt
Combine all the ingredients in a large mixing bowl. It's helpful to measure the olive oil in your tablespoon before the honey.
Whisk well to emulsify, then transfer to a squeeze bottle. Can be kept in the fridge for up to 1 week.