Ribollita Soup Is A Classic Tuscan Comfort Made From Pantry Staples

Owner and host of Tuscan Women Cook
By Coleen Kirnan
Owner and host of Tuscan Women Cook
Coleen Kirnan, the owner and host of Tuscan Women Cook, a cooking school in Montefollonico, Italy.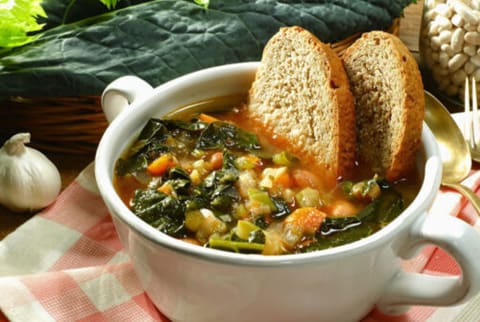 September 17, 2023
We carefully vet all products and services featured on mindbodygreen using our
commerce guidelines.
Our selections are never influenced by the commissions earned from our links.
Italians consider stale bread a preferred ingredient for many popular recipes. The word stale does not conjure up negative connotations in Italy. Rather, cooking with stale bread prevents waste. It is often a better choice in dishes that call for firm, hard bread. When stale bread is toasted, then added to broth, it maintains its shape and absorbs all the flavors, becoming an invaluable addition. Tuscan Women Cook shares a delicious fall soup recipe featuring stale bread that is a favorite of the nonnas of the Tuscan village of Montefollonico as well as the participants of Tuscan Women Cook.
Like most Tuscan fare, Ribollita dates to the Middle Ages when peasants foraged for whatever food they could find. They crafted a thick, satisfying soup from dried beans, common vegetables from backyard gardens, and stale bread.
"Our first bowl of this hearty soup was prepared by the beautiful, ninety-year-young nonna, Iolanda Marcocci," says Coleen Kirnan, host, and owner of Tuscan Women Cook. "Iolanda served it al fresco on the terrace outside her kitchen on a long, weathered table overlooking a sweeping Tuscan sunset. It is a rich sense memory we'll always cherish."
As the weather cools down, warm up with a bowl of this Italian favorite soup.
Ribollita
Ribollita means "re-boiled" in Italian; another way of saying, "wow, this will taste even better tomorrow!" When the bread has an extra day or two to absorb even more of the flavorful broth, Ribollita will thicken and taste creamy. Feel free to add your favorite vegetables and herbs to this recipe. There are no hard and fast rules for Ribollita, except to reheat and enjoy, day after day.
Ingredients
2 cups (14 ounces) dried small white beans, washed
small piece of Parmesan cheese rind
½ cup extra-virgin olive oil
1 large yellow onion, diced
4 large carrots, peeled and diced
3 celery ribs, diced
1 28-ounce can whole peeled tomatoes, undrained
Sea salt
Freshly ground black pepper
Dried oregano
3 large Swiss chard leaves, chiffonade
½ medium white cabbage, chopped
8 pieces dry day old or toasted Italian bread
Parmesan cheese for garnish
Olive oil for garnish
Instructions
Rinse the beans in a colander and pick out any debris or small stones. Place in a medium stockpot and add cold water to cover the beans by about 2 inches. Cover and soak overnight
Drain the beans and cover then with fresh water. Add the Parmesan cheese rind. Over medium heat, simmer until the beans are tender, about 30 minutes. Set aside.
Heat the olive oil in a large Dutch oven over medium heat. Add the diced onion, carrots, and celery (soffritto). Cook, stirring occasionally until the onions are translucent, for about 10 minutes.
Stir in the tomatoes, the beans, and their cooking liquid. Season with salt, pepper, and oregano. Add the chard and cabbage. Add additional water, chicken or vegetable stock as needed to completely cover the chard and cabbage.
Bring the mixture to boil. Reduce the heat and simmer for 1 hour. Adjust the seasonings to taste.
Place a piece of bread in each bowl. Ladle the soup on top of the bread. Top each serving of the soup with some Parmesan cheese, a dash of olive oil, and freshly ground black pepper.

Coleen Kirnan
Owner and host of Tuscan Women Cook
Imagine having a best friend in Tuscany who knows all the best places to cook, dine, and shop, is on a first-name basis with the best gelato makers and has exclusive access to the most spectacular vineyards where they'll set up personal wine tastings just for you. This friend is also a master travel planner, who takes every travel detail off your plate and creates an insider's Italian itinerary filled with friendly, knowledgeable tour guides, translators, drivers, and private cooking classes only a local resident could access.
That friend is Coleen Kirnan, the owner and host of Tuscan Women Cook. With her infectious smile, contagious joy, and years of business experience and knowledge, Coleen creates a memorable travel and culinary experience for every guest who books a week with Tuscan Women Cook. An avid entertainer and cook, Coleen provides everything for her guests, from shopping expeditions, spa days, and golf outings for those interested in venturing out of the kitchen.
"There is truly something for everyone at Tuscan Women Cook," confides Coleen. "The chance to immerse my guests in the authentic Tuscan lifestyle; cooking in rustic kitchens with women who are preparing recipes that have been passed down from generations of family cooks for a complete Italian culinary experience."
A successful businesswoman and owner of a commercial real estate firm (Kirnan Commercial, Inc.), Coleen represented several top-tier private and public companies involved in multi-million dollar real estate transactions for over 30 years.
Coleen also treasures her role as wife and mother and when her grown children left the nest, she decided it was time to align her career with her passions and sold her thriving business to become the owner of Tuscan Women Cook in 2016, making a major career change that was extremely rewarding for her both personally and professionally.
When not hosting Tuscan Women Cook in Montefollonico, Coleen lives in Southern California with her family. With their enthusiastic blessing, Coleen embraced the idea of forging a business in Italy that encompasses all her favorite pursuits.