Close Banner
Advertisement
This ad is displayed using third party content and we do not control its accessibility features.
paid content
 for

Key Takeaways From Our First In-Person Event In Years (Plus: A Fall Recipe!)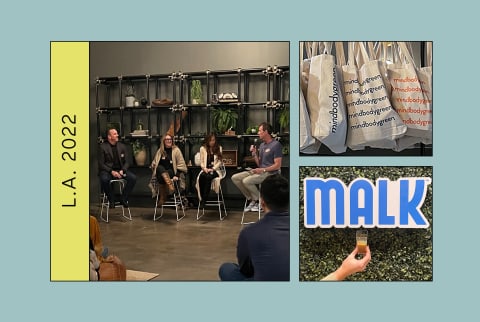 On a brisk and cozy Los Angeles evening, mindbodygreen, MALK Organics, Miyoko's, and leaders in the health and wellness space gathered with one thing on the mind: the future of food. More specifically—we wanted to talk plant-based foods, and how they're imperative for a sustainable tomorrow. With MALK Organics (a premium plant-based milk company) and Miyoko's (a plant-milk creamery) in the house, we knew we were in for an inspiring evening.
Keep in mind, this event—our first ever revitalize Sessions—was the first IRL event mindbodygreen has hosted since pre-COVID times. Not only did it feel great to bond over a shared passion for plant-based foods, the in-person company was invaluable. So after some networking, a Buddhist meditation by teacher Meg Monahan, and a reading by writer Christopher Rivas, we collected for a panel featuring our very own co-CEO Jason Wachob, CEO of MALK Organics Jason Bronstad, CMO of Miyoko's Organics Rusti Porter, and nutritional practitioner Serena Poon. With pineapple-ginger mocktails in hand, we dove into the fascinating and game-changing world of plant-based eating.
Key takeaways from our first revitalize Sessions.
The intention of our Future of Food Panel was to illuminate the role of plant-based foods—now and in the future. We questioned these leaders to better understand how consumers are currently engaging with plant-based foods; how consumer demand has changed, especially after COVID; and what innovations are defining the space moving forward. And Jason Bronstad, CEO of MALK Organics, had some key insights throughout.
As a brand, MALK is already redefining the way we think about alternative milks. Their products promise simple, high-quality, certified organic ingredients—and never any of the bad stuff, like gums, fillers, oils, or anything artificial. But Jason Bronstad proved that the brand is also interested in solving large-scale issues in today's plant-based industry. According to him, consumers' accessibility to healthy, plant-based foods is one of the greatest obstacles. "What are consumers looking for? They're craving the right choices. But because of where they shop, their options are limited," Jason said. "Although we don't have availability in every grocery store nationwide, we're aiming to expand distribution to provide more healthy choices."
For plant-based brands like MALK and consumers alike—accessibility is key. But despite these obstacles, MALK continues to make inspiring choices: "Mother Nature has given us these resources—but collectively, we just don't know how to use them. So as we continue to evolve—in our processes and innovation—we will do so mindfully." Further, Jason described the importance of finding partnerships that are more sustainable: "We're watching the way our partners are utilizing water 25-30% less than other farmers. When we're looking for partners to choose, we're looking for the way they sustainably treat crops and land."
Another key takeaway from the panel that all parties agreed upon was the importance of transparency in the foods we eat… especially in a post-COVID world. "After COVID," Jason explained, "consumers are now asking the question of what exactly am I consuming?" And when we look on the back of a MALK bottle to see just three ingredients—like the filtered water, organic gluten-free oats, and Himalayan pink salt in their Oat MALK—we understand that transparency simply comes with this brand.
Get a taste of transparency.
In addition to glimpsing the ethos behind MALK, our event participants enjoyed a vegan and gluten-free menu featuring different MALK and Miyoko's plant-based products. Without a doubt, people were enjoying the mini fruit skewers, drizzled with MALK Chocolate Oat. But the crowd-pleaser was really the Vegan Butternut Squash Soup, made with Oat MALK. Creamy, flavorful, and perfect for fall—this had our guests simmering with excitement. And so you can also get a taste of our first revitalize Sessions—we're sharing the recipe below!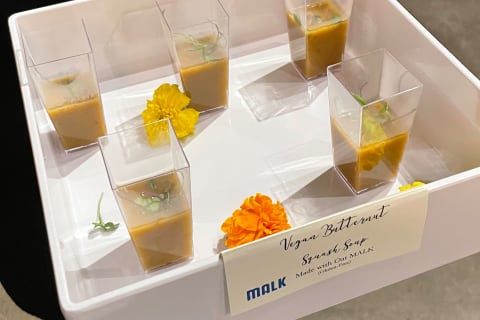 The future of food.
At mindbodygreen, the future of food is top-of-mind 24/7. We're always turning to experts and identifying the innovations ready to help us all eat more sustainably, nutritiously, and deliciously. There may be a lot of intimidating headlines and statistics out there, but it's brands like MALK that give us both hope and inspiration. When it comes to the future of food, and the role that plant-based eating will inevitably play—it's community over competition. And throughout this event, we felt all the collaborative-feels. Meeting other like-minded leaders, mindful moments, inspiring conversation, all-paired with the most delicious vegan menu? If this is what the future of food feels like—we can't wait.
Vegan Butternut Squash Soup
Ingredients:
2 cups Oat MALK
Medium butternut squash (about 4lbs) — peeled, seeded, and diced
Brown onions
4 cloves garlic — peeled and minced
1 tbsp thyme
1 sprig sage
1 cup water
Salt and pepper to taste
Instructions:
Sauté the onion and garlic in a bit of olive oil—until translucent.
Combine the squash, water, onion, garlic, sage, and thyme in a pot. Bring to a boil, then reduce to a simmer.
Once the squash is completely tender, stir in the Oat MALK.
Use an immersion blender to purée the soup until smooth, or use a traditional blender (in two batches).
Once the soup has been puréed, give it a taste and season generously with salt and pepper as needed.
More On This Topic
more Food
Advertisement
This ad is displayed using third party content and we do not control its accessibility features.
Advertisement
This ad is displayed using third party content and we do not control its accessibility features.