This Ingredient Reduces The Appearance Of Wrinkles — Reviewers Rave About It Too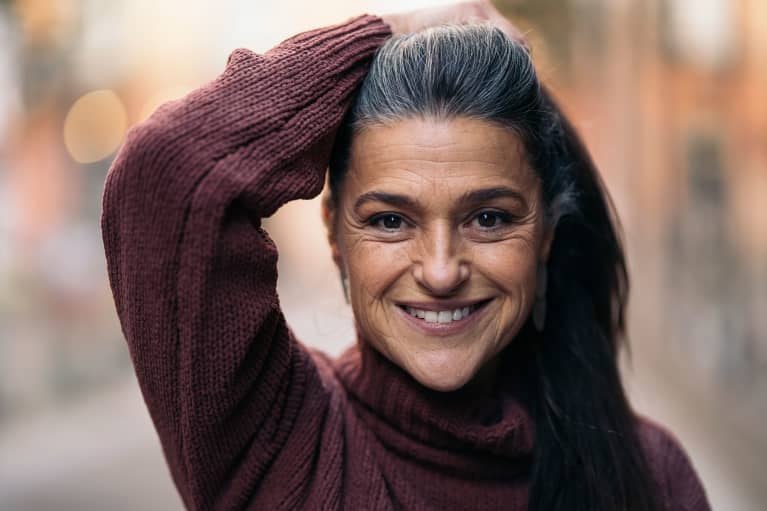 September 17, 2022 — 11:28 AM
Hyaluronic acid can play a vital role in almost anyone's well-rounded skin care routine. The compound is a humectant naturally found in the body, the skin in particular. In fact, about 50% of the body's total amount of hyaluronic acid resides in the skin, but it's also present in tissues, joints, and blood vessels.
Hyaluronic acid's primary role in the skin is water retention: As a humectant, It attracts and holds water. It's so strong, in fact, that it can hold up to 1,000 times its weight in water. And in doing so, it keeps the complexion dewy, moisturized, and plump.
And while we love the ingredient in topical forms (check out our favorite HA serums here), we also believe in its incredible efficacy when taken orally. So much so that we made it a core part of mindbodygreen's beauty & gut collagen+. When combined with the other skin-forward ingredients in the powder, HA can help hydrate the skin from the inside out.* And we're not the only ones to notice it, too.
How hyaluronic acid can hydrate skin from the inside out. 
When taken via supplementation, research has found that it can be hugely beneficial for skin hydration and helps to ease the appearance of fine lines and wrinkles.* In fact, one double-blind, placebo-controlled study found that participants who took HA supplements experienced a reduced appearance of wrinkles after only eight weeks—with improved "skin luster" at 12 weeks.*
And users see this in real time: "I see improvement in my complexion, and my skin is smooth and soft,"* as Julie W. writes in. Or as Amy C. says, "I have used this product for almost two months. I definitely feel like I am seeing a difference in my nails and skin: My skin looks better than ever."*
And while the 100 mg of HA greatly contributes to its hydration-enhancing efficacy, the other ingredients also play a huge role.*
The most obvious is the powder's namesake: collagen. Collagen peptides have been shown to enhance hydration, support firmness, and promote elasticity.* (Please check out our guide to collagen for more info on how.) For example, one double-blind, randomized, placebo-controlled clinical trial found that participants' moisture levels in the skin were seven times higher than those who did not take collagen supplements.*
Even better, when collagen and HA work together, studies show they improve the appearance of the skin: One double-blind, randomized, placebo-controlled clinical trial found that when a small group of women took a collagen supplement that was also formulated with hyaluronic acid and a few other actives, they experienced a significantly smoother appearance of wrinkles.*
Reviewers note the changes in their skin: "My skin is firm yet supple to the touch," says Rosalina. And Cynthia B. says, "I have been taking it for about 30 days now, and I feel better and my skin looks fresher, which is saying something at 59 years of age. Thank you for the thoughtful nutritional product."*
There's a reason that HA supplements have become so popular lately: Not only are they a favorite of Hailey Beiber, but they just plain work. Clinical research has shown that they can improve the appearance of skin, and anecdotally, our users agree.*