paid content
 for

Put In The Work: 4 Tips For Motivating Your Best Workout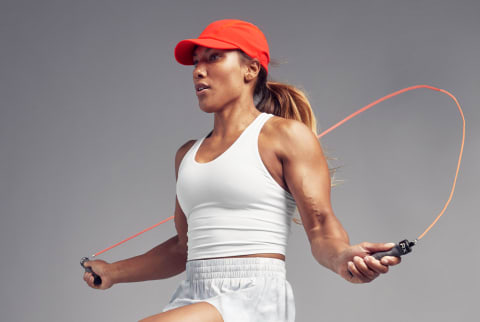 Image by Athleta / Contributor
April 6, 2021
Sometimes wellness comes in the form of a gentle nudge—a lavender bath bomb, a warm sauna, or a cup of herbal tea. Other times it's a (loving) call to simply put in the work! While it'd be nice if hitting our goals was easy, we know it's sometimes "sweat equity" that makes it meaningful in the end. It's natural for the well of motivation to run dry, so how do we discover that inner spark again? And most importantly, ignite it? We're turning to the science, and supportive brands like Athleta, to answer those questions.
Advertisement
This ad is displayed using third party content and we do not control its accessibility features.
Motivation: It's an inside job.
Here's what science wants us to understand: Motivation happens along a continuum1. On the one side, we have extrinsic motivation: where we're motivated to do something for external reasons—like exercising because that's what your friends are doing. On the other side, we have intrinsic motivation: where we're self-determined and exercise because we deeply enjoy the feeling that comes with a good workout. Research1 has proved that this self-determinism helps us regularly show up for our goals and links intrinsic motivation to mental health and well-being.
Bottom line: Motivation is about more than forcing ourselves into burpees. Motivation is an inside job and starts with checking in with what our body wants and needs, whether that's super supportive apparel from Athleta or an energizing snack. Once our mind and body are on the same team, there's nothing we can't do. Here are some tips to get your motivation flowing free!
Get out of your mind (and into your body).
While our body almost always appreciates the benefits of a good workout, our mind often has its own agenda. Motivation sparks when the body and mind align—and for that, nothing compares to meditation. Meditation has been proved to increase body awareness and helps us tune into what our body needs: Is it more food before a high-intensity workout? Or a vinyasa yoga class instead of a 3-mile run? Maybe it's a rest day to give our body a break! Researchers2 have found that meditation also helps us overcome negative emotions, which can certainly block our fitness goals. Before that high-intensity workout, try a brief guided meditation for body awareness.
Advertisement
This ad is displayed using third party content and we do not control its accessibility features.
Dress for success.
We've all heard the importance of dressing for success but usually in a professional or academic context. Studies3 have proved that formal dress enhances overall cognition and perceived confidence—and in our experience, the same goes for fitness. Sliding into the perfect sweat-ready outfit can set the mood for putting in the work. The supportive compression of the Athleta Ultimate Stash Pocket Capri signals to our body that it's time to move. Featuring pockets galore and sculpting fabric, these leggings say: time to train hard. Made with recycled materials, these are our go-to leggings for making an impact in the gym—but not on the planet. For head-to-toe motivation (and sustainability), pair your leggings with the Athleta Ultimate Racer Bra. There are a lot of workout get-ups out there—not all let us sweat in comfort and style.
Create the perfect workout playlist.
Behind every amazing workout is a masterfully crafted playlist, with the BPM, mood, and genre that makes movement inevitable. Science has proved what we're seriously grateful for: Music motivates workouts. It's also confirmed that music can distract us from fatigue (for that final push), lift our spirits, increase endurance, and reduce perceived effort. A jammin' playlist is the common denominator of the very best workouts. So, get out your headphones, channel your inner DJ, and create a playlist that motivates the one and only y-o-u.
Advertisement
This ad is displayed using third party content and we do not control its accessibility features.
Make sure you've got your pre-workout fuel.
So much motivation can come from simply acknowledging our body. How are our energy levels? Is our body nourished or famished? On a physical level, it's nearly impossible to motivate for a high-intensity workout if we're lacking essential nutrients. To keep it simple, aim for a fast-absorbing, carb-rich snack an hour before your workout, like rice cakes or a piece of fruit. And make sure you're hydrated, too! In every way, food is fuel. Just like a car—if we don't have fuel in the tank, we're getting nowhere fast.
The best workouts aren't just physical.
The best workouts don't come from pushing our body from A to B. They come from enjoying exercise as a sensory-rich experience and feeling strong, confident, and healthy. From the sleek support of Athleta's Ultimate Stash Pocket Printed Tight, to the can't-help-myself dance breaks spurred by your fiery playlist, the best workouts fulfill your mind, body, and spirit. Let your next best workout be a (sweaty) celebration of your amazing body and everything it can do.
Advertisement
This ad is displayed using third party content and we do not control its accessibility features.
Devon Barrow
Branded Content Editor
Devon Barrow is a Branded Content Editor at mindbodygreen. She received her degree from the University of Colorado. When she's away from her desk, Devon is teaching yoga, writing poetry, meditating, and traveling the world. She's based in Boulder, Colorado.
Devon's first book, Earth Women, is coming soon. To learn more, join the mailing list, and receive updates, head to www.devonbarrowwriting.com.