Research Finds Psilocybin's Positive Effects On Cancer Patients Endure For Years
mindbodygreen Editorial Assistant
By Sarah Regan
mindbodygreen Editorial Assistant
Sarah Regan is a writer, registered yoga instructor, and Editorial Assistant at mindbodygreen. She received her bachelor's in broadcasting and mass communication from SUNY Oswego, and lives in Brooklyn, New York.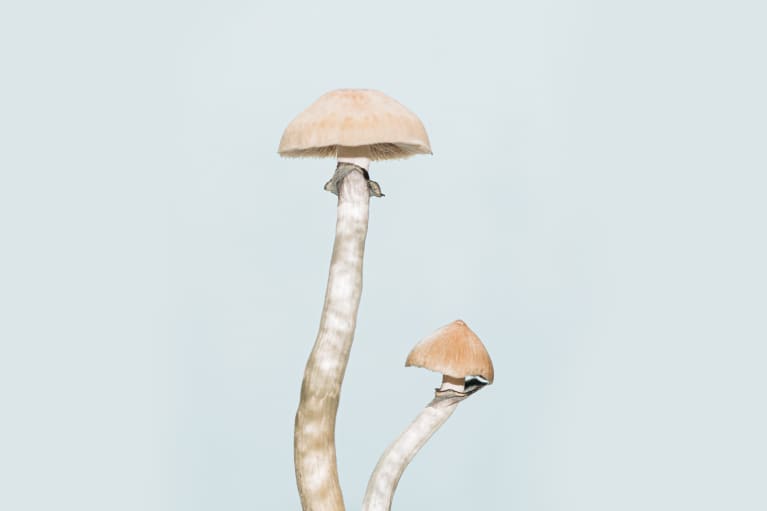 January 28, 2020 — 21:58 PM
Almost five years after the original study, researchers at NYU have found a single dose of psilocybin can have long-lasting, positive effects on anxiety and depression when coupled with psychotherapy.
Back in 2016, researchers found psilocybin, a naturally occurring compound in psychedelic mushrooms, may offer cancer patients relief from depression, anxiety, and existential distress, as well as boost feelings of spiritual well-being. The benefits were immediate, and a follow-up study four and a half years later found them to be lasting, too.
As the longest spanning study on the effects of psilocybin on cancer patients, the findings give us important insight into the drug's potential benefits.
Following up on original research.
In the original study, 29 cancer patients were given either one dose of psilocybin or an active placebo that mimicked psychedelic sensations. The patients then attended nine psychotherapy sessions.
Researchers followed up with participants six and a half months after the study, three years later, and four and a half years later. Even in the most recent follow-up, positive effects on mental health were sustained, with participants reporting less depression, hopelessness, anxiety about life and death, and more.
And according to the numbers, 71 to 100% of the participants said the psilocybin-assisted therapy was one of the most meaningful and spiritually significant experiences of their lives.
A potential for future treatment.
Ph.D. candidate and lead author of the long-term study Gabby Agin-Liebes explains, "The drug seems to facilitate a deep, meaningful experience that stays with a person and can fundamentally change their mindset and outlook."
While more research is needed to understand exactly how psilocybin works in the body, it's thought to make the brain more open to new ideas and thought patterns. People who are anxious or depressed, for example, may ruminate or get stuck in their own limiting beliefs. Psilocybin seems to broaden the lens, providing a new perspective.
And with cancer patients experiencing overwhelming degrees of anxiety and depression, a novel approach is "urgently needed," according to Stephen Ross M.D., associate professor and the original study's lead researcher. "Our findings strongly suggest psilocybin therapy is a promising means of improving the well-being of patients with life-threatening cancer."
More research is necessary.
The study notes conventional depression treatments may only work for half of patients or fewer, and as Ross notes, they don't typically address the existential anxiety that can come with a terminal diagnosis. Psilocybin paired with psychotherapy could offer a new approach for helping cancer patients with the heavier side of illnesses.
But most importantly, Agin-Liebes adds that psilocybin is not something to mess around with on your own. "They should be taken in a controlled and psychologically safe setting, preferably in conjunction with counseling from trained mental health practitioners or facilitators," she says.
The next move is for researchers to conduct studies with more socioeconomic and ethnic groups, to expand on existing research. And while it may be a while before doctors are writing prescriptions for magic mushrooms, it's worth keeping up with the research as we gain a better understanding of the potential use for psychedelics in mental health treatment. To learn more about psychedelic-assisted therapy, check out Gita Vaid, M.D.'s recent interview on the mindbodygreen podcast.