Research Says Pregnant Moms Should Avoid Parabens — Here's Why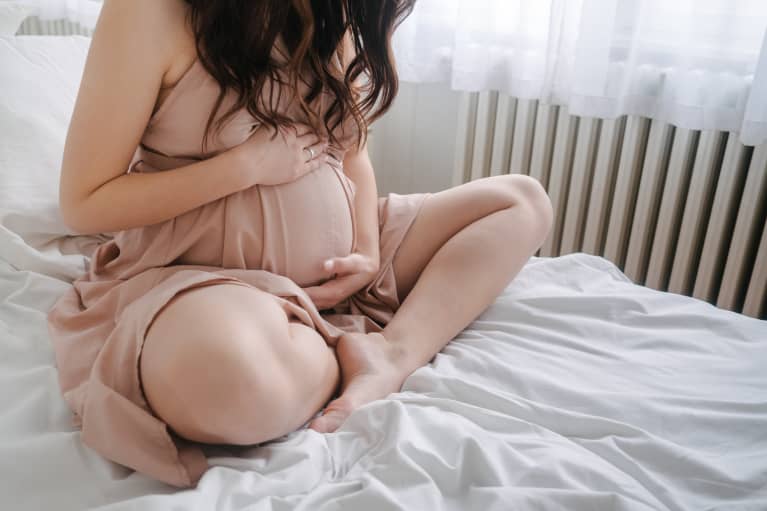 February 13, 2020 — 14:58 PM
New research may have found yet another reason to stick with natural makeup—especially if you're expecting a child.
Parabens, or preservation chemicals used in tons of makeup and other beauty products, have long been understood to have carcinogenic effects, as well as disrupt hormone function. They were actually banned by the European Union nearly two decades ago but are still found in products sold here in the U.S.
And according to new research out of Berlin University Hospital, children are more likely to become overweight if their mothers used paraben-laden products while pregnant.
Studying the effects of butylparaben.
Researchers based the data for this study on a larger study of 629 mothers and their children. The moms had recorded their use of products with parabens in the 34th week of their pregnancy, and then their urine was tested for chemicals.
As you might suspect, frequent use of topical products with parabens resulted in higher levels of parabens in the women's urine. But interestingly, the research then revealed that children were more likely to be overweight by 8 years old, if the mother showed higher levels of parabens, specifically butylparaben.
Children were twice as likely to be overweight if prenatal levels of butylparaben were in the top third percentile, with girls appearing to be more affected than boys.
To look for more direct evidence, the team also conducted an experiment where they exposed pregnant mice to butylparaben. The baby female mice exposed to parabens were found to have changes in a gene that helps control appetite, which may explain why they ate more and subsequently gained more weight.
The team notes that paraben levels can be influenced by a number of factors outside cosmetics, like preservatives in foods. Tobias Polte, Ph.D., one of the study's lead researchers, says more research is necessary to fully understand the effects of parabens.
Researcher Irina Lehmann, Ph.D., adds that both pregnant and breastfeeding women should double-check their product labels and go for the ones that are paraben-free.
It can feel impossible to keep up with all the pregnancy advice that's out there, but it would seem your safest bet is to avoid highly processed products and stick with the organic stuff across the board. Here's everything you need to know about organic skin care, plus 30 clean beauty products to get you started.