Real Users Say This Hand Cream Is "Perfect" & They "Can't Get Enough"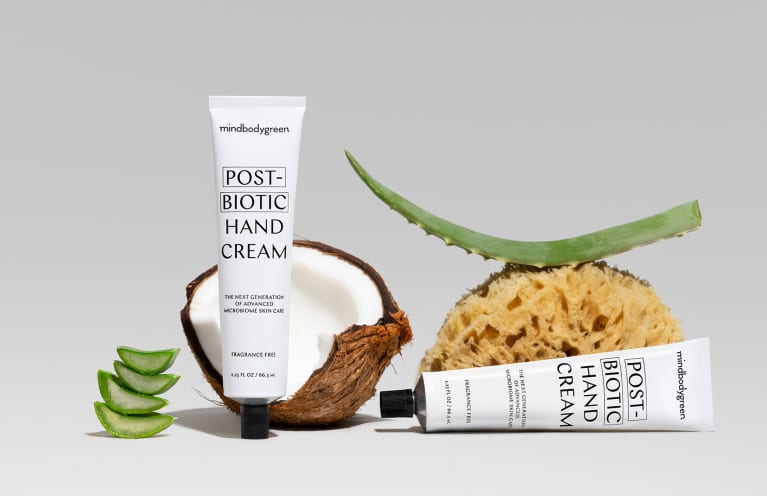 As a beauty professional, I pride myself on knowing a lot about products, cult finds, and what's on the market. Nothing makes me more excited than getting a question about what sort of serum a friend should try or what shampoo someone should get if they're trying to get a little bounce in their curls. But even I—with my years of product testing and source scouring under my belt—know that sometimes there's nothing better than a good old-fashioned customer review.
So we gathered up what real people were saying about our new postbiotic hand cream for you. Our hand cream is a fast-absorbing yet deeply hydrating formula that delivers actives for every aspect of your skin barrier function. A high-tech pre- and postbiotic combo nurtures the skin microbiome: These highly selective actives provide the skin peptides and fatty acids that are able to strengthen the epidermal framework, soothe and hydrate dryness, and improve the appearance of the skin. Then it contains antioxidants (from a stabilized coenzyme Q10 and fruit complex) that protect the delicate epidermis from free radicals and other stressors. Finally, rich and hydrating butters, plant extracts, and oils feed the lipid layer—our sophisticated blend contains shea butter, oat oil, moringa seed oil, and aloe vera. It's an experience not to be missed.
Truly, a hand cream formulated to check all the boxes.
"New addition to my routine."
"The softest my hands have ever been: the product soaked in really quickly, which is definitely hard to find. Happy to be adding a really thoughtfully produced and formulated product to my routine!" —Jeremy
"I can't get enough of it."
"I have been on the hunt for a hand cream dense enough to coat my dry, flaky hands in moisture without leaving behind a greasy residue. This formula is it. My hands truly feel soft as butter and they're not at all slippery, even seconds after rubbing it in. I can't get enough of it!" —Liza
"I absolutely love this hand cream! I feel like this is a new staple in my daily self-care routine. Not only have I been applying at night before I get into bed, but I also use it during the day as well. I will definitely need two of these—one for my nightstand and one for my desk!" —Julie
"Doesn't leave my hands greasy after."
"Finally a hand cream that actually hydrates my skin and doesn't leave my hands all greasy after using! I've been using this multiple times a day to counter all the hand-washing and sanitizing lately. Even after the first use my hands are not dry and feel so much smoother." —Aubrey
"Perfect hand cream! Luxurious but not too thick, moisturizing but quick to dry and never sticky. The recyclable packaging is the cherry on top. I love it!" —Ella
"Makes my hands extremely smooth."
"This is the hand cream I've been looking for! Just a small amount goes so far and makes my hands extremely smooth. They haven't felt this hydrated in years." —Remy
"So fast absorbing! My hands are naturally very dry, so I always have a hand cream nearby, but most are too sticky or oily—or they're not hydrating enough! This is the perfect in-between. Seriously...LOVE." —Cindy