Can A Plant-Based Diet Support Metabolism? This New Study Says Yes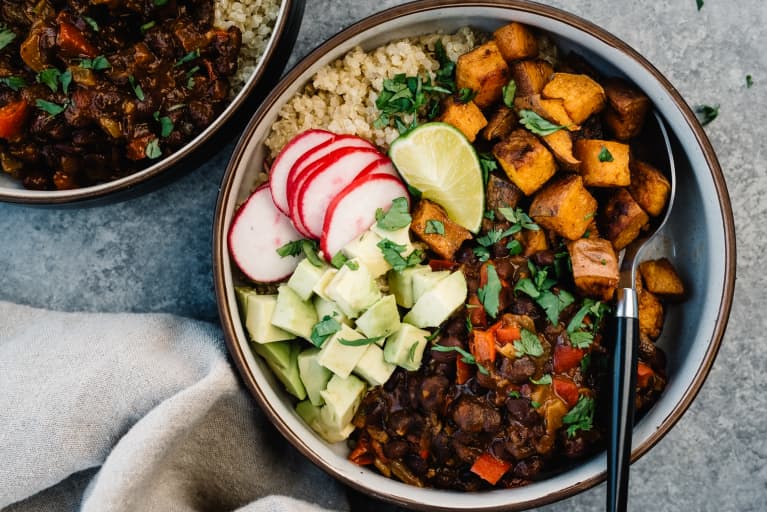 December 1, 2020 — 23:24 PM
Further evidence for increased plant-based eating.
In a randomized control trial published early this week in the JAMA Network Open by researchers with the Physicians Committee for Responsible Medicine, they found evidence that a plant-based diet may promote after-meal burn and, as a result, lead to weight loss.
Among the 244 participants, half were randomly selected to follow a low-fat, plant-based diet for 16 weeks, while the other half was a control group. They were advised to focus the diet on fruits, vegetables, whole grains, and legumes but were given no calorie limit, while the control group made no diet changes.
The group that adopted a plant-based diet was shown to have around a 16% increase in post-meal calorie burn and lost an average of 14 pounds. By comparison, the control group saw no change over the same period.
The plant-based group also saw fat reduction in liver and muscle cells, which reduced insulin resistance in these organs. There was also a decrease in total and LDL cholesterol. Each of these factors contributes to overall metabolic health.
"Over the course of years and decades, burning more calories after every meal can make a significant difference in weight management," says study author Hana Kahleova, M.D., Ph.D., director of clinical research for the Physicians Committee. "Not only did the plant-based group lose weight, but they experienced cardiometabolic improvements that will reduce their risk for type 2 diabetes, heart disease, and other health problems."
This study confirms many of the previous findings about the health benefits of adopting a plant-based diet, like weight loss and an overall improvement in cardiovascular health. However, these findings also suggest that the plant-based diet can help the body function more optimally, by helping support the metabolism and aiding in healthy blood sugar maintenance.