paid content
 for

Parents, Tired Of The Bedtime Battle? Keep Them In Bed With These 5 Tips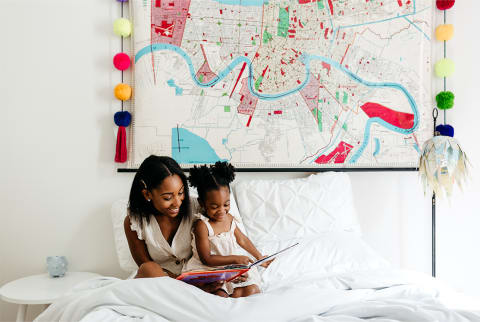 Image by Kristen Curette & Daemaine Hines / Stocksy
September 1, 2022
Stories, snuggles, and stuffed animals… As a parent, there are few things sweeter than tucking our kids in at night. It's often the time of day we feel closest to our little ones, and there's nothing like a little bedtime bonding to make all the laundry, soccer practices, and school pick-ups worth it.
But actually getting our kids into bed (and getting them to stay there) is easier said than done. Props to our kids' little brains for coming up with so many excuses to postpone bedtime or get up 20 times before finally passing out. Your mini-me may be set on pulling an all-nighter, but every parent deserves some peace and quiet at the end of the day. With these tips and a few bedroom essentials from Brentwood Home—prepare to champion the art of bedtime:
1. First things first—make sure their bedtime routine is consistent. 
Kids thrive on routines. Studies1 have shown that a regular bedtime routine doesn't just make sleep easier, it can help reduce problematic sleep behaviors. Even better? The same study proved that a regular bedtime routine also improved "maternal mood." So what should go in a bedtime routine? Research2 suggests steering clear of activities like watching TV, using electronics, or running around, and instead opting for activities that help regulate mood, language development, parent-child bonding, hygiene, and positive physical contact. Think reading, singing, bathing, and cuddling!
2. Create a sleep sanctuary that they love to cozy up in.
If we want our kids to get excited about going to bed (and staying put), then their bedroom should feel both enjoyable and relaxing. And that starts with an undeniably comfy mattress. Put your kids in the mood for sleep with the Juniper Kids Mattress by Brentwood Home. Not only is it made with all-natural materials, like a 5-inch therapeutic-support base foam layer and 1-inch cooling-gel-infused memory foam layer, but it's also covered in GOTS-certified organic cotton—so you can trust your little one is resting on the best. Paired with the Lilypad Kids Natural Pillow, hypoallergenic and silky smooth, you might also have a hard time getting out of their bed! And if you have a younger tot? The EcoAir Waterproof Baby Crib Mattress is just as safe, sustainable, and comfy.
Beyond a comfy mattress, get creative with transforming their bedroom into a sleep sanctuary. Find glow-in-the-dark objects that get them excited and comfortable about the dark. Put a white noise machine in their room to block out disturbances and lull them into sweeter dreams. Top their bed with cozy, soft blankets and stuffed animals. Studies3 have even shown that stuffed animals can help create and maintain positive sleep behaviors!
3. If your kid keeps getting out of bed—stay calm.
Even if your bedtime routine goes smoothly, it can be a real patience exercise when your little one gets out of bed because they "forgot to kiss the cat good night" or "need to tell you a secret." These issues are normal, especially as a toddler transitions from their crib to a bed, but it's important to maintain consistency, boundaries, and expectations. Each time your child gets up, bring them back to bed with minimal interaction. Whatever you do, stay calm and relaxed—a firm voice or tension can rouse them out of sleepiness. Another idea (authored by pediatrician Marc Weissbluth, M.D.) is to create a poster of "sleep rules" with your child—which include the agreement to stay in bed.
Image by Milles Studio / Stocksy
4. Keep bedtime a positive experience.
Even if your child struggles with bedtime, it's imperative that it remains a positive experience. Thus, it can be helpful to reward them when they stay in bed with stickers, healthy treats, and positive phrases the morning after. Even when they get out of bed a million times, it's best not to punish behavior from the previous night. Associating bedtime with negative behavior can teach your child to view sleep as punishment—making the entire bedtime process something they want to fight and avoid.
5. Do your best to wear them out during the day.
One surefire way to make bedtime easier for everyone involved? Wear out your kids during the day through "large motor play," i.e., activities that keep their bodies moving. Studies reveal that for every hour of the day children are inactive, it takes an additional three minutes to fall asleep. Invent games that keep your kiddos active outdoors, or invest in indoor solutions that keep their bodies and imaginations active, like the Play Couch Sofa by Brentwood Home. Soft and safe for kids of all ages, this couch is the starting point for the fort of their dreams.
The bottom line.
When our kids are sleepy and jonesing for a bedtime story, we have a prime opportunity to create some quality time—that's what the ritual of bedtime bonding is all about. But getting our kids into bed (for the whole night) is no small feat. Between these tips and a few sleep essentials from Brentwood Home, we can teach our kids that bedtime is something to enjoy. A kid that wants to cozy up on their mattress and stay in bed? It's not just a dream.
Devon Barrow
Branded Content Editor
Devon Barrow is a Branded Content Editor at mindbodygreen. She received her degree from the University of Colorado. When she's away from her desk, Devon is teaching yoga, writing poetry, meditating, and traveling the world. She's based in Boulder, Colorado.
Devon's first book, Earth Women, is coming soon. To learn more, join the mailing list, and receive updates, head to www.devonbarrowwriting.com.