Our Horoscope Called & Apparently Some Secrets Are Coming To The Surface On Friday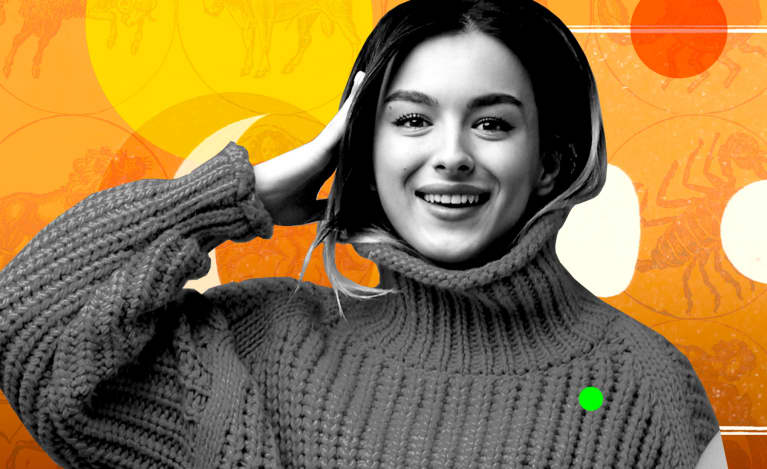 This week, the AstroTwins say we're in for a collective surprise on Friday. Here's how to prep.
Something's simmering below the surface—and this Friday, October 9, it could erupt.
As in-your-face Mars in Aries clashes with volcanic Pluto in Capricorn in a fierce square, a cesspool of secrets could spew to the surface. The truth could be stranger than fiction, and it's going to take a moment to digest it all. If something feels off, follow your intuition and investigate.
Be as stealthy as a panther. Clumsily handled cases could give the secret-keepers a chance to destroy key evidence. On a personal level, moods may be stormy leading up to Friday—but letting rage run rampant (a Mars-in-Aries pitfall) could bring a swift rebuke from vengeful Pluto. Under this dynamic mashup, risks—if warranted—should be calculated extremely cautiously. And don't hastily jump into the middle of an argument, or you could be signing up for weeks of aggravation.
On Saturday, creative solutions emerge from the ether as peacekeeping Venus in Virgo flows into a harmonizing trine with innovative Uranus in Taurus.
This will certainly come in handy for healing residual madness from the workweek. Get ready for social change in every way. You could make a clean break from a myopic group whose small-minded opinions make smoke shoot out of your ears.
This forward-thinking mashup draws together people who want to change the world for the better—and not just for a select handful of folks. Been stuck in your comfort zone, romantically speaking? Thanks to this boundary-busting mashup, love knows no limits. Keep an open mind and see where you're led.
Single and looking? Soften your focus on Saturday and you could swoon for someone refreshingly unlike your usual type. Longtime couples can bring back some sizzle by adding experimental plans to the weekend calendar. Anything from an interactive burlesque show to a group karaoke hang will do...as long as it's something decidedly out of the ordinary for you two.
On Sunday, a clash between the ego-driven Sun and no-limits Jupiter could make more! the only word anyone comprehends.
When you're reaching for adventure, don't overshoot the mark. This dopamine-fueling square might help you break ground on a new project or get the courage to tackle a daunting mission. What it WON'T do is show you where your natural, or sensible(!) limits lie. Run every wild idea by someone with sound judgment. A second opinion could spare you a mess!