Nutritionists Open Up A Can: How To Eat Canned Artichokes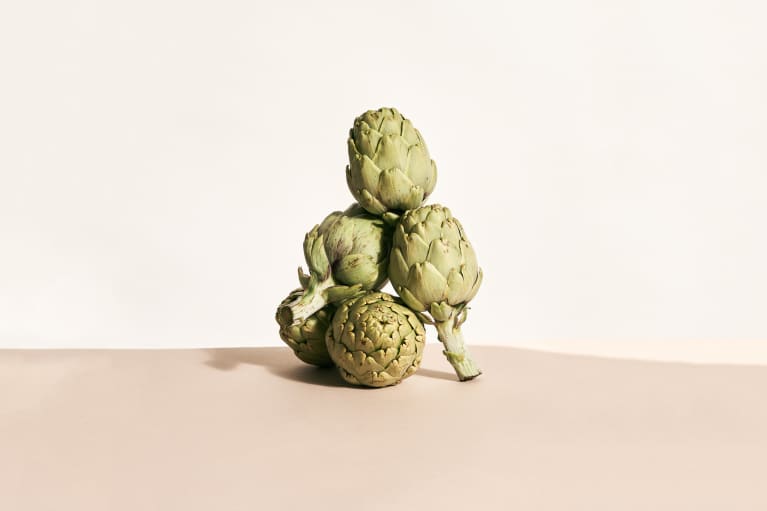 If all of your favorite canned foods have been taken off the shelves, it might be time to get creative with what you're buying. More obscure options, like water chestnuts and canned artichokes usually remain. Since we've already been told how to eat the former, what should we do with the latter?
We consulted registered dietitians Jess Cording, M.S., R.D., CDN; Molly Knudsen, M.S., RDN; and Abby Cannon, J.D., R.D., CDN, who shared their favorite ways to eat canned artichokes.
How to eat canned artichokes.
First and foremost, drain the can, rinse the artichokes in cold water, and pat them dry before eating or cooking. "Canned artichokes are higher in sodium than other vegetables," Knudsen said. This process helps remove any excess salt, which can weaken immunity.
Once you've finished that step, there are plenty of ways to eat them. "I love using canned artichokes in veggie hummus wraps," Knudsen said, "or putting them on a pita pizza with frozen spinach, minced garlic, Parmesan, and mozzarella."
Cording seconded the pizza option and added salads, pastas, or, if you don't feel like cooking, a charcuterie plate.
To make pizza or pasta plates vegan, Knudsen recommends swapping any cheese for a couple of dollops of vegan cream cheese—keeping the creamy goodness without any of the dairy. The same can be done for a spinach artichoke dip.
What's the nutritional value?
"One artichoke heart provides 1 gram of fiber," Knudsen said, "and when do you ever just eat one?" And in terms of cans, one can of artichoke hearts has 5 grams of fiber and 3 grams of protein.
"That's a nice amount of protein coming from vegetables," Cannon said. "They also provide potassium, calcium, and even some iron." If all that nutrition in one can hasn't convinced you to eat them, maybe this Mediterranean salad will.
Mediterranean Salad in a Jar
2 tablespoons Dijon balsamic vinaigrette (see recipe below)
¼ cup cucumbers, chopped
¼ cup pitted Kalamata olives
¼ cup artichoke hearts, chopped
¼ cup cannellini beans
2 tablespoons sun-dried tomatoes, chopped
4 ounces organic rotisserie chicken breast, shredded
1½ cups organic spinach
1 tablespoon basil, shredded
Add 2 tablespoons Dijon balsamic vinaigrette to bottom of 1-quart Mason jar.
Add cucumbers, olives, and artichoke hearts on top of dressing.
Add the cannellini beans on top of the vegetables.
Add sun-dried tomatoes on top of the cannellini beans.
Top the sun-dried tomatoes with chicken.
Add spinach and basil on top of chicken.
Refrigerate
When ready to eat, shake in the jar, pour into a bowl, and enjoy!
Dijon Balsamic Vinaigrette
4 tablespoons balsamic vinegar
1 tablespoon Dijon mustard
¼ cup plus 2 tablespoons extra-virgin olive oil
Sea salt and pepper to taste
Add vinegar, mustard, and extra-virgin olive oil to the food processor and combine until emulsified.
Add sea salt and pepper to taste.