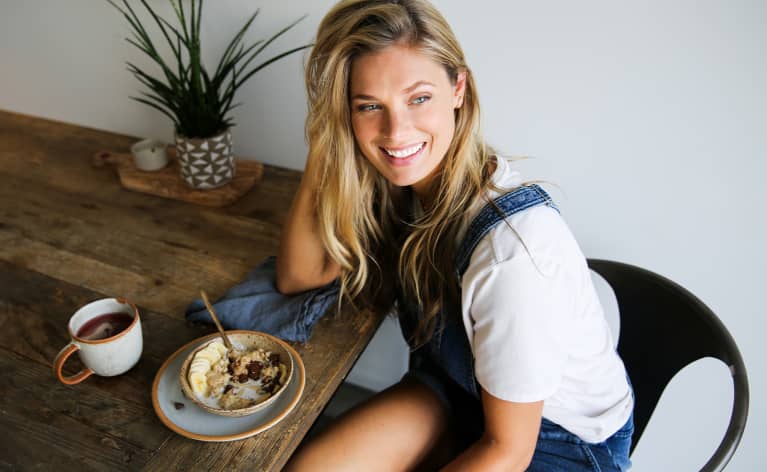 Six months ago, sugar schooled me.
Let me back up a bit. I've been a Certified Holistic Chef for five and a half years. Up until six months ago, I would have told you that I had my relationship with food figured out—I ate intuitively, indulged at times, and lived for things beyond food!
Then I started to write the dessert section of my second cookbook.
Mind you, I was using natural sweeteners such as maple syrup, honey, dates, and coconut sugar. And yet, day after day of tasting goodies made with those ingredients turned me into a sugar monster.
Y'all, I would be working at the computer and look up 30 minutes later to a mini-mountain of chocolate peanut butter cup wrappers. At night, one bite of ice cream turned into the whole pint, and I was putting my favorite dairy-free frosting on everything. And by everything, I mean oatmeal, bananas, granola bars, and more. You know, food that's already quite sweet. More than once, I had to pour dish soap over my 5 Layer Magic Bars (coming in cookbook 2!), so that I didn't demolish the entire lot.
More than once, I had to pour dish soap over my 5 Layer Magic Bars so that I didn't demolish the entire lot.
This sugar overload led to restless sleep, brutal afternoon exhaustion, and an overall sense of ickiness. I felt out of control and at the whim of food in a way I hadn't in years.
Thankfully, at 33, I have wellness tools that I didn't have at 23. I made a game-time decision.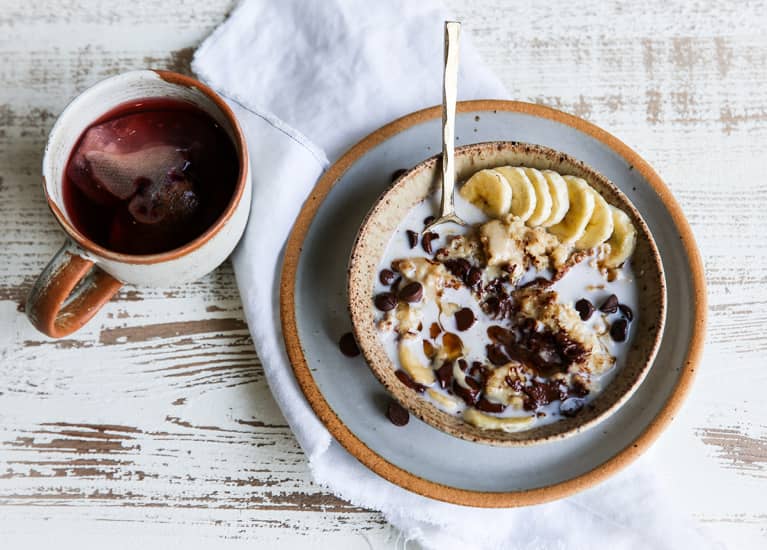 I decided to add stevia and monk fruit to the LL Balanced Cookbook pantry—two plant-derived, non-nutritive sweeteners that are both safe and tasty. I keep an extremely tight lid on the ingredients I use because the goal of my recipes is to make cooking streamlined, simple, and affordable. If I introduce a new staple to the pantry gang, I consider it worthy of investing in, learning to use and keeping around at all times.
I started testing my dessert recipes with these zero-glycemic sweeteners, and I swapped regular chocolate chips for Lily's stevia-sweetened chocolate. The zero-glycemic nature of stevia and monk fruit means that they won't raise your blood sugar, so you can enjoy a sweet flavor without the crashes and cravings. I still believe(d) that honey and such can be fantastic in moderation, but I wanted to offer my readers reliable sugar-free alternatives. So, I turned my attention to making kitchen magic with stevia and monk fruit.
Here's what happened after the swap.
The impact was evident and overwhelming! Even though I was still consuming mostly desserts in the testing process, and they tasted equally indulgent, the sugar monster was GONE. I could suss out and respond to my hunger cues and stop when I was full. I slept better, had more stable energy throughout the day, and most importantly, I was back in control of my food choices.
Eventually, I moved on from the sweet sections of my cookbook. However, the changes I experienced were so positive, I knew that "sugar-free" would play a starring role in my book and my day-to-day life. I began including grass-fed jerky and macadamia nuts in my snack rotation, and I switched maple syrup for stevia drops in my coffee and smoothies. I was officially sold on using granulated monk fruit in the place of other granulated sweeteners. (P.S.: I use a 1:1 ratio of monk fruit to coconut sugar, up to ¼ cup. For more, I use a few tablespoons less monk fruit than coconut.)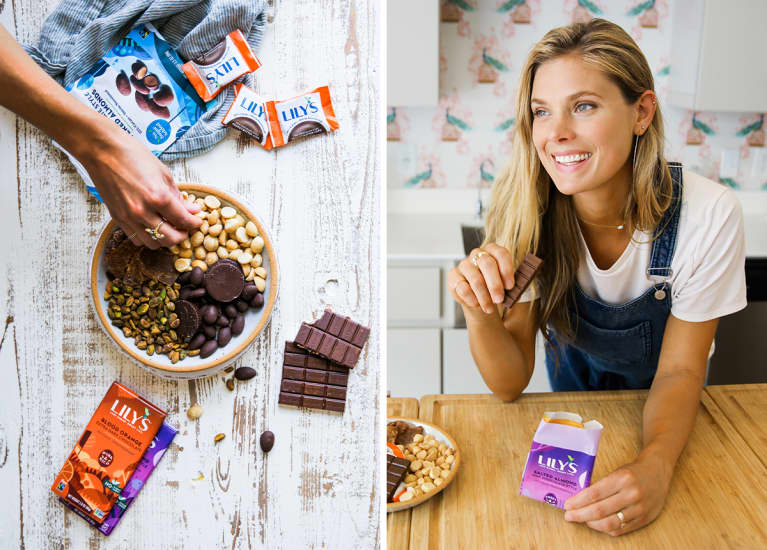 Perhaps most crucial for this chocolate fanatic was changing to Lily's Salted Almond Chocolate for my daily post-lunch treat. I'm so smitten with Lily's that I'm hosting an event at this year's mbg revitalize, where I'll be making chocolate fondue using Lily's chips to pair with seasonal grilled fresh fruit. Sound fancy? It actually couldn't be easier! The recipe is at the bottom of this post.
I'm often asked about my definition of "balance," and I appreciate the invitation to explain. To me, "balance" doesn't mean homeostasis or equilibrium or everything even and equal all the time. Instead, balance is synonymous with intuition, with an "in touch"-ness that we can cultivate so that we hear and understand what our bodies need when they speak to us. Simple but powerful, incorporating natural, sugar-free sweeteners into my recipes, meals, and snacks has been a key tool in my balanced living arsenal. If you're currently battling, or want to avoid, the sugar spiral I went down, I encourage you to do the same.
Make my chocolate fondue.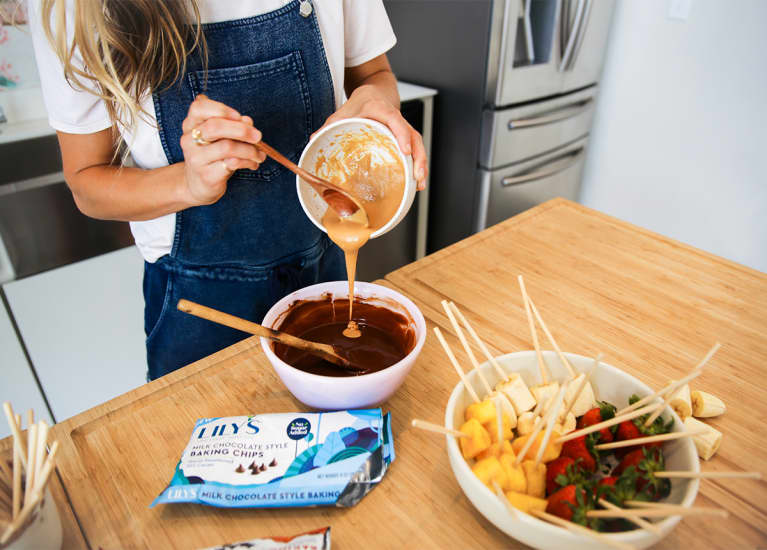 Combine 1 cup Lily's chocolate chips with 2 tablespoons coconut oil, grass-fed butter, peanut butter, or almond butter in a microwave-safe bowl.
Microwave on high in 20-second intervals, stirring in between, until melted and creamy. You can also use a double boiler on the stove.
If you don't want to deal with grilling fruit, fresh is delicious as well, particularly strawberries, pineapple, and green apple slices!