paid content
 for

New Year, New Snacks: 3 Crunchy Eats We Can't Wait To Try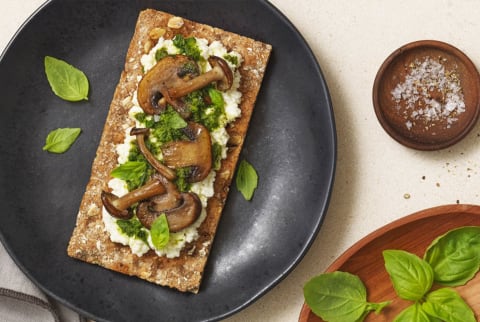 Image by Wasa / Contributor
January 11, 2023
Here's one thing we can all get behind: Snacktime is one of the best parts of the day. Resolutions to get to the gym more often or finally go Marie Kondo on our closets have their place… But what about harnessing the energy of New Year's to rethink the way we snack?
Your next snack just got a lot more exciting.
We know how easy it is to get in a snacking rut (plain crackers are so 2022). But snacktime is our daily moment to slow down, check in, and nourish ourselves on every level. So often, pausing to feed ourselves can feel like a chore or something to check off the list. But this New Year, we've resolved to reinvent our snacks… And it doesn't have to be hard either! With Wasa® crispbreads on hand, your next snack is full of possibilities. Or should we say… Wasa-bilities. Wasa has even refreshed its packaging just in time for the new year—featuring a bright and energetic new look to start the year off right.
Introducing Wasa® Crispbreads — the snack (or mini meal!) that's changing the game.
If New Year's is about leaving behind the old and welcoming in the new, then we're saying goodbye to boring and uninspired snacks in 2023. Instead, we're refining the art of snacking with Wasa crispbreads. These game-changing snacks are so much more than a cracker. Wasa has been baking these Swedish-style crispbreads for over 100 years, starting with just a few ingredients—including whole grains, so you know they're satisfying. But what makes them the star of our new year?
For starters, they're famous for their hearty crunch—which, if we're honest, is one of the key criteria of the perfect snack, or even a mini meal. And whether it's the Thin Rye, Multi Grain, or Gluten Free flavor, these crispbreads are much larger than your average cracker. That means they stand up to any topping or spread (and feel free to test that out for yourself). Whether it's a smear of zesty hummus or goat cheese—consider Wasa crispbreads your versatile base for endless snacking potential. There's nothing they can't do, but these are the crunchy combinations we're most excited to snack on in 2023: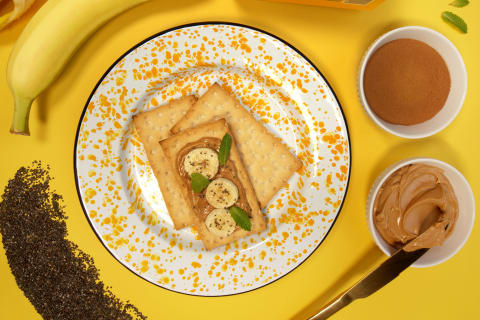 Image by Wasa / Contributor
There's nothing wrong with craving something sweet—but we also want to back up our sweeter snacks with plenty of nutrition. Between the indulgent hazelnut, banana flavors, and wholesome grains in every bite of the Wasa Multi Grain Crispbreads, this snack is something your body and taste buds will appreciate.
The secret to the perfect snack? Go all in on texture and flavor. This recipe perfectly balances the richness of goat cheese, the lightness of basil, and earthy mushrooms. Not only does the balsamic glaze provide a kick of flavor, but the Multi Grain Wasa Crispbreads give this savory snack layers of texture.
Snacktime is an outlet for self-care and creativity—and this recipe is ready to mix up the status quo. Not only is the green goddess salad full of flavor—thanks to ingredients like garlic and nutritional yeast—it turns out crispy butter beans are as tasty as they are nutritious. Best paired with a Wasa Gluten Free Crispbread and smear of avo? Snack on.
Snacking is self-care.
The reality is, snacktime is an everyday moment that packs a lot of potential. It's about so much more than just sitting down for a little nourishment. The way we see it, taking a snack break is actually a form of self-care. It doesn't just fuel and energize our body, research1 has even shown that healthy snacks have a positive impact on our mental health. Snacktime should always be a highlight of our day—and if it involves Wasa crispbreads, we promise it will be! Be on the lookout for their new look, with the same satisfying crunch and simple ingredients, at major grocery retailers and online at Amazon.com!
Devon Barrow
Branded Content Editor
Devon Barrow is a Branded Content Editor at mindbodygreen. She received her degree from the University of Colorado. When she's away from her desk, Devon is teaching yoga, writing poetry, meditating, and traveling the world. She's based in Boulder, Colorado.
Devon's first book, Earth Women, is coming soon. To learn more, join the mailing list, and receive updates, head to www.devonbarrowwriting.com.