paid content
 for

Mindful Moments: How Fragrance Can Help Us Find Serenity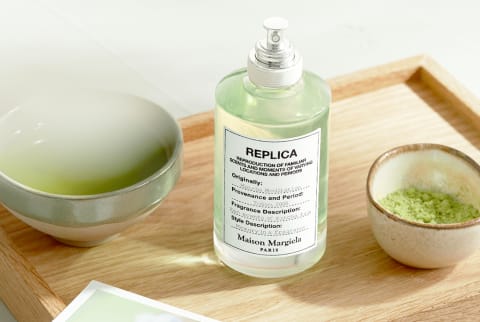 Image by Maison Margiela / mbg Contributor
August 23, 2021
Take a moment to recall your last truly serendipitous moment. Maybe it was a quiet morning all to yourself, with a mug of tea steeping beside you. Maybe it was a guided meditation with one of your favorite teachers that left your mind crystal clear. Or a long savasana where your body was finally able to soften. Whatever the alchemy of the moment, notice how a mere memory can open a window to channel the same presence; the same utter relaxation.
So how can we manifest these moments more often? Turns out, one of the most powerful factors that contributes to the serenity of these experiences is the aroma that surrounds them. This is precisely the intention behind the soothing Matcha Meditation fragrance by Maison Margiela, which has a way of setting the mind at ease (regardless of the variables being thrown your way). With each note, Matcha Meditation brings us back to the times where we felt completely at peace. And we're thinking: Isn't that what every fragrance should do?
REPLICA Matcha Meditation
Matcha Meditation is a zen scent that captures the joyful feeling of enlightenment achieved by meditation thanks to the bright Bergamot essence and the luminous and generous Orange Flower absolute. The enveloping feeling brought by the Matcha accord is reinforced by the warmth of the Benzoin absolute to recreate the peaceful and comforting sensation of enjoying a warm cup of matcha tea.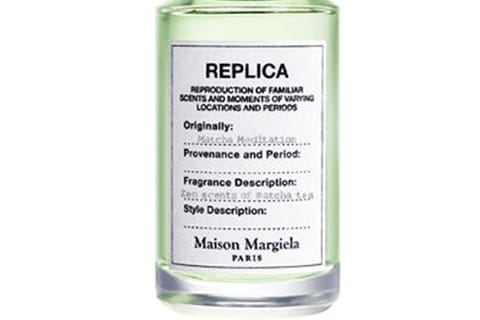 The power of smell.
Smell has the ability to influence our well-being, from mood to behavior to performance at work—but that power entirely depends on our past experiences with certain smells. To have a favorable influence on us, we must have previously associated a specific scent with a positive experience in a process called associative learning. But it also has to do with neuroscience.
Our sense of smell is managed by the olfactory bulb, a part of the limbic system found at the front of the brain. The olfactory bulb is also directly connected to the amygdala and hippocampus, limbic structures that govern emotion and associative learning, respectively. This proximity explains why smell tends to trigger emotions and memory. And because of this, we can learn to harness the power of smell. So far we've used mantras and crystals for more mindfulness, but how about fragrance?
The aromas of mindfulness.
Just like the smell of chocolate chip cookies might remind us of childhood, or the smell of roses reminds us of romance—the Maison Margiela Matcha Meditation fragrance encapsulates our most mindful moments with a calming accuracy. Leading with a bright Bergamot essence, Matcha Meditation is reminiscent of the worry-free bliss signature to closing our eyes and going inward. A meditation practice allows us to return to the world with pure joy—and this fragrance taps into that too with the luminous Orange Flower absolute. (In the fragrance world, "absolute" means the most concentrated form.)
Even better, there's a warmth and comfort to this fragrance akin to a rainy afternoon spent journaling and sipping tea. These are the kind of memories that the Matcha accord and Benzoin absolute of this fragrance bring to the surface. ("Accord" refers to the harmony of several components that creates a unique scent.) Think about this: Every time you've held a steaming mug of tea and settled into relaxation, the herbal smell has fused with the moment to create a fond memory. A spritz of Matcha Meditation is inspired to help you access that relaxation.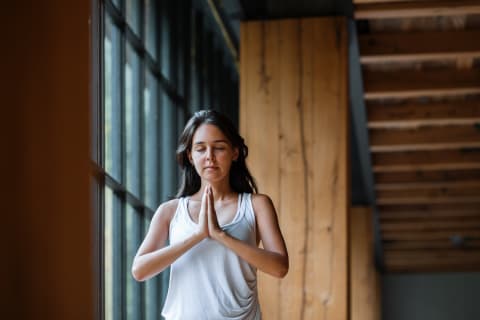 Image by Milles Studio / Stocksy
The mindful routine of Matcha Meditation.
If our modern world is one thing, it's busy. And we have to catch our moments of mindfulness where we can. Maybe you've misted yourself with Matcha Meditation and later that afternoon catch a waft of the fragrance as you head to the bank or fold the laundry. This perfume will always be our much-needed invitation to pause, to expand our senses beyond the whirlwind of the mind and focus on the now. We may not have a cup of Matcha close by or time for a meditation—but we'll certainly have the next best thing.
Make the most out of the little things.
With the impact stress can have on our physical and mental health, we're all right to seek a more mindful lifestyle. Sometimes we think that'll entail hours of meditation and superhuman patience. But the reality is—mindfulness comes from making the most out of the smallest things, including choosing a fragrance like Matcha Meditation by Maison Margiela to wear every day. As the very wise mindfulness teacher Jon Kabat-Zinn says, "The little things? The little moments? They aren't little."
Devon Barrow
Branded Content Editor
Devon Barrow is a Branded Content Editor at mindbodygreen. She received her degree from the University of Colorado. When she's away from her desk, Devon is teaching yoga, writing poetry, meditating, and traveling the world. She's based in Boulder, Colorado.
Devon's first book, Earth Women, is coming soon. To learn more, join the mailing list, and receive updates, head to www.devonbarrowwriting.com.