At-Home Microcurrent Tools: 3 Tips From A Professional

mbg Beauty Director
By Alexandra Engler
mbg Beauty Director
Alexandra Engler is the Beauty Director. Previously she worked at Harper's Bazaar, Marie Claire, SELF, and Cosmopolitan; her byline has appeared in Esquire, Sports Illustrated, and Allure.com.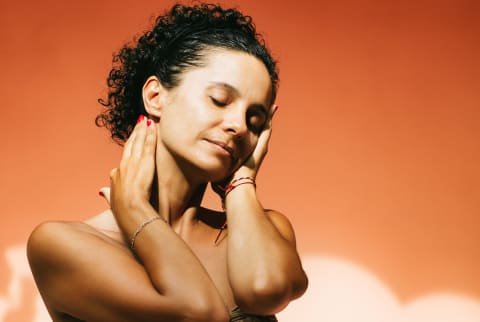 Image by VISUALSPECTRUM / Stocksy
Our editors have independently chosen the products listed on this page. If you purchase something mentioned in this article, we may
earn a small commission
.
February 21, 2022
When I was a teen and getting my first lessons in skin care, "at-home facial tools" meant spinning face brushes and pore strips. Now people are purchasing glowing LED face masks, buzzing massagers, microdermabrasion pens, microneedling, and (gasp!) even injectables to use sans professional. While I'm usually one to default to a trained esthetician or dermatologist, there are certain tools on the market I feel comfortable using in the comfort of my own home. One such example? Microcurrent devices.
However, my stamp of approval comes with a huge caveat: If you choose to invest in an at-home microcurrent tool—it needs to be high quality, and you need to know what you're doing. That's why I spent a whole episode of Clean Beauty School talking about it with biomedical engineer and holistic skin care expert Pooja Johari, M.S., founder of 7E Wellness. We go over lots of microcurrent info in the episode, so be sure to give it a listen for all the relevant info—but in the meantime, here are the three most pressing takeaways:
Advertisement
This ad is displayed using third party content and we do not control its accessibility features.
As it so often happens in skin care, many people use these tools without understanding what's happening below the surface. And we always think it's important to understand how something works so you can better understand why you use it and what steps you need to take to ensure it's effective.
"Microcurrent is a very tiny electrical current that mimics your body's own natural pulses. What that means is our brains use currents to communicate through our neurological pathways, where it's constantly sending signals. What we're doing with this technology is mimicking those currents and delivering them to our facial muscles," says Johari, noting that this stimulates our muscles to act younger. "The thing is, the facial muscles can't tell whether the signal is coming from the brain or this device."
So how exactly do they help your facial muscles act younger? Well, it all comes down to adenosine triphosphate (ATP), or a molecule that's naturally produced in the body and acts as an energy currency. Essentially your body (skin and muscles included) uses it as part of their regenerative process, creating more collagen, elastin, and so on. Without it, our cells lose energy—and unfortunately, our natural production declines with age. "That's the reason our skin is not able to hold up the structure,*" she says. "What we do with microcurrent is replenish and boost the ATP and therefore, the collagen and elastin."
Advertisement
This ad is displayed using third party content and we do not control its accessibility features.
2.
Muscles shouldn't twitch.
If you've never experienced microcurrent, at this point I'd wager you're curious about what those tiny electrical currents might feel like. And the thing is, quality microcurrent devices won't feel much like anything at all. "It's very relaxing," she says. "If it's a true microcurrent, muscles will not twitch or jump."
If you use an at-home device and your muscles visibly respond to it, it might be a red flag, she says. "If you see that, it's probably too strong; that's a strength that your body muscles might be better suited for. But your facial muscles are small, delicate, and close to the skin—and they don't need something that powerful."
3.
Use a high-quality conductive gel.
Microcurrents need a water-based conductive gel to work. When the technology first made its way to spas, many people would simply use ultrasound gels and the like—but as the devices became more sophisticated and the technology more available to the masses, consumers started looking for skin-care-minded formulations.
And according to Johari, you'll get your best results if you opt for nonirritating, high-quality, and natural ingredients. "There's a perception that modern technology doesn't always go with nature and holistic approaches, which I think go great together," she says. "You want conductive gels that are clean and don't contain any ingredients that may have long-term negative implications. Additionally, microcurrent tools help ingredients penetrate further into the skin, so you want to make sure that the ingredients are nonirritating," she says, noting that you shouldn't use exfoliating ingredients or retinol.

Alexandra Engler
mbg Beauty Director
Alexandra Engler is the Beauty Director at mindbodygreen. She received her journalism degree from Marquette University, graduating first in the department. She has worked at many top publications and brands including Harper's Bazaar, Marie Claire, SELF, and Cosmopolitan; her byline has appeared in Esquire, Sports Illustrated, and Allure.com. In her current role, she covers all the latest trends and updates in the clean and natural beauty space, as well as travel, financial wellness, and parenting. She has reported on the intricacies of product formulations, the diversification of the beauty industry, and and in-depth look on how to treat acne from the inside, out (after a decade-long struggle with the skin condition herself). She lives in Brooklyn, New York.