How Popular Brands Are Adding Some (Much-Needed) Transparency To The Cleaning Industry

mbg Sustainability + Health Director
By Emma Loewe
mbg Sustainability + Health Director
Emma Loewe is the Senior Sustainability Editor at mindbodygreen and the author of "Return to Nature: The New Science of How Natural Landscapes Restore Us."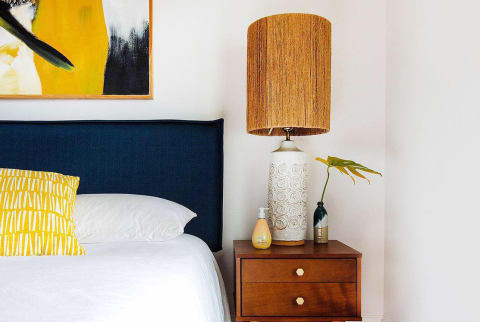 September 25, 2018
First, food got an overhaul. Organic and non-GMO labels helped shoppers identify ingredients that were better for their bodies and better for the planet, restaurants started spotlighting the farmers they depend on, and it became easier than ever to learn where your food came from. Then, it was the beauty industry's turn. As the world caught wind of the fact that natural ingredients are effective and come without the risk of scary side effects, clean beauty took off and is expected to become a $22 billion category by 2024. Healthy, responsibly made food and beauty products are now becoming the norm, not the exception, and you can now easily find them in grocery stores and mainstream beauty outposts nationwide.
It makes sense that the first places people demanded more transparency was in their food (we eat it!) and cosmetics (we put it on our skin!). But research shows that the cleaning products we use around our homes also affect our health—and maybe more than we might think. Ones that are packed with harsh chemicals have also been shown to pollute our air and waterways.
Advertisement
This ad is displayed using third party content and we do not control its accessibility features.
The good news? As customers are becoming more savvy about the role that cleaning products play in a healthier life, the industry is cleaning up its act.
Will the cleaning industry follow food and beauty's lead?
The wave of a home cleaning revolution is just starting to crest. For proof, you don't need to look any further than Method soap. The home brand sells over 200 products—everything from detergents to dish soap to body washes—in huge retailers like Target and Walgreens and at reasonable price points. It's a huge player in the space, which makes its commitment to sustainability all the more noteworthy.
Method's new, ultra-sustainable factory in Chicago doesn't look much like a factory at all: It's draped in brightly colored awnings, anchored by a cluster of solar panels to one side and a wind turbine to the other, all under one green roof—literally. Up top, Gotham Greens operates one of the world's largest rooftop farms, sending off 10 million heads of leafy greens and herbs to stores every year.
"We like to think of [the factory] as our biggest and most sustainable product yet," Saskia van Gendt said in August, as she walked me through the 150,000-square-foot plant.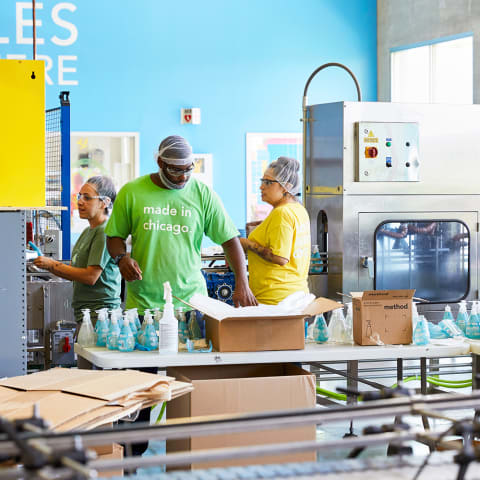 Advertisement
This ad is displayed using third party content and we do not control its accessibility features.
"It's unusual for companies our size to have their own factory," van Gendt said. The factory pumps out 4 million gallons of cleaning liquid annually, and it's more common to outsource production of this scale. "There are a lot of unique parts of the factory, but it comes back to our commitment to doing things as differently and as sustainably as we can."
The two-year-old factory achieved a LEED Platinum certification for its commitment to green building practices, becoming the first one in the industry to do so. Over time, Method hopes to further reduce its environmental impact by producing more of its own clean energy, cutting down on the carbon emissions it takes to ship its products by partnering with a nearby railway, become water neutral through a partnership with local farmers, and send zero waste to landfill—another unprecedented move for a company of this size.
"One of our intentions was to bring everything under one roof. Our bottles go from traveling 1,000 miles to 1,000 feet," van Gendt said. By centralizing the formulation, creation, and packaging stages in one space, it's easier to keep tabs on where waste is occurring and get rid of it.
Method isn't the only company innovating on the production front. Dr. Bronner's, founded in 1948 by a third-generation soap maker, continues to add to its South Vista, California, headquarters to keep up with the times. The company, which dominated 60 percent of the natural soap market last year, recently unveiled a new solar panel project that generates half of its electricity.
While it's undoubtedly more expensive to make a sustainable, state-of-the-art factory like these, as consumers demand more information about where all of their products are coming from, cleaners included, it might become necessary.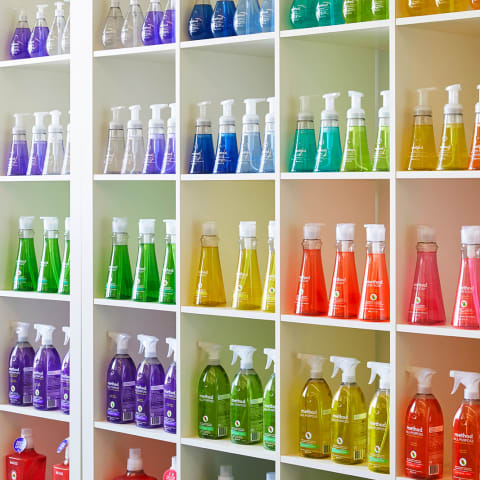 Method pairs its cleaner production practices with a cleaner product. All of its soaps are formulated with naturally derived ingredients, meaning they originally came from a plant-based source and don't cause any sort of skin or eye irritation. To compose their "do not touch" list, Method works the company behind the rigorous Cradle to Cradle certification. They look at the entire life cycle of an ingredient, taking into account what it takes to make it and what happens if it ends up in the environment at the end of its life.
And fortunately, Method isn't the only company working to nix the harmful chemicals in conventional cleaners. A handful of new brands—from plant-based Branch Basics, an all-purpose made from ingredients that are natural and gentle enough to use around babies and pets, to Ode to Clean, heavy-duty natural cleaning wipes made entirely from hydrogen peroxide from plant sugars—have emerged with a mission to make effective greener cleaners from the start.
"I wanted to not only develop a technology that reduces the waste and pollution in the production process but also create a purer product that would be clean and safe to use in our homes with our own families," Ode to Clean CEO Gaurab Chakrabarti said when the product was released last year.
Soon enough, every brand in the space may need to follow the lead of brands like Ode to Clean and Method and disclose all of their ingredients, thanks to a bill that was recently signed into law in California. (The FDA currently doesn't require it1—crazy, right?)
The Right to Know Act gives companies until January 1, 2020, to provide information on all of its ingredients, either on its website or directly on the label. While it will only be law in California, it's unlikely that a company will produce a special batch of its product to sell in just one state, meaning you can probably expect more transparency wherever in the United States you live.
Until then, it's up to consumers to give companies more reason to change—and that often starts with doing a little bit of research and being choosy about which brands they'll bring into your home. Because at the end of the day, "cleaner" shouldn't be a dirty word.
Advertisement
This ad is displayed using third party content and we do not control its accessibility features.