The Best Healthy Snacks Of 2018 (So Far)

Contributing Food Editor
By Liz Moody
Contributing Food Editor
Liz Moody is a food editor, recipe developer and green smoothie enthusiast. She received her creative writing and psychology degree from The University of California, Berkeley. Moody is the author of two cookbooks: Healthier Together and Glow Pops and the host of the Healthier Together podcast.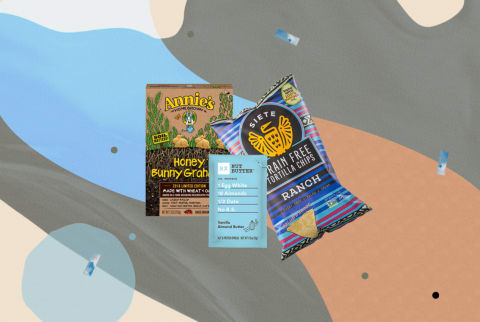 June 27, 2018
The year 2018 has been a banner one for snacks that are healthy for not only our bodies but the environment (very
You. We. All.
of brands!). We tried all of the new healthy snacks hitting the markets this year to find our absolute favorites, both in terms of health benefits (stress-busting reishi mushrooms, anyone?) and flavor (raises hand for chocolate almond butter brownie). Here's the best of the year so far!
EPIC Peanut Butter Performance Bar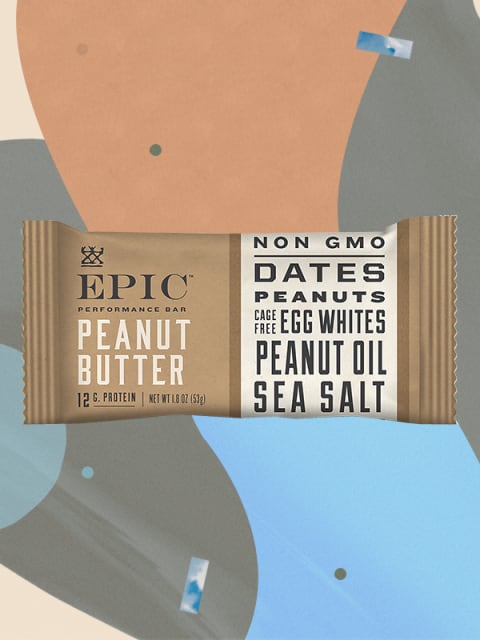 Photo by EPIC + mbg Creative
The story behind these bars is as wonderful as their taste: They were born from the EPIC founder's desire to create humane living conditions for chickens in the same way as they've enhanced other types of animal welfare. They're already converting a number of large farms to cage-free and hope to be completely pastured within the year, and the egg-white protein that comes from the now-happy hens goes into these high-protein bars. There are four delicious debut flavors, each completely free of additives or artificial flavors, but our favorite is the peanut butter, which tastes like a peanut butter cookie. Performance Bars, EPIC ($18.99 for 9 bars)
Siete Ranch Grain-Free Tortilla Chips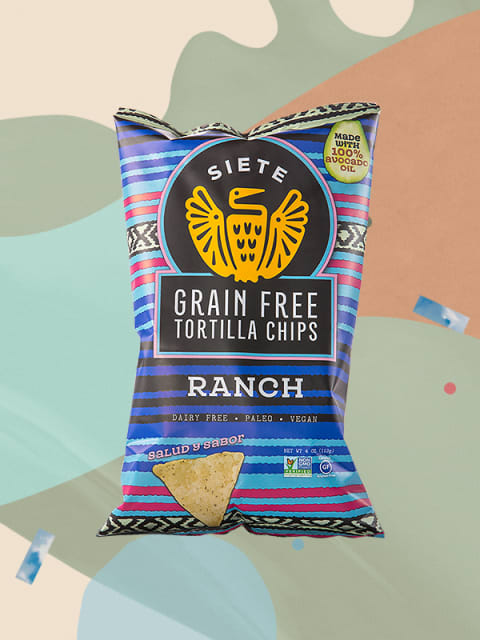 Photo by Siete + mbg Creative
Siete Family Foods is leading the game when it comes to healthy Mexican-American fare, and their four new flavors of grain-free tortilla chips are no exception. Made from primarily cassava flour, these chips have a perfect, airy crunch, and the ranch flavor (which comes from a mix of healthy, whole food ingredients like coconut milk powder, dill, and nutritional yeast) will remind you of your childhood Doritos. The Fuego, Nacho, and Sal y Limon flavors are no slouches in the flavor department either, so we highly recommend trying them all to find your personal fave. Ranch Grain-Free Tortilla Chips, Siete Family Foods ($27 for 6 bags)
Vital Farms Pasture-Raised Hard-Boiled Eggs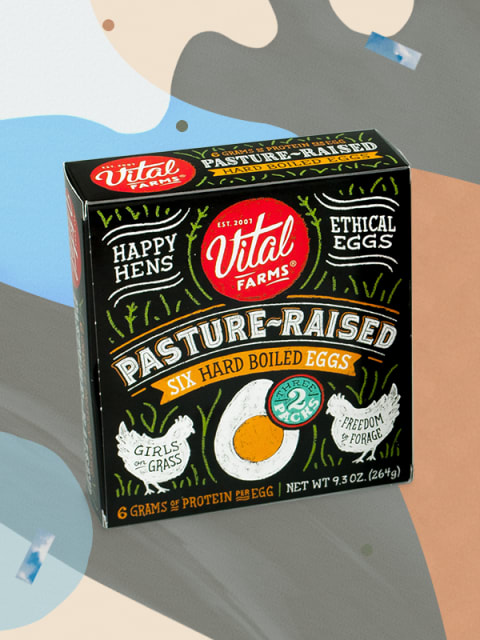 Photo by Vital Farms + mbg Creative
If you're a protein lover, this one-ingredient snack is perfect for you. The perfectly portioned 2-packs make it easy to eat a hard-boiled egg on the go, and the high quality of all of Vital Farms' eggs (their hens forage on 108 square feet of open pasture year-round) means you're getting tons of nutrients and omega-3s. Each egg also contains 6 grams of satiating protein. Pasture-Raised Hard-Boiled Eggs, Vital Farms ($5.99 for 6 eggs)
The Coconut Cult Peaches N' Cream Coconut Yogurt
Photo by The Coconut Cult + mbg Creative
These vegan yogurts have quickly gained a, well, cult following due to their tangy taste and powerful probiotic punch. Meant to be consumed as a supplement as much as a yogurt (each jar lasts for a week or more with normal consumption), the coconut-based yogurt truly makes a difference in digestion. The newly launched Peaches N' Cream flavor contains just coconut meat and water, peaches, and human-strain probiotics (400 billion per jar!), with no sweeteners, emulsifiers, or additives. It's the perfect topping for fruit or can simply be eaten by the spoonful to stop a sugar craving in its tracks. Peaches N' Cream Coconut Yogurt, The Coconut Cult ($25.99 for a 16-ounce jar)
RX Nut Butter Packs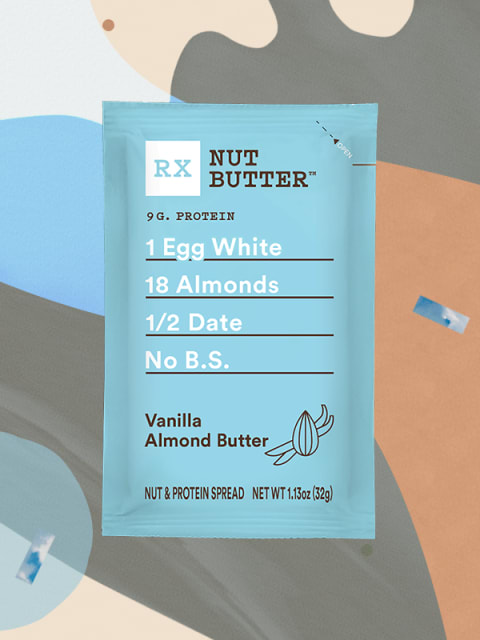 Photo by RXBAR + mbg Creative
It's no secret that many mbg staffers are obsessed with RXBAR—so when we heard they were launching a new line of nut butters, we dove in head-first. They come in three flavors—Vanilla Almond, Honey Cinnamon Peanut Butter, and Peanut Butter—and like RXBARs contain just a few transparent ingredients. The addition of egg white ups the protein ante, and a scant half a date adds a bit more fiber and a lovely hint of sweetness. Alone or with an apple or crackers, they're the perfect on-the-go nut butter hit. Nut Butter Packs, RXBAR ($16.99 for 10 packs)
Purely Elizabeth Grain-Free Superfood Bars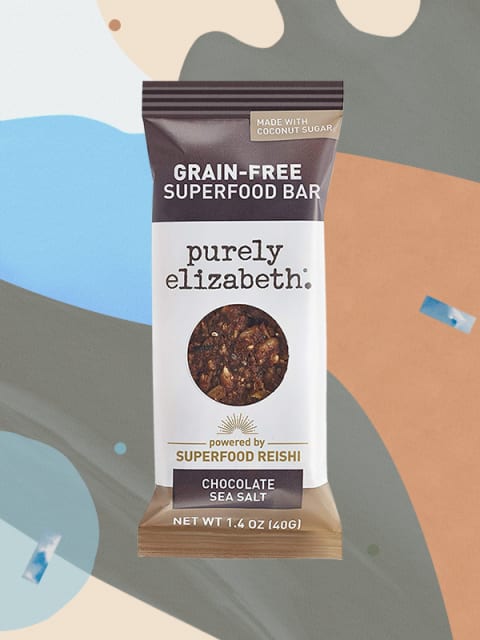 Photo by Purely Elizabeth +mbg Creative
The woman behind some of the world's best granola just released her first line of bars, and they deliver, with a not-too-sweet, crave-worthy flavor and high-quality ingredients. They're grain-free, with a protein-packed nut base, and the addition of adaptogenic mushroom reishi adds potent anti-inflammatory and anti-stress effects—perfect for a hectic 3 p.m. at the office. There are four flavors (Banana Nut Butter, Peanut Butter, Coconut Cashew), but the rich, decadent Chocolate Sea Salt is our favorite. Grain-Free Superfood Bars, Purely Elizabeth ($27.50 for 12 bars)
Annie's Limited Edition Organic Honey Bunny Grahams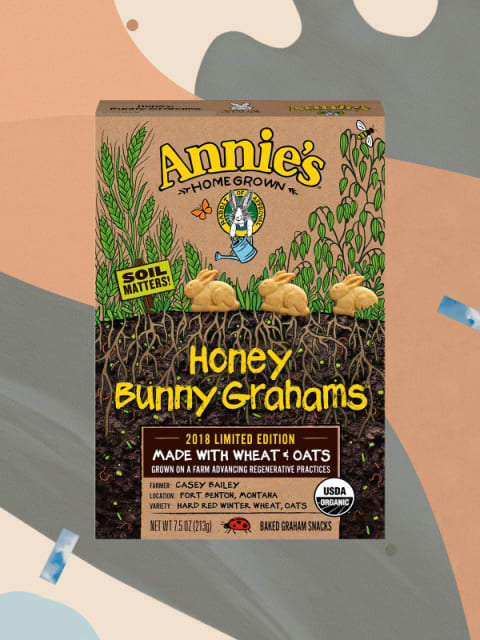 Photo by Annie's + mbg Creative
These new, limited edition bunny grahams represent Annie's deep commitment to regenerative agriculture, one of 2018's food trends. All of the wheat used to make them comes from a single farm in Montana that Annie's is partnering with to advance regenerative practices, ultimately leaving the earth better off than they found it. They still have that great, super snackable vibe and the sweet, buttery graham taste. Limited Edition Organic Honey Bunny Grahams, Annie's ($3.49 for a box)
Base Culture Almond Butter Paleo Brownies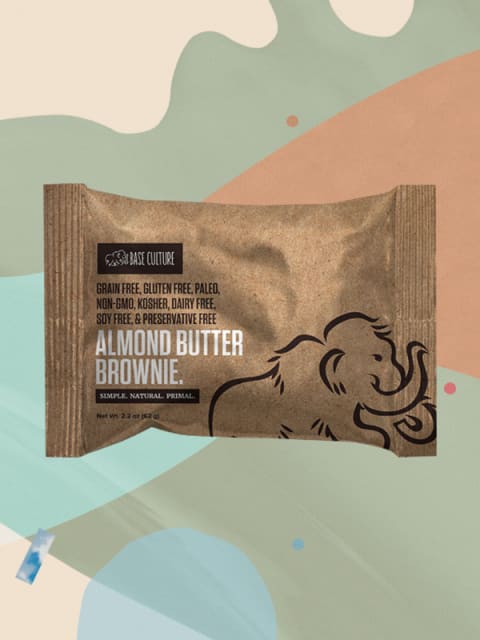 Photo by Base Culture + mbg Creative
Base Culture is a woman-owned company that makes packaged paleo snacks. Their new almond butter brownie is made from simple ingredients but is completely addictive. If the gorgeous almond butter drizzle on top of each brownie doesn't get you, the ingredient list will: Each brownie contains just honey, egg, cashew butter, coconut oil, unsweetened chocolate, almond butter, cocoa powder, coconut flour, water, baking soda, cream of tartar, and salt. The taste is rich and decadent, with a hint of creamy nut butter. Addictive and good for you? A win in our book. Almond Butter Paleo Brownies, Base Culture ($2.25 for one individually packaged brownie)
Want to turn your passion for wellbeing into a fulfilling career? Become a Certified Health Coach! Learn more here.