It's Official: mbg's Annual Top 10 Food Trends Will Shape The Way You Eat This Year

Contributing Food Editor
By Liz Moody
Contributing Food Editor
Liz Moody is a food editor, recipe developer and green smoothie enthusiast. She received her creative writing and psychology degree from The University of California, Berkeley. Moody is the author of two cookbooks: Healthier Together and Glow Pops and the host of the Healthier Together podcast.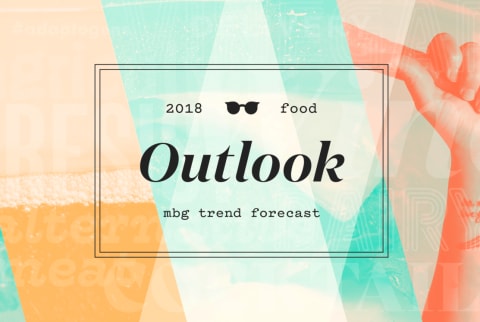 May 21, 2018
The food landscape is changing faster than ever, with the ever-growing interest in wellness meeting scientific advancements to create products that are truly innovative. At the same time, people no longer want what they eat to simply be a source of calories: They're looking for food that changes the world, food that heals their guts, food that fosters social connections, foods that gives back to the environment, and more. This year's food trends reflect the larger, more substantive role food has taken in our lives—and they'll make you salivate, too. Here's what you can look forward to on your plate this year and beyond:
1. Food for a cause makes real changes in the world.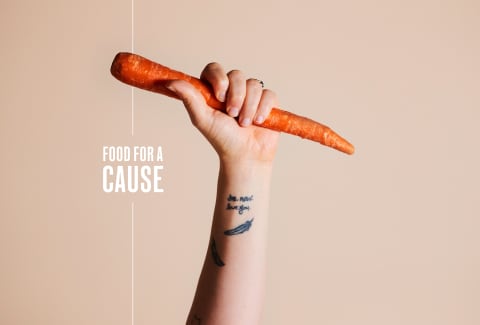 In a time when people are becoming more aware and standing up for what they believe in, companies are too—and food has suddenly become a medium of change. mbg led the way with our You. We. All. mission, which is about wellness not only on an individual level but on a larger community and planetary one as well: Essentially, if one part of a holistic world isn't well, none of it is. Chefs have jumped on board the cause-based food mission as well. Following the devastation of Hurricane Irma in Puerto Rico, James Beard Award–winning celebrity chef Jose Andres galvanized a supply chain to personally help serve over 3 million meals in Puerto Rico—and he says that the politicization of food is only natural, given its particular position in the world. "Chefs and cooks, we are very good at one thing: feeding people," Andres told mbg. "And because of this, chefs are able to touch people's lives every day. Food is connected to national security, the environment, health, the economy—so it is important that we are thinking about food in all ways, and chefs are perfectly situated to be adding to these conversations." For his efforts, he was acknowledged as one of Time magazine's most influential people of 2018, acknowledging the new connection between food and philanthropy in the effusive write-up. Julia Turshen agrees. The author of best-selling cookbook Small Victories wrote the viral sensation Feed the Resistance, all about the convergence of causes and cooking. "Activism through food has been going on for generations (hey, Ms. Georgia Gilmore!), but I think it's gained momentum over the last year because more people, from everyday home cooks to big corporations, are understanding that creating justice in our food systems also means creating racial and economic justice, supporting immigrants' rights, and creating compassion within our communities. In other words, food can be the ticket to a more peaceful and equitable world," Turshen told mbg. "This momentum has been building in so many ways. Food offers us all so many ways to answer the call to action. Whether it's choosing to support a local business run by someone from a marginalized community when you're purchasing your groceries or going out to eat, considering what you put in your body and taking agency of your family's health and well-being, thinking about who is around your table when you're eating and the community you can build through your meals, advocating for fair wages in the restaurant industry, baking cookies for your local first responders, throwing a voter registration cocktail party, or using food as a means of re-entry, food lets us all make decisions on a daily basis that effect change. It adds up."
2. Drinking vinegar is the new gut-healing beverage of choice.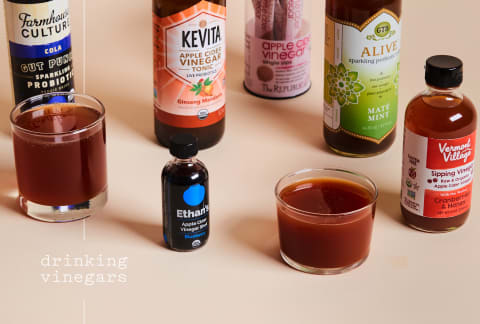 We've all heard about the myriad health benefits of apple cider vinegar: Now, companies are making it into easy, on-the-go drinks. "Apple cider vinegar continues to grow in popularity in the food and wellness space," Aidan Kingerlee, general manager and vice president of Premium Nutrition at PepsiCo., told mbg. "KeVita's Apple Cider Vinegar Tonic, which comes in six flavors, is the first sparkling drinking vinegar available in today's marketplace. It's a low-calorie option that uses two tablespoons of real apple cider vinegar, offers billions of live probiotics, and provides 100 percent of the daily value of vitamin C in every bottle—ultimately offering a more approachable way for consumers to drink apple cider vinegar." GT Living Food's founder, GT Dave, told mbg that "people are becoming increasingly mindful of what they put into their bodies, focusing more on improving overall wellness through nutrition. Apple cider vinegar is a powerful ingredient that's been used for centuries to support good health, which is why we use it in GT's Alive, [which] pairs raw apple cider vinegar with plant adaptogens and premium loose-leaf tea. Raw apple cider vinegar promotes a balanced pH, while plant adaptogens help regulate the body's response to stress, and natural caffeine from loose-leaf tea helps maintain a gentle balance of energy." The Republic of Tea dehydrated apple cider vinegar will add the brand-new Apple Cider Vinegar sips to their line, while Vermont Village has apple cider vinegar shots and more diluted full-size drinks. The good news? "Drinking vinegars are great for gut health," explains Summer Bock, a Columbia-trained gut health expert and the founder of the Better Belly Project. "They are a 'gateway ferment' because they train the taste buds to enjoy sour, fermented foods. Vinegar stimulates digestive secretions and increases the breakdown and absorption of minerals. Many people use it as a morning tonic to boost the metabolism. Drinking vinegars also help balance blood sugar and keep you satiated. When taken with higher-sugar meals, you can slow the emptying of the stomach to lower the overall glycemic load, which helps prevent insulin spikes. This is especially beneficial for pre-diabetes, metabolic disorders, and diabetes."
3. The trendiest new cocktails are sophisticated, complex — and just happen to be alcohol-free.
As wellness proliferates in the mainstream, people are looking for ways to enjoy the benefits of alcoholic beverages—without the side effects. New companies are stepping up to the plate with tonics that offer sophisticated and complex flavor profiles for a cocktail that's as exciting as any other, just sans alcohol. While mocktails have long been available in cocktail bars around the country, this is the first time that at-home consumers can get the rich flavors of a high-end mocktail easily at home. Major companies are hopping on board the train—at a drinks industry event in October 2017, Dan Gasper, chief operating officer of Distill Ventures (Diageo, the world's leading spirit producers, fund for new drinks) stated that "the biggest opportunity in the drinks industry is the emergence of the nonalcoholic category." While we'll likely see products emerging shortly from the bigger corporations, thus far, startups have been leading the charge. In the last two years, U.K.-based Seedlip, one of the category leaders, has experienced 1,000-plus percent year-over-year growth, going from a single-person homespun operation to a 65-person global team that now serves at over 100 Michelin-starred restaurants and some of the world's best cocktail bars, hotels, and over 4,000 premium retailers. Their drinks are zero calories; are sugar-free, sweetener-free, and artificial-flavor-free; and are distilled via a proprietary process that infuses each flavor with six distinct botanicals. The result is a sophisticated, delicious drink that makes alcohol an easy afterthought. Curious Elixirs founder Ashley Simon points out that the world now supports booze-free environments more than ever before. "There are an increasing number of social spaces and events that are not dependent on alcohol to be the star," she told mbg. "This ranges from dance parties to dating meetups that are booze-free. Bars and restaurants are far more accommodating to non-drinkers than they used to be. I think as the millennial generation ages and has children and more responsibilities, we know we can't party like we used to, but we're still largely city dwellers who want to be social and out and about. We'd rather lower the alcohol intake so we can wake up at 6 a.m. and get shit done but still make it to that new hot restaurant."
4. Alternative yogurt goes mainstream, with more dairy-free choices than ever.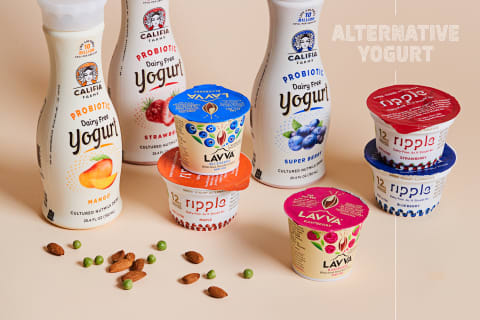 While alternative milk has been coming onto the market for a few years, this year we'll see an explosion of alternative yogurt, made from everything from pea-protein to almond milk. Per Nielsen data, plant-based yogurt is growing at 50 percent year over year, while dairy yogurt is declining 2 percent for the same period. Brands like So Delicious and Coconut Cult (a favorite of influencers like Rachel Mansfield and Shut the Kale Up) have created yogurts that aren't at all watery or clumpy but rather thick and creamy, with robust flavors and simple, easy-to-understand ingredient lists. Major investment companies have taken notice, with pea-protein-based milk and yogurt company Ripple securing $65 million in Series C funding, a heavy endorsement of the continued success from venture capitalists; Kite Hill, which debuted the first almond-milk-based Greek yogurt, is experiencing double-digit year-over-year growth. The key was solving one of the biggest barriers to entry: Dairy alternatives lack lactose, a type of sugar that feeds the good bacteria in traditional yogurts. "It took a significant amount of research and development to nail this on the head and develop a nondairy 'white mass' that keeps our Culture Blend thriving," Greg Steltenpohl, founder of Califia Farms, told mbg, speaking about the brand-new Califia Drinkable Yogurts. "This breakthrough is particularly significant when looking at our Unsweetened Plain considering probiotics thrive on sugar, and in this particular variety, we have only 1 gram of carbohydrate and no added sugar." Nicki Briggs, the CMO of Pili-nut-based Lavva, also noted the difficulty in designing a high-quality dairy-free yogurt. "While we were not the first dairy-free yogurt to hit store shelves, we are the first one made with 100 percent real, whole-food ingredients—like Pili nuts, plantains, and coconut—and zero added sugar, gums, stabilizers, or other additives," she told mbg. "To do this, we had to identify special manufacturing techniques. Since launching in January of this year, the response to Lavva has been overwhelming. The brand is in almost 1,000 stores across the country. It's clear Lavva is meeting an unmet consumer need. As one Lavva lover put it, 'Finally a dairy-free yogurt that's not a compromise.'" While the rise of dairy-free yogurt has happened in large part due to advances like these, a continuing desire for better gut health—and a growing interest in dairy alternatives—also contributed to the trend, assuring its continued popularity long into the future.
5. Food gets superpowered with the inclusion of adaptogens.
Adaptogens have moved from supplements and powders into mainstream food that you can easily incorporate into your everyday diet. This trend is driven in part by Instagram, as the photo-friendly bright colors of spirulina and pitaya are super eye-catching, and in part by growing consumer interest in adaptogens—according to Nutritional Outlook, ashwagandha sales alone grew by more than 57 percent over the past year, for a total market value of $9.5 million. The New Hope Network's Next Trend Database, which captures innovation transpiring across Natural Products Expo shows (the biggest natural product shows in the United States), shows adaptogens like ashwagandha, ginseng, holy basil, and licorice are growing strongly, particularly in the beverages category, with 21 percent growth in beverage formulations incorporating adaptogens between Expo West 2014 and Expo West 2017. Famed granola brand Purely Elizabeth has leapt into the trend with a new line of rainbow-hued oatmeals and reishi-spiked energy bars. "Adaptogens are widely known throughout traditional Chinese medicine for their abilities to relieve stress, fight fatigue, balance hormones, and improve immunity. Incorporating adaptogens into food is one of the easiest (and most delicious) ways for someone to reap their benefits," explained founder Elizabeth Stein. "The feedback on our new products has been even better than expected." Suja brought the power of adaptogens to the kombucha category, with moringa, ashwagandha, and reishi infusions. Suja's CEO and co-founder Jeff Church told mbg, "There's a great opportunity for Suja to play in this space and do what we do best: great tasting products with superior functionality." He notes that the adaptogens in the Suja kombuchas have been met with "a wave of excitement." On the backs of the personalized nutrition trend from 2017, these adaptogen-infused products will continue to help consumers treat their individual needs, whether it's eliminating stress, increasing energy, or more.
6. Meal delivery gives millions access to healthy food.
While meal delivery has existed for a while, it's finally starting to have a healthy bent, allowing people who wouldn't previously have had access to healthy food to fill their pantries and freezers with good-for-you fare. Food deserts and lack of access are some of the biggest problems in health food—people who want to eat healthy often have to travel hundreds of miles for fresh produce and other food that nourishes their body. A huge part of mbg's You. We. All. philosophy is around ensuring that everyone is able to partake in a wellness-focused lifestyle—and the idea that none of us are truly healthy until all of us are. Recently, though, food companies have finally mastered innovative techniques that are allowing them to use home delivery to fill the access gap in a way that grocery stores often can't. "Building a frozen supply chain was one of the biggest challenges we faced with launching Daily Harvest," founder Rachel Drori told mbg. "We work directly with transitional organic farms to harvest produce at peak ripeness and then freeze within 48 hours to lock in nutrients and flavor that are typically lost along the traditional grocery supply chain. This allows us to deliver delicious plant-based recipes made with the highest quality fruits and vegetables to people who might not otherwise have access to organic produce." Sun Basket, a healthy meal delivery kit that has experienced 280 percent year-over-year growth in the last year, has just launched three new distribution centers; with the addition of these, they have the potential to reach 98 percent of the continental United States. "Sun Basket can reach more consumers than any brick-and-mortar grocery chain and is the largest direct-to-consumer fresh organic food distributor on a ZIP code basis in the U.S.," a company spokesperson told mbg. "The Midwest distribution center provides Sun Basket with the opportunity to provide healthy and organic meals to middle America. Sun Basket is providing these regions with organic and sustainable foods, something they might not have previously had access to." They've recently launched a diabetes-friendly meal delivery kit (approved by the American Diabetes Association) to further serve the health interests of those areas. ButcherBox flash-freezes grass-fed, ethically sourced meat to ship nationally. Thrive Market (also notable as leading the regenerative agriculture trend) makes it easy to get healthy staples wherever you live—at a 30 percent discount from traditional retail prices. All of these innovations get us that much closer to living in a world where anyone can have healthy food, no matter how much money they make or where they live.
7. Scientific advances make environmentally friendly plant-based products viable meat alternatives.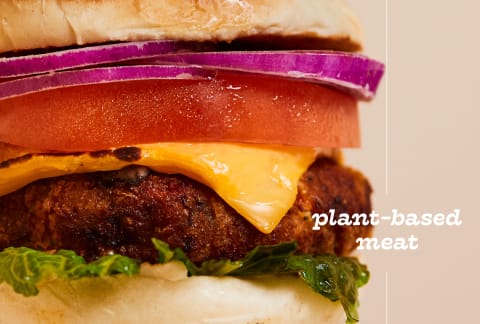 While veggie-based meat alternatives have been around for a while, they've often been filled with soy and less health-conscious ingredients—and they haven't tasted like meat. New interest in the environment and plant-based movements have raised consumer interest in alternative meats, while, at the same time, new scientific advancements have made innovation possible. "The core scientific breakthroughs necessary for clean meat production already occurred in the medical field (e.g., tissue engineering) more than a decade ago," explained Annie M. Cull, director of communications at The Good Food Institute, a think tank devoted to using innovation to transform our current system from factory-farmed animal products to plant-based and clean meat alternatives. "What has changed the situation today and made clean meat a real possibility is the increased investment, which is focused on the challenge of how to scale clean meat production to the level that it can be produced for the masses." Driven by the resurgence of plant-based eating, consumer demand for grown meat is hitting an all-time high—although while they're indisputably better for the environment, the jury is mixed on whether the science-grounded meats are actually better for people's health. Nonetheless, consumers are highly intrigued: "At a top national grocer's Southern California region, we were the best-selling beef patty in the meat case (by unit) for the past five weeks," Beyond Meat founder and CEO Ethan Brown told mbg. "When we initially launched, we were thrilled just to have shelf space alongside meat. To now be No. 1 is gratifying and a true testament that this shift is being driven by consumers. With each step change in quality—i.e., the closer we get to truly building meat from plants—we unlock a bit more latent demand for a solution. People want what we are doing to work." Beyond Meat just secured a $55 million round at the end of 2017, and their investors included Tyson, known as a powerhouse in the traditional meat space. While ground meat has seen increasing prevalence—fast-casual chain Bareburger even features the Impossible Burger on its menu—in recent years, Cull sees the category extending to more sophisticated products like steak and duck. Just Scramble is making a mung-bean-based scrambled egg and experimenting with test-tube-based stem cell meats; New Wave Shrimp is creating shrimp from algae extract. From there? The sky's the limit. "Leading clean meat producers have indicated that we will find clean meat first available in the marketplace by about 2020," she told mbg. "It may make its initial debut in restaurants or in limited quantities through high-end specialty stores. By 2050, we believe it can be more widely available and cost competitive with conventional meat that is raised with the highest health and welfare standards."
8. With new farming practices and changing consumer taste, wine gets healthy (and interesting!).
While natural wine (or wine in a pure, unaltered state, with no additives) has been on the market for years, it hasn't been a product for connoisseurs, who didn't like its strange taste and inconsistencies. Growing environmental interest and consumers' taste changing (with preferences for individuality and fermented funk) have led to a new generation of winemakers emerging—and a new crop of healthier, more interesting wines dominating the marketplace, with consumption increasing by 10 to 20 percent per year from 2013 to 2016, far above the industry average. It's especially popular among younger demographics, with 65 percent of 21- to 34-year-olds in the United States interested in natural wine. RAW WINE Fairs now take place in cities throughout the world (LA, New York, London, Berlin) and attract about 4,000 attendees per festival. "I think the Natural Wine movement is a natural extension of the natural food movement," said Ramzy Kahhale of Dry Farm Wines, the largest natural wine merchant in the world. In their first two years of business, they've grown by over 400 times. "Consumers are more aware today about where their food comes from—if, say, it's organic or local. People never used to think about alcohol this way, but they're starting to." Their wines' list of benefits reads like a siren song for the health-conscious consumer: They're sugar-free, mold-free, keto-friendly, paleo-friendly, and contain low levels of hangover-inducing sulfites. While natural wine doesn't have to be biodynamically farmed, it often is organic at a minimum, which is better for the environment as well. Wine bars devoted to natural wines, like Brooklyn's June, Charleston's Stems & Skins, and LA's Bar Bandini, have popped up around the country and are uncorking lively, exciting wines that challenge traditional expectations. That some popular natural wines, like orange wine, are Instagram-friendly is only an added bonus. Wine that's beautiful, interesting, and better for the environment? We'll cheers to that.
9. Regenerative agriculture helps major corporations leave the earth better than they found it.
While we've always thought of "big ag" as a bad thing, major corporations are often the ones with the power to make a major difference. Companies like Hormel, Thrive Market, and General Mills have committed to regenerative agriculture, a farming practice designed to actually enhance the soil and ecological system rather than destroy it. "Regenerative is the way of the future because consumers are increasingly desiring to get price and convenience in their grocery purchases but also support companies that align with their values. Sustainable is no longer enough to cure the problems we face as a species. It's essential to build positive aspects into our supply chains so the growth of businesses makes the world a healthier, better place," Gunnar Lovelace, the founder of Thrive Market, told mbg. "The beautiful part of the regenerative movement in general is it pays farmers more to do the right thing. Because of our direct-to-consumer membership model, we're able to afford to pay farmers more to do the right thing and still offer a better price than can be purchased anywhere else." The company just launched a meat and poultry line that's built on regenerative farming practices. Carla Vernón, President of Annie's, views it as a responsibility issue. "As a leader in the food industry, one of our biggest opportunities for impact is in the arena of agriculture. Because we are an ingredients-based industry, we are closely tied to agriculture. That gives us a big responsibility for making sure we have a positive impact on our ecological resources," Vernón told mbg. To that end, last month, Annie's launched regenerative-agriculture-based Macaroni & Cheese and Bunny Grahams products as part of their Soil Matters campaign. "I think these two products are a first in the industry: to offer a product with such wide distribution, available from a major manufacturer in the center of the store, that names the farmer, the farm, and calls out the ingredients that are specific in that product that are using these very Earth-friendly practices." And with huge brands behind it, regenerative agriculture is able to make a real difference. "Regenerative agriculture poses an incredibly scalable, cost-effective way to make very significant progress on climate issues while strengthening local communities, farmers, and producing more nutrient-dense food," Lovelace said. As Taylor Collins, co-founder at EPIC Provisions, which now has a quarterly magazine devoted to regenerative agriculture, said, "We are proving that when properly managed, livestock can restore ecosystems, heal soil, nourish consumers, regenerate rural economies, and invigorate wildlife habitats." With resulting food that's equally (if not more!) delicious, everyone wins.
Bonus: Even pet food is getting a makeover.
Now that we've realized the importance of clean eating and transparency in our own food, that care is extending to our pets. A huge number of companies are making over their pet foods with clean ingredients that are better for Fido and the environment. Smalls, a Brooklyn-based startup, is offering frozen, "human-grade" pet food, while on a larger scale, brands like Castor & Pollux, Instinct, and Organix are making protein-rich food designed with pet health in mind available to the masses. "People are planning vacations so they can bring their pets along, and they have dedicated services like dog walkers and day care just for their furry friends. It's not a fad but a movement," Beau Mainous, CEO of healthy pet food company I and love and you," told mbg. "To make sure our best friend has the highest quality life possible, we believe nutrition plays a vital role, just like it does for humans." Lindsey Fash, the director of marketing for premium healthy pet food Castor & Pollux, the maker of the No. 1 organic pet food in America, agrees: "Pet trends often mirror human trends, and the growing health trend centered around eating organic is driving consumer demand for organic options in pet food," she told mbg. "Pet parents have a strong desire to know where the ingredients in their pet's food are coming from and how they were sourced. Castor & Pollux's PRISTINE line is the only complete line of pet food made with responsibly sourced ingredients like wild-caught salmon and grass-fed beef. Beyond their actual food, bonus superfoods have also made their way into pets' bowls. CW Hemp's CW Paws is a CBD tincture made specifically for dogs and cats. By mixing a few dropperfuls into your pet's food, you can help them experience the myriad benefits of the trendy adaptogen, from lowered levels of inflammation to a general state of calm.
And do you want to turn your passion for wellbeing into a fulfilling career? Become a Certified Health Coach! Learn more here.